You can still find cute clothes for younger girls when you are tall.
For all young ladies out there looking for tall junior clothing, I've put together a list of the best shops that carry clothing for girls in tall sizes. It may seem like it's hard to find, or that the only clothing for tall women is geared toward the older generation.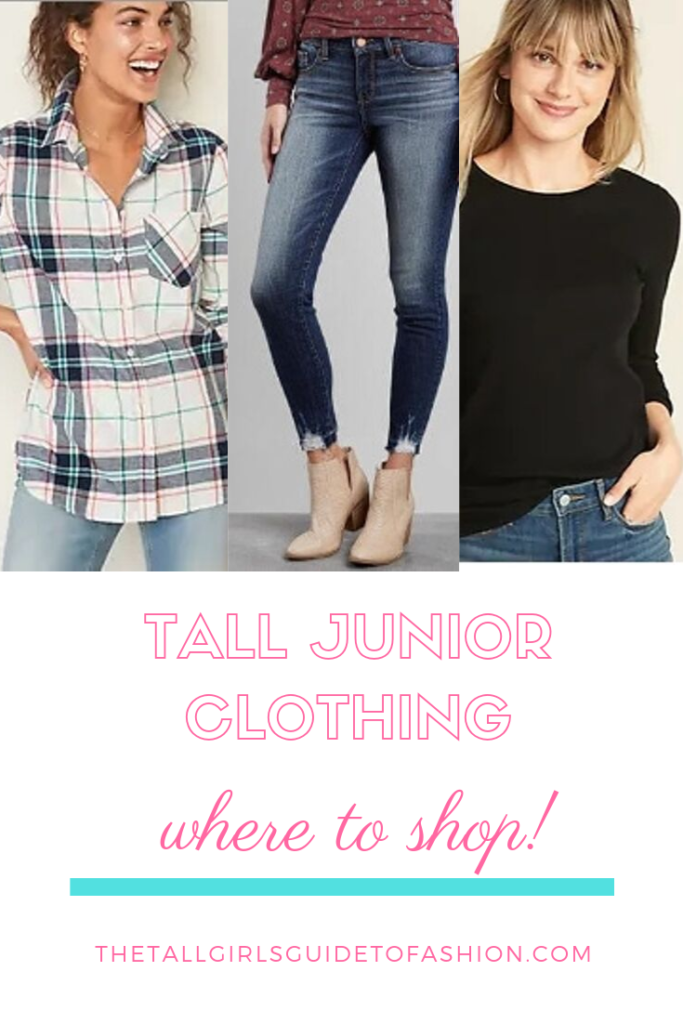 However, there's lots of clothes out there appropriate for tall teenagers and younger women too if you know where to look!
---
Recommended: Tips for finding clothes for tall kids – a guide for girls and tweens
---
Here are a few stores that carry clothes geared toward teenagers and young women
---
Buckle
They offer very long inseams in 35", 36" and 37" on their website and offer sizes 00 – 20 in select styles. If you're looking for clothing for a very tall and skinny teenager or tween (hey, or even an adult) – this might be one of the best options.
Not only are the jeans trendy for young girls but having the 00 option with a 37" might be a lifesaver to the very tall and skinny!!!
Find jeans from Buckle with long inseams here!
---
Old Navy
They have a specialty tall shop on their website (exclusively online) and have a huge selection that's suprisingly affordable. They have everything from jeans and sweatshirts to dresses and PJ pants!
Check out Old Navy's tall sizes here
---
Maurices
Cute trendy clothes for teens and young women. Carry extra long inseams up to 37" on their website. Long inseams (34") are available in select styles in their stores.
They also offer plus sizes from 14-28, with long inseams in 34" and 36" in select styles.
Another thing worth noting is that their prizes are mid-range and you can find jeans for around $30.
Find pants/jeans with long inseams from Maurices here
---
American Eagle
I used the be a big fan of AE when I was in high school. They have extended their sizes to include 00-24 and have length options for long AND extra long in select styles! 
With the 00 size and extra long inseam, this might be another option for those looking for jeans for the extra tall and skinny girls!
Shop AE jeans with long inseams here
---
While I have already mentioned them in my plus size shopping list, I felt they were appropriate to list here as well considering their clothes are geared toward younger girls.
They offer long lengths in 34" and 36", and sizes 12-32.
---
Target
Target has a really nice selection of junior clothing. They carry pants with longer inseams and longer tanks, shirts and tunics. Find shorts, capris and swimwear for summer as well!
---
Alloy
Excellent clothing source for tall juniors! They have a dedicated tall shop on their website that features longer inseams (35" and 37") in jeans, pants, sweats, yoga pants, leggings and also have dresses and tops for tall girls!!!
Great selection of dress pants, jeans and lounge/yoga pants! Sizes 4-20.
---
Pay attention to the size charts available on each website.
While most of these shops use regular women's sizing, Alloy and Delia's carry junior sizes. If you are unsure what size you wear in juniors, pay attention to the size charts available on their websites. (Standard sizing does not exist and varies between manufacturer.) However, generally speaking, you'd wear a size up in juniors–for example, if you're a women's size 10, you'd wear a junior's 11.
Check out all of their websites and have fun shopping! Check out my updated list on where to shop in 2021 if you haven't already :)
If you have any questions or other recommendations, drop me a comment!