This post may contain affiliate links. This means I may receive a small commission if products are purchased through them. All opinions are honest and remain my own.
One of the most common questions I get asked is about finding women's extended shoe sizes in 12, 13, and 14+. These are notoriously difficult to find. If you can find a pair of shoes that are cute, relatively affordable AND come in size 12-14+, it's like finding a unicorn.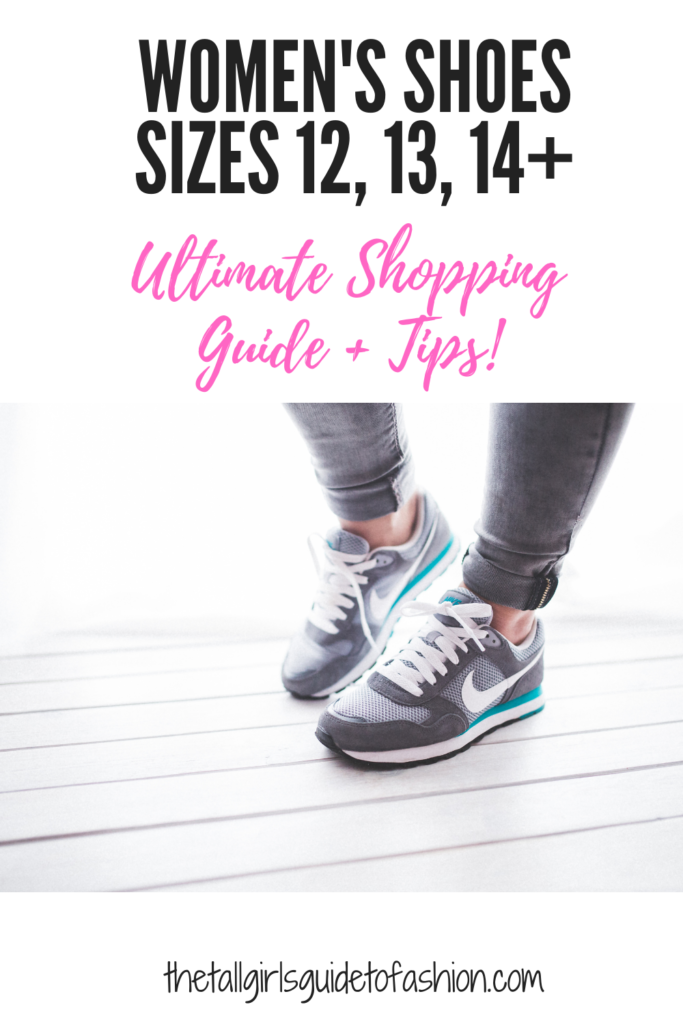 ---
Finding women's shoes above an 11 is REALLY difficult
The reason for this is because the vast majority of shoe manufacturers just don't make shoes past a women's 10 or 11. Why you may ask? Well, most companies are all about the bottom line – profit. Producing shoes is a rather expensive business, and creating shoes past a certain size can cost even more. If the demand isn't high enough, they may just not bother with it at all.
I also believe another part of this is that many shoe companies just aren't up with the times and increased demand for larger-sized shoes for women. Just taking into account my experience and the people I've talked to, I know the demand certainly exists.
I've previously written articles detailing where you can find these larger shoes for women, but I wanted to go more in-depth to create a helpful guide when it comes down to the details of actually finding shoes that'll work.
Plus, I wanted to totally update everything for 2021!
I've broken this down into a few key factors and details to take into consideration when shopping for shoes. This can help you no matter whether you're looking for summer sandals, walking shoes, casual sneakers, or more formal footwear.
---
Know where to shop for larger shoes
Ok so obviously, knowing where to shop for sizes 12+ for women is the first step. With a few exceptions such as Torrid, Nordstrom Rack, and Payless – you'll probably need to do your shoe shopping online.
Online vs. in-store
The experience shopping online vs. in store for shoes is very different, and it's also extremely frustrating.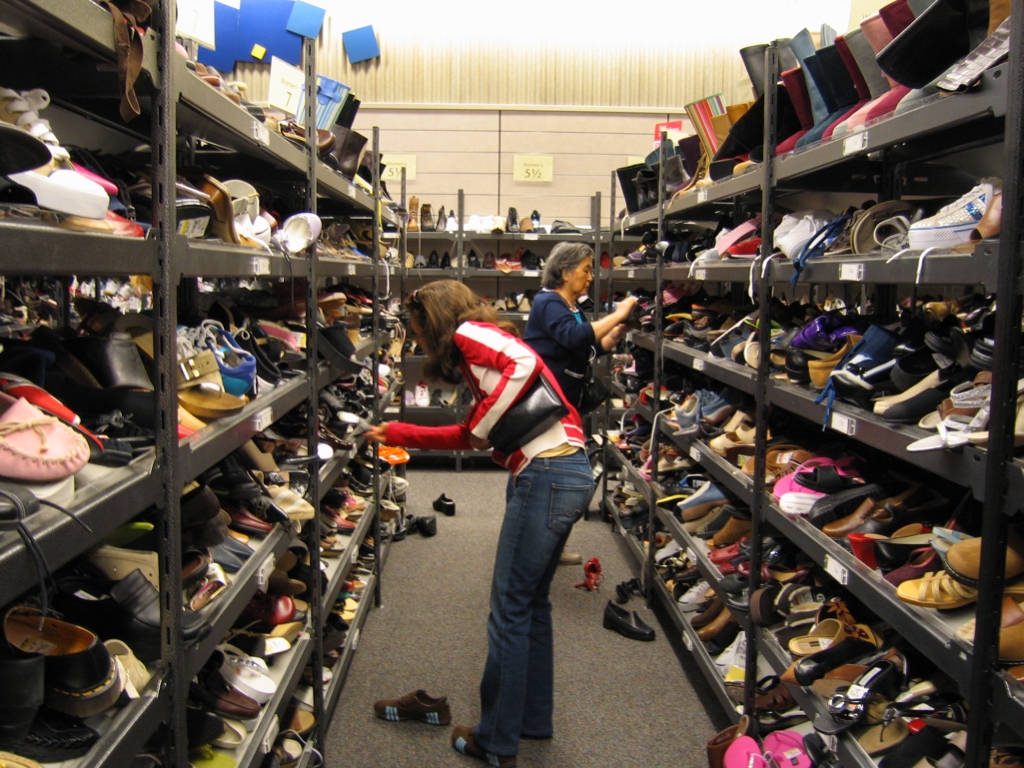 On one hand, in-store shopping for shoes is much preferred since you can actually try them on to know if they'll fit! On the other hand, styles and sizes are extremely limited. With a few exceptions, trying to find these sizes in the store is pretty much impossible.
Even if a shoe manufacturer makes extended sizes for women, physical stores don't really carry them.
Stores that sell up to a size 13 (in-store locations)
Torrid (wide widths only)
Payless (they're making a comeback, but have limited locations)
If you're looking for shoe sizes above a women's 13, I've personally never found them in a physical store. For those, you will most definitely need to shop online. (But if you know where you can find such sizes in a store, please drop a comment below to let me know!
Even sizes 10 and 11 for women are very limited if you try shopping in any store. Retailers don't seem to carry a lot of the larger shoes and if they get them in, they sell super quick. While I don't want to invalidate the struggles of anyone who wears a size 10 or 11, the major advantage to those sizes is they are available online in abundance. Most online stores sell sizes up to 10 and a large percentage of them an 11 as well.
For those who wear above an 11, it isn't quite as easy.
Websites that sell extended sized shoes 11, 12, 13, 14, 15+ (the largest variety)
There are many additional websites that'll have a couple of options for large sizes, but after digging around I've found these to have the best variety from sandals to casual sneakers to athletic shoes.
But keep in mind the selection above a women's 11 is very limited in comparison to the smaller sizes. Unfortunately, there just aren't thousands of cute options for the ladies with large feet.
Nevertheless there's still a variety out there if you know where (and how) to look.
Here are 5 tips that may help when it comes to finding shoes in larger sizes
---
Tip #1: Know what brands to look for
So knowing which websites and stores to look for is half the battle, but then comes actually trying to find the type or style you want. Have you noticed the larger the shoe size, not only the less variety but the less cute options that seem to exist?
Have you also experienced the frustration of trying to either search Google or a specific retailer's website for a size 12 or 13 (or larger) shoe size, only to be thrown tons of options for shoes that only go up to an 11?!
IT'S SO FRUSTRATING!!!
However, I realized if you know the specific brands that actually make larger shoes in women's sizes, searching suddenly gets much easier. While this is not an all-inclusive list of every brand that makes these sizes, it's a good place to start.
Once you know the brand names to look for, you can use the search tools within the websites to narrow down your search by brands. I find doing this seems to bring better search results than just narrowing it down by size alone.
Another reason knowing brands that make your shoe size is very helpful is because you can always go directly to their website to view the largest selection.
Brands that make women's shoes in size 12 (tennis shoes, athletics, boots, flats, sandals, and dress shoes)
---
Casual sneakers/tennis shoes and athletic shoes size 12
Boots size 12
Dress shoes, flats, and sandals size 12
Brands that make women's shoes in size 13 (tennis shoes, athletics, boots, flats, sandals, and dress shoes)
---
Casual sneakers/tennis shoes and athletic shoes size 13
Boots size 13
Dress shoes, flats, and sandals size 13
Brands that make women's shoes in size 14 (tennis shoes, athletics, boots, flats, sandals, and dress shoes)
---
Casual sneakers/tennis shoes and athletic shoes size 14
Boots size 14
Unable to locate women's boots in size 14
Dress shoes, flats, and sandals size 14
Brands that make women's shoes in size 15 and 16 (tennis shoes, athletics, boots, flats, sandals, and dress shoes)
---
Casual sneakers/tennis shoes and athletic shoes size 15 and 16
Boots size 15 and 16
Unable to locate women's boots in size 15 and 16
Dress shoes, flats, and sandals size 15 and 16
Tip #2: Look for unisex shoes
Sometimes shoes are labeled unisex, which means they are made the same (and look identical) for both men and women. Brands such as Nike, Converse, Onitsuka Tiger, and Vans have a lot of unisex options, which means they make sizes that will fit all the way up to a women's size 16!
The most confusing part of unisex shoes is the sizing conversion can run differently than normal, so just pay close attention to the product information.
Tip #3: Look for gender-neutral styles
Another option is to just look within the men's department for styles that appear gender-neutral, as their shoe sizes span much larger than women's. Of course, that is probably what you're already used to doing, but sometimes you just have to do it!
I used to be ashamed of doing this, but I realized it doesn't matter. If you know where to look, you can find totally neutral shoes that no one would ever know weren't technically in a women's size!
There are certain brands like Saucony, Onitsuka Tiger, and New Balance that make pretty neutral and decent tennis shoes / athletic shoes – so I'd recommend checking them out.
These specific New Balance shoes are the most comfortable walking/athletic style shoes I've ever purchased (so comfortable I even bought a backup pair!) They're men's sizes, so you can find them no matter what your shoe size is – they also come in extended widths like wide and extra wide. But I just love how they look so neutral – you wouldn't automatically assume they must be shoes for guys!
Tip #4: Know the men's to women's shoe size conversion
It's also a handy skill to know how to convert a men's shoe size into a women's, especially when you're shopping the men's shoe department. A women's size 12 and a men's size 12 are different!
According to shoe size conversion charts, there's approximately a 1.5-inch difference between men's and women's shoes. So for example, a women's 12 would be a men's 10.5.
This chart makes it super simple if you already know your shoe size! I wear a women's 13 wide and a men's 11.5/12 typically fits me (depending on how the brand runs), so it's a roughly accurate conversion.
Just keep in mind the sizing can vary by brand – certain brands tend to run small and others large. Unfortunately, this is something you can only know with experience and trying on many different styles and brands of shoes.
This is why the next point I'm about to make is SO IMPORTANT when purchasing shoes online…
Tip #5: Shop retailers that let you return shoes for free
Knowing the return policy for items you buy online is something you should always be aware of, but when buying shoes it's especially important. It's impossible to know how shoes will fit, even if you know your correct size because they're all just so different.
Choose a store with easy and free returns so you can ship back any shoes that don't fit hassle-free. Out of all the shoe stores, Zappos has the most generous and easy return policy.
Zappos – you can return any item for free up to a full year from purchase, but it has to be in the original packaging and look brand new. All returns are FREE.
DSW – items must be returned within 60 days (up to 90 days for store credit). You can return anything purchased online to a DSW store for free, but some items may cost you $8.50 in shipping if you opt to mail them back.
ShoeMall – items must be returned within 60 days, must be unworn and in original packaging. There's a $6.95 shipping fee for any returns.
Famous Footwear – any items purchased online can be returned to a Famous Footwear store for free, but if you mail them back they charge a flat $7.95 shipping fee. They do not state any time limit on returns.
Torrid – items must be returned within 60 days. You can return to any Torrid location for free, but mailing them back will cost you a flat $6.00 shipping fee. Any shoes bought on clearance are final sale, no returns accepted.
Nordstrom Rack – items must be returned within 45 days in their original packaging and look brand new. Return to any Nordstrom Rack location for free, mail returns have a flat $5.95 shipping fee.
Amazon – returns are usually free and easy, but you'll need to double check as it can vary by seller.
The Bottom Line
Hopefully, these tips have been helpful to you if you're searching for any extended women's shoe sizes online. Buying shoes above a women's 11 is super difficult to find in stores, but the internet can be a great tool for finding them if you know where and what to look for!
If you know any other great brands that carry large sizes for women, or have any other questions, let me know in the comments below!
Please follow and like us: