A Complete List on Where to Shop for Tall Girl's Pants, by Inseam and Style!
I've created this page to serve as a resource for those looking for jeans and pants in tall sizes who would like to be able to shop by their inseam length. This list includes inseams ranging from 31" – 40".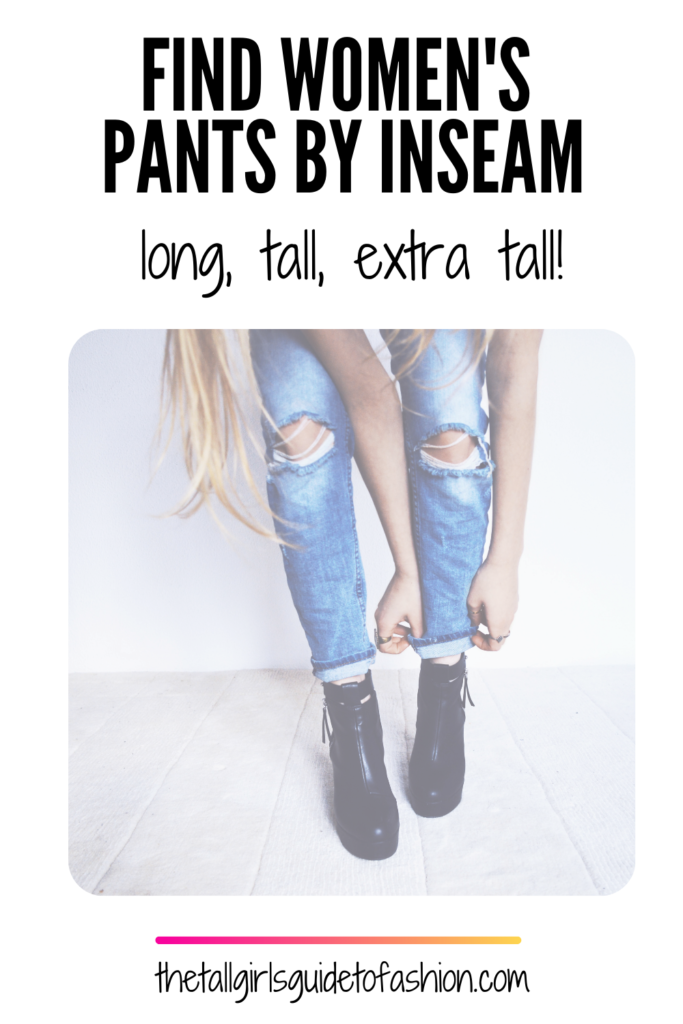 ---
Check out this guide on how to measure your inseam if you're unsure what length works for you.
Some of these shops let you shop their pants by inseam, however, many others label them "tall" or "extra tall". Hopefully, this can make the selection that's out there for your actual inseam a little easier to find.
I've done a lot of research into this and compiled this list so you can find the stores that carry inseams that are perfect for YOU! :)
I will try to keep this up to date as best as I can.
Note: I took this information from the retailers who made it available on their websites. Certain clothing companies may be left out if they didn't have the actual inseam length available for me to list.
---
How to use this guide
Decide what type of pants you want – skinny, bootcut, straight, etc…
Measure your inseam using one of these methods, adjust for where you want the pants to hit on your legs
Find your length on this list, and see the stores to shop!
---
40" inseam
---
39" inseam
---
38" inseam
---
37" inseam
---
36.5" inseam
---
36" inseam
---
35.5" inseam
35" inseam
---
34" inseam
---
33.5" inseam
---
33" inseam
---
32.5" inseam
---
32" inseam
---
31" inseam
---
---
How do I know my inseam?
Again, check out this handy guide on how to measure your inseam if you aren't sure how.
This measurement is simply the point from the groin, to where you want your pants to fall. This will vary depending on the style of pants you wear.
If you're between sizes, you probably want to round up. It's easier to hem jeans to make them shorter, rather than try to make them longer!
You'll notice that many clothing manufacturers adjust their inseams accordingly and that the tall lengths are typically made with shorter inseams in certain styles. Skinny legs and jeggings typically are made with shorter inseams, because they hit at a higher point than other styles.
However, if you still need a really long inseam in styles that most manufacturers produce at shorter lengths, this is a great list to check. Certain shops sell many styles in a variety of inseams!
Good luck!
Check out the complete list of places to shop for tall women, and where to find shoes for size 12+!