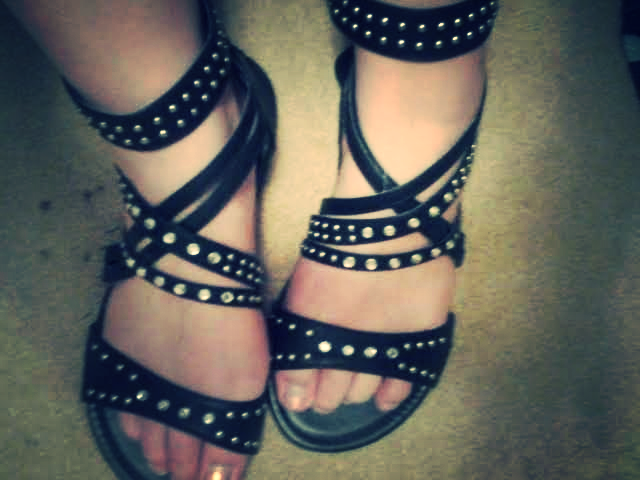 The thing I hate about being tall is having big clunky feet to go along with it. Out of all the troubles I've experienced with finding clothes that fit, shoes have by far been the biggest struggle. I wear a size 12 and the majority of the time I need the wide width–try finding that in a shoe store. Believe me, it's hard. Nearly every mainstream shoe store sells only up to size 10–a few carry 11's. It's rare to see anything bigger. If you're looking for where to find shoes for women with big feet, you've come to the right place because I know all about where to find them!
Unfortunately, if you wear larger than a women's 10, you'll many times need to do your shoe shopping online.
When looking for above a women's size 10, you will probably need to use the internet. There are plenty of online shoe shops that offer huge selections of cute trendy shoes in bigger sizes–even up to women's size 15!
Don't worry though! It's OKAY!
Here's a list of great places that carry extended shoe sizes for women — some of them in up to a size 15! (My top recommendations!)
Zappos
Zappos has an amazing selection of shoes for all sizes– in up to a women's size 15! They even offer width options for most of their shoes ranging from extra narrow to extra wide.
 See for yourself here at Zappos.com.
Barefoot Tess/Long Tall Sally
Barefoot Tess is a specialty shop that has extended sizes for women's designer and brand name shoes. They used to have their own website, but they've teamed up online with Long Tall Sally and appear to only be selling through them now.
They have a nice selection of boots, flats, sandals and more. They carry mostly casual and dress type shoes, up to a size 15!
Check out their official site here.
Alloy
They're not a specialty shoe shop, but they've recently added extended size shoes to their collections in up to a size 13! Their specialty is juniors clothing, so they carry very trendy, fashionable shoes for the younger girls out there with big feet! : )
Check out Alloy's selection of extended size shoes!
Shoes.com
They actually have a very impressive selection of shoes, one of the biggest ones I've seen! Carries shoes suitable for any occasion up to women's size 15.
See for yourself here at Shoes.com.
Famous Footwear
Great selection of all types of shoes in up to a women's size 13! They carry a few size 14's as well!
You can visit their official website right here.

Payless
Worth a mention, Payless carries up to women's size 13. The selection isn't too bad, but it can be hit or miss. (They actually have really cute stuff right now though!) However they're probably one of the most cheap shoe sources around, you really can't beat the price.
See… you don't have to resort to the men's shoe section–you can find women's shoes in extended sizes online!
For the longest time, I simply resorted to the men's shoe department. (I still am sort of guilty of doing this from time to time). Particularly for athletic style shoes, if I just need a good pair of walking shoes or shoes for the gym, it isn't a big deal. You can find pretty neutral looking men's athletic shoes. However it's nice to wear the cuter girly ones–they help feminize your look. But geeze, they are so hard to find!
Besides, it's not like you can purchase flats, dressy shoes or any type of feminine style shoe in the men's section. Having cute shoes is important as it will help pull together your entire look and make you feel more confident in yourself. Trust me, it's hard to feel sexy and confident when you're cute outfit is ruined by wearing boy shoes.
I hope the aforementioned list helps a lot of you ladies out in your quest for shoes, I know it certainly would have helped me in the past! :)