This post may contain affiliate links. This means I may receive a small commission if products are purchased through them. All opinions are honest and remain my own.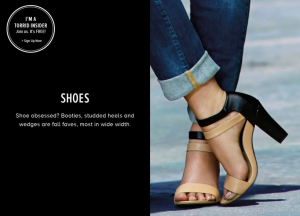 I'll admit it, I have freakin' wide feet. It's only midly embarrassing, really. I suppose there are worse things in life. But finding wide width shoes for women? (especially ones that are actually decent looking)… it just makes it that much harder. My feet are already a size 12-13 and having to deal with the width issue just makes it that much more frustrating.
The annoying thing is girls without this problem don't really understand.
I mean, I was shopping with my friend for shoes the other day (and by the other day, I mean some undefined length of time ago) and of course, the store only went up to a women's size 11 (which is pretty good, considering) but still, not large enough. She, being quite tall too, wore size 11. We both took interest in a particular pair of women's tennis shoes, which she just had to try on.
She told me I should try them, too.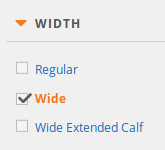 I was trying to explain to her I couldn't fit into size 11's, especially because my feet were so wide. She just kept insisting they'd fit because they fit her, and we were the same height (like that was somehow logical) … well, I ended up humoring her and trying them on… and guess what?
No, they didn't fit. I just ended up stretching them out trying to get my ginormous feetin them. She started cracking up, of course… and that was what it took for her to realize how wide (and big) my feet actually were!
People always say stuff like, "they'll fit, they have size 11!" like that's somehow the chart topping size that no one could possibly exceed.
Well, no… that just doesn't work for me… most stores don't work for me. I'm also certain I'm not the only one with this problem, so I've compiled a list of my #3 choices for stores if you're a girl with wide and large feet, because these shops definitely cater to both needs.
Top recommendations for stores that sell cute wide shoes for girls (plus offer up to a size 13)!
---
Torrid
I love Torrid, they're mostly a plus size clothing shop (size 12+) but they also have a pretty cute selection of women's wide shoes. They don't really sell much in the way of tennis shoes or anything practical – it's mostly stuff like sexy boots,  adorable flats and cute sandals. You know the stuff you always see at the store and want, but can never get because it doesn't fit? Yeah, you can probably find it at Torrid!
They don't offer any width options, it's just all "wide" – which I think may be extra wide, because their shoes are even roomy for me and that is hard to find!
Their shoes come in sizes 7 – 13 wide. Visit their site @ Torrid.com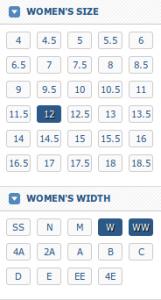 Zappos
---
Really neat site that sells tons of stuff, but they actually have an amazing selection of shoes as well. They come in a huge range of sizes (4 -18.5) and widths, even extra wide options are available. You can find all sorts of shoes from sandals to casual flats to dress. You can even find athletic type shoes, too (especially cute ones in wide widths)!
Even though they have sizes outside the norm, for women their practical range is between a 6 – 13. By saying that I mean you're not going to find much of a selection that is larger or smaller, even though they do offer a few choices.
You can visit their website @ Zappos.com
Payless
---
Shoe shopping can be expensive if you have special needs (wide feet, large feet, wide AND large feet) … and Payless is pretty good about accomodating to ladies with wide AND large feet on a budget! Their shoes usually range from around $10 – $30, so you can pick something up that will fit and is affordable.
They don't have the best quality shoes, but they're still decent and for the price, you really can't beat it.
Another thing I like about them is convenience. You can walk in to their store and find up to a size 13 wide, no special ordering required.
You can visit them @ payless.com 
Those are my personal top choices I have found that offer the best variety of wide fitting shoes for women, all extending to a size 13. These are what I find work for ME, based on my personal experiences. If you have found any other great shops that sell large and wide shoes for women, please drop me a comment on below and let me know!