This post may contain affiliate links. This means I may receive a small commission if products are purchased through them. All opinions are honest and remain my own.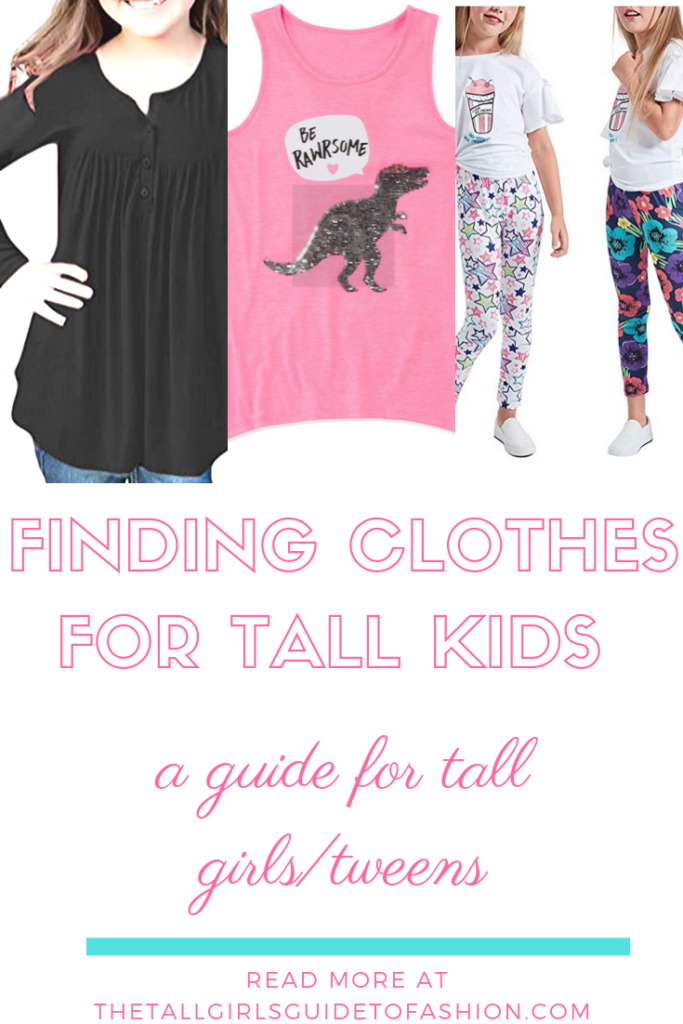 I've been asked countless times about where to find clothing for tall kids and tweens – it's obviously a struggle and there seems to be a gap in the clothing market for this particular demographic. Tall sizes just don't exist in the girl's department! I wanted to create this guide for tall girls and tweens, and their frustrated parents who are trying to dress them!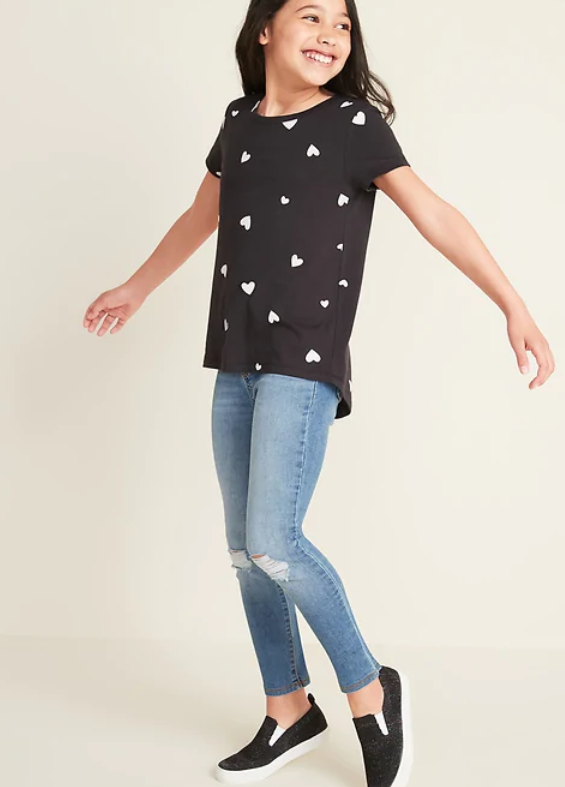 By the time I was 10 years old I was already 5'7 – and I know there's plenty of young girls out there that are even taller by that age.
Now for myself, I was not skinny so I always just wore adult-sized clothing and baggy t-shirts. I was totally not fashionable at all when I was a kid and just kind of wore whatever my mom got me and fit.
Back then there were just way fewer clothing options than today. Plus size girl clothing wasn't a thing, either, so there was no way I could have fit my 5'7 (then adult size 10) body into anything other than well, adult clothes.
I remember being upset I couldn't shop in the American Girl catalog for clothing. This was the 90s – people still clothing shopped through catalogs and you actually had to call up a number to place your order. Wow, have times changed. I don't even know if American Girl still makes clothing in girls sizes, but they did back in the day.
While times have definitely changed for the better and there are so many more options now for clothing, they still just don't offer the "tall" sizes for kids. I guess very tall children's clothing is just not in a high enough demand for companies to market it.
Well, I've done some research into this topic and come up with a list of tips, things to look for, and places to shop when you're trying to find clothing for a taller young girl.
When trying to find clothes for a tall child or tween…
---
Old Navy's children's line is cut longer than other kids' clothing departments. On average, the pants, jeans, dresses and tops are 2 inches longer in length for their size. This could possibly be a great choice if you have a child who is just a little bit taller than average. All the pants that are button up also have adjustable waistbands as well, so you can possibly size up to get even extra length. Check them here.
Look for "slim" girls sizes and adjustable waistbands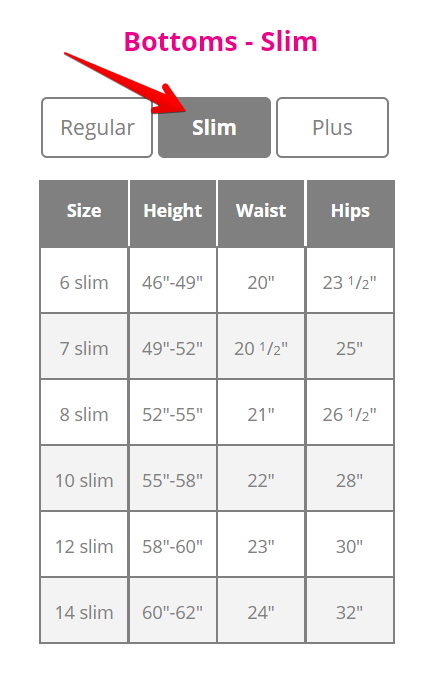 Stores like Justice, JCPenny, Old Navy, and Gap all carry slim sizes for girls – These are typically 2 inches slimmer through the hips and waist than the regular girl's sizes which allow for many girls to size up in clothing for length, without the pants being too big or baggy. Many of them also have adjustable waistbands.
Look for tunic or tunic length tops in the girl's department
Tunic tops are a really good option for tall kids because they're longer length than a normal shirt. They're typically designed to fit below the hip -(and sometimes to mid-thigh) so if you're needing to dress a longer torso you can probably make sure at least it covers appropriate skin. Also, it offers hope that you can actually shop the children's department and still get the cutesy/kiddish stuff.
Just keep in mind – there's no universal length for retailers to label something as "tunic" so you probably want to make sure you either try it on or if buying online look up the length of the shirt in the description information. Many times this is available, but not always. You can also (sometimes) get useful information from the review section.
Surprisingly Amazon has an extensive selection of tunic tops for girls – check them out here.
Try junior sizes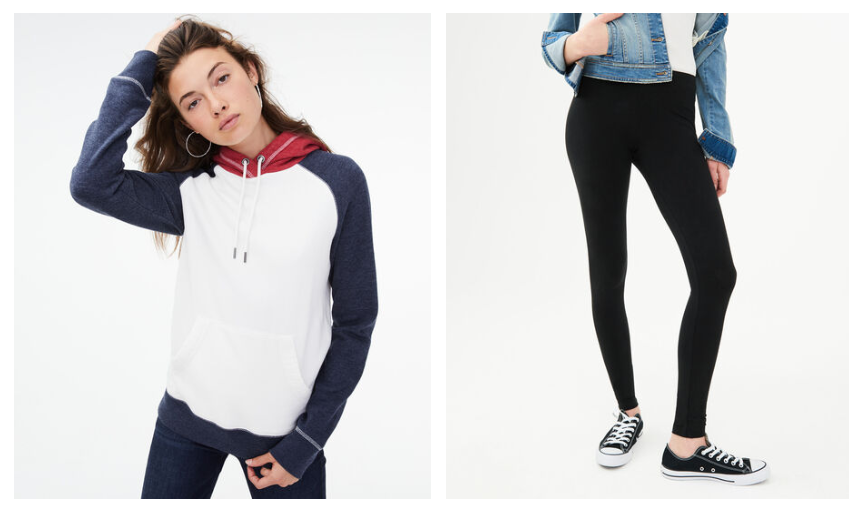 If you are dealing with an exceptionally tall child/tween even sizing up with slim sized girls jeans won't help – you're probably going to have to head for the juniors department. Juniors clothing is sized smaller than women's and is also geared toward younger girls.
Keep in mind you might have to pick through the selection to find appropriate items, but most of the time you can still find basic pants, tops, and tanks within the juniors section that would still be OK for a young girl to wear. Often times you can find smaller sizes (XXS/XS) that are cut tiny and comparable to girls sizing, only it's cut longer.
Aeropostal may be an option for really skinny girls since they make sizes 000, 00 and 0 with the adult length you need. Their 000 size is a 22.5 waist, 32.5 hip which is comparable to Justice's 12 girls slim size. They have inseams ranging from 28 – 34".
You can also pick through their stuff to find basic jeans and tops that aren't inappropriate. Their clothing is also cut smaller than most other junior lines, so it is a possible option for young girls who really need that extra height.
There are also other clothing lines such as American Eagle and Buckle that are geared toward young girls and even offer extra-long inseam options.
Recommended: The BEST Shops to Find Tall Junior Clothing
Consider leggings…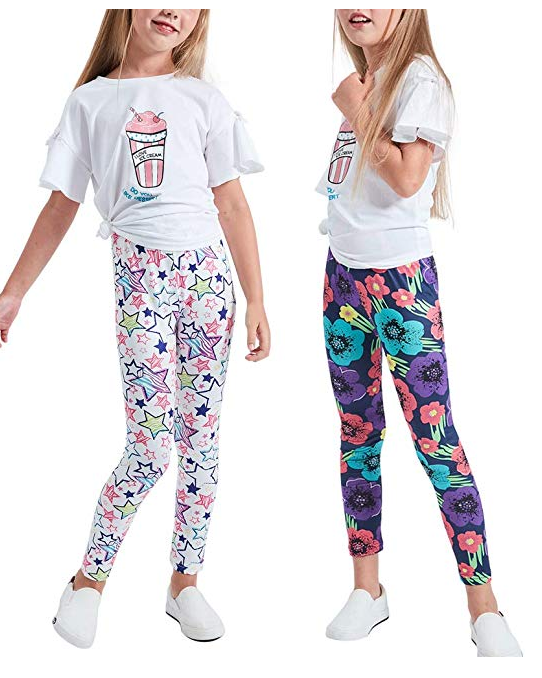 Because leggings are designed to be tight around the legs and are so fitted, the length is a little more forgiving than with traditional pants. You can check Old Navy's girl leggings since they're sized longer, or even size up to juniors if you need the extra length (Aeropostal would be a great place to check since they are sized very small and carry the 000/00)
When it comes to looking for things like leggings and long tops for young girls, Amazon can also be your friend.
---
I know it's really difficult to find clothes for young girls who are so tall. The selection is limited and many may find items from the junior section to not be appropriate for a younger child to wear. Usually, you can pick through and find basics that are ok to wear but I still acknowledge that it's not a walk in the park!
If you have any other tips or questions, let me know in the comments!
Please follow and like us: