The thing I hate about being tall is having big clunky feet to go along with it. Out of all the troubles I've experienced with finding clothes that fit, shoes have by far been the biggest struggle.
I wear a size 13, and the majority of the time I need the wide width–try finding that in a shoe store. Believe me, it's hard.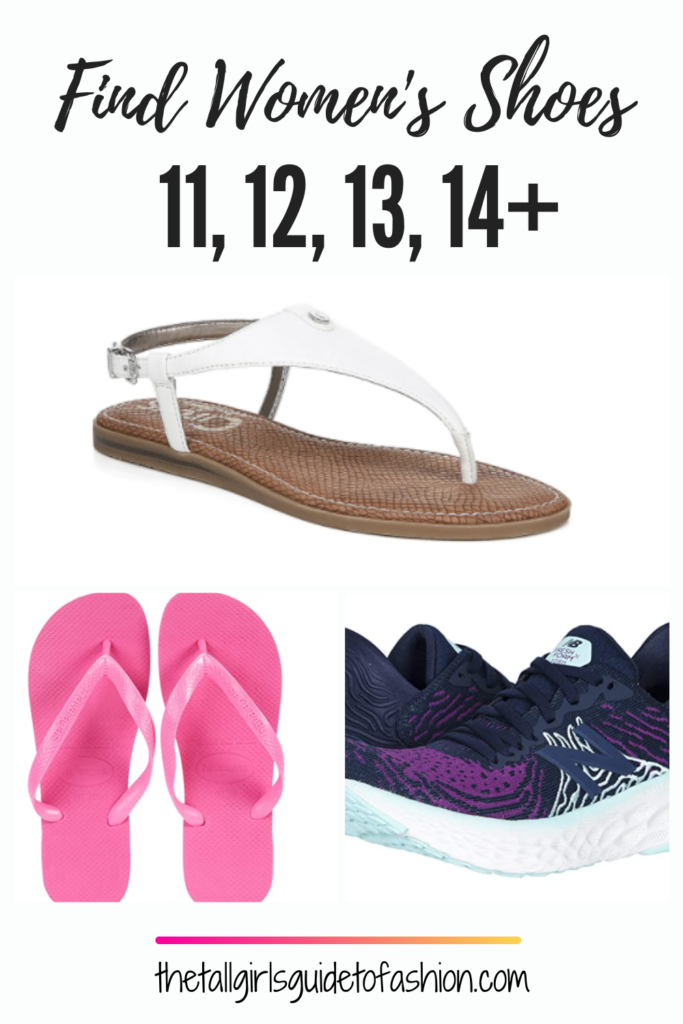 Nearly every mainstream shoe store sells only up to size 10–a few carry 11's. It's rare to see anything bigger. If you're looking for where to find shoes for women with big feet, you've come to the right place because I know all about where to find them!
Unfortunately, if you wear larger than a women's 10, you'll many times need to do your shoe shopping online.
When looking for above a women's size 10, you will probably need to use the internet. There are a few online shoe shops that offer decent selections of cute trendy shoes in bigger sizes–even up to women's size 15!
Don't worry though! It's OKAY!
---
Here's a list of great places that carry extended shoe sizes for women — some of them in up to a size 15! (My top recommendations!)
---
Zappos definitely has one of the widest ranges of shoes in larger sizes for women – styles range from casual tennis shoes, athletics, flats, sandals, boots, and even slippers.
Some unisex styles offer shoes even past a women's 15! They also offer width options for many brands of shoes ranging from extra narrow to extra-wide.
Another great thing about Zappos is they have the most generous return policy out of any online shoe store I've encountered. Anything you buy can be returned up to a year from the date of purchase, and it's entirely free to ship your items back!
 See for yourself here at Zappos.com
---
DSW is one of the better-known shoe stores out there, but I never realized they carried larger sizes for women until I looked on their website. I was just so used to never being able to find the size I needed in the store, I didn't realize they had such a selection of extended-sized shoes for women on their website!
But second to Zappos, their selection is great for women's shoes in sizes 11, 12, 13+ for athletic shoes, casual, flats, dress shoes, and even boots. They even have a decent (but limited) selection for women's size 14's and 15's as well.
Returns to any DSW store are entirely free, but you'll need to pay a flat rate fee to return by mail.
---
Just like Zappos and DSW, Famous Footwear also has a great selection of all types of shoes in up to a women's size 15.
Returns to any location are entirely free, but you'll have to pay a flat-rate shipping fee to return by mail.
---
So I actually discovered that Amazon has a pretty decent selection of shoes for larger feet and the best part about it is there are many options that won't break the bank. I found lots of stuff between $20-$50! Winter boots, fashion boots, sneakers, sandals – they seem to have it all.
Returns are typically free and some items you can try before you buy with Amazon Wardrobe. However the return details vary by seller, so you'll need to make sure to check that carefully before purchasing shoes through Amazon's website.
You can also find specialty lines like Amallitalli that sell on Amazon, up to a size 12 (check out here)
---
Nordstrom Rack is nice because they are one of the few stores that actually carry up to a women's size 13 in their physical store locations. If you must do your shoe shopping in-store, this is one place to make sure to check out.
Online, they carry up to a women's 15!
Returns are free to any store, but you'll have to pay a shipping fee to return by mail.
---
This UK-based company carries shoes up to a size 13, but their selection isn't nearly as expansive as the other options listed here. They used to carry up to a 15, but not anymore, unfortunately.
Long Tall Sally's main focus is on clothing, but it may be worth a quick look at their shoe department.
Find shoes up to size 13 from Long Tall Sally Here
---
Shoes.com is another online retailer that offers a pretty large selection of shoes from sizes 11 – 15. They have pretty much everything here. Some shoes are even available up to a women's 16!
Because they're exclusively an online retailer, you might not want to purchase anything if you're unsure of the fit. You don't have the option to take it back to a store and returning items by mail will cost you a $7.95 restocking fee. This is a reason why you might want to consider checking Zappos first!
---
JCPenny is another place to check out as they have a pretty decent selection of women's sizes 11 and 12. They have a handful of size 13 shoes as well, but if you wear above a 12 you'll probably want to look elsewhere.
---
Torrid actually has a really cute selection of shoes from 9 – 13W. The nice thing about Torrid is in addition to their website you can actually find these shoes IN store.
The only bad thing is the selection isn't huge (especially in-store) and they only carry wide widths as they're a specialty plus size shop. They're still worth a mention though if you are looking for WIDE width shoes. I absolutely love them!
Shop WIDE shoes from Torrid up to a size 13!
---
Additional mentions…
---
Payless
Worth a mention, Payless carries up to a women's size 13. They went bankrupt a couple of years ago and closed all their store locations, but recently they started making a comeback. Their website is relaunched, and they've opened up some of their stores again although locations are rather limited.
I used to love Payless when I could shop in-store because they were awesome if I needed super cheap shoes ASAP. But they haven't re-opened any stores near me, so I no longer have the shopping in-store advantage.
One of the worst things about Payless is that they're totally hit or miss with the selection – sometimes they have tons of great stuff and other times, not so much.
---
Shoe Show Mega
I never knew this place existed but was recommended by a reader – I'm very excited to check it out. They carry sizes all the way up to a 14W for women and actually have a decent selection of extended sizes.
The best part about this place is the shoes are actually affordable – you can score some shoes for between $10 – $40 and they have sales! 
---
This is not a list of EVERY store and specialty shop that carries these shoes – it's only my recommendations. These are where you'll be able to find the most expansive selections of larger shoes for women in sizes 11 – 15, in styles ranging from tennis shoes, casual, flats, dress shoes, sandals, boots, and even slippers!
---
---
I've written a more in-depth piece here for shopping for these extended-sized shoes. I don't feel like the search tools on shoe retailers' websites (and search engines) are perfect when it comes to finding all the shoes and styles you want.
It can be super helpful to know common brands that carry specific styles and sizes – including which ones offer wide width options. If you know exactly what to search for, you can discover a lot more shoes that you may not have otherwise.
---
I hope the aforementioned list helps a lot of you ladies out in your quest for shoes, I know it certainly would have helped me in the past! :)
---
Don't forget to check out the ultimate, UPDATED list of where to buy tall girl's clothing here!