This post may contain affiliate links. This means I may receive a small commission if products are purchased through them. All opinions are honest and remain my own.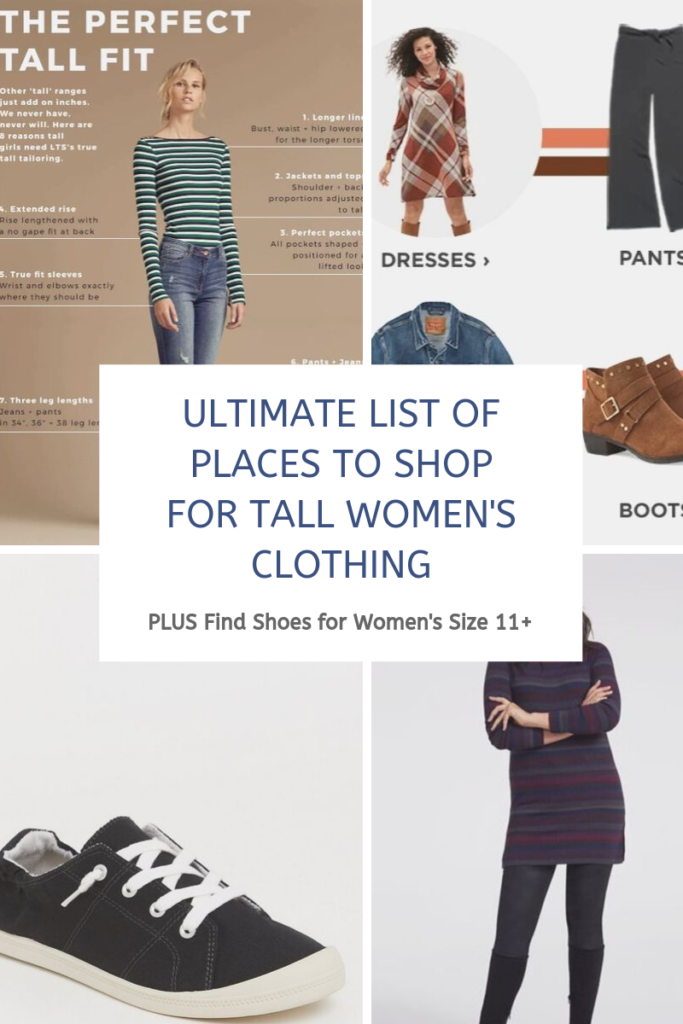 PLUS: Where to Find Women's Shoes for Sizes 11+
I originally wrote out a few detailed lists for places to shop when you're tall way back in 2013 – but I figured it was time for a major update! Considering times have changed, stores have gone out of business (RIP Payless and Delias!) or merged with other companies, I wanted to compile an ultimate list to have a great resource page for anyone looking to buy clothing for tall women!
I know how difficult it is to find clothing that fits when you're tall, especially over 5'10! So here are a few places that actually carry tall clothing lines. Unfortunately, most of these places only offer tall sizing online. But there several stores where you can find longer length pants in stores, at least. If you need anything over a 35" inseam, you'll most likely have to look online.
Recommended: Tall Maternity Clothing – Where I Found it Plus My Favorite Stuff to Wear During my Pregnancy
Long Tall Sally
Long Tall Sally is a UK based company, but they have a US version of their online shop too. They offer sizes 4-20 US (and 8-24 UK/AU)
They have everything from casual to work attire, coats, dresses and swimsuits! They even have pajamas.
I personally really like Long Tall Sally. Even though their clothing is on the expensive side it is very well made. I still have clothing in excellent condition that I've had for 6+ years.
Shop the current selection from Long Tall Sally here
JCPenny
Everyone has probably heard of JCPenny, but if you shop online they have a section specifically for women over 5'9! They don't just have longer length pants either – they offer an entire line with everything from casual tops, jeans to work attire and even workout clothing. Sizes 0-20
I pro about JCPenny's tall line is it's one of the more affordable options out there, especially if you shop on sale! I've gotten some great pieces from their tall line and would recommend you try it out.
Shop current selection from JCPenny's tall line here
New York and Company
Offers some interesting styles for sure! Also a great selection of casual jeans in long inseams. Sizes 0 – 20.
They are pretty affordable because they have some great deals.
Find Jeans from New York and Co Here!
Buckle
Buckle is a great option because they have a lot of different options for pant length – you can find 35, 36 and 37" inseams on their website! They also offer trendy jeans for younger girls and junior sizing so great if you're looking for an option for a tall junior size it's a go-to.
You can even find 00 juniors sizing with up to a 37" inseam – if you're a super skinny tall girl this might be your place to find jeans that fit!
Find jeans from Buckle in 35, 36 and 37" inseams
Alloy
Offers inseams up to 39" which is one of the longest options out there! They even have tall sweatpants, leggings, tops and dresses. Decent pricing and offers sizes 4-20T. This is another great option for juniors!
Shop Alloy's current selection
Eddie Bauer
Has tall jeans and pants for woman 5'10 – 6′ Sizes xs-xxl (0-22)
Express
Not exclusively for tall but offers longer length jeans/pants – sizes 000-18
Old Navy
Old Navy has a pretty large exclusive tall line on their website (they don't sell any of their tall clothing in stores, only longer length jeans). The quality of their stuff seems to vary a lot, but for the price it's good.
See the current selection and sales at Old Navy
They have a really decent selection with mid-range pricing, but if you shop sales you can grab some really good deals. This is another store I've had a really great experience with!
Gap
A bit on the expensive side, but offers extended sizes from 0000T – 22T
Banana Republic
Another shop that's a bit high priced, but has decent sales and carries sizes 000T -16T
Shop tall sizes from Banana Republic
Athleta
Carries clothing for 5'10 and over – jackets, workout pants, workout tops, sweaters and more.
Shop the selection from Athleta Here
Lands End
Lands End is known for its exceptional quality so if you buy something from them you know it's good. I was excited when I heard they had tall clothing on their website! Sizes 00-18
Discover Lands End Tall Clothing Here
Simply Tall
This a very small scale, family-owned and operated shop. They have some really great clothing though! I really like the style. They carry women's sizes 2-24 (xs – xxl) and have inseams up to 37"!
Height Goddess
I heard about this company from a fellow reader – it's very small-scale and was started by a fellow tall girl who was frustrated with clothing options for us tall gals. You go girl!
The shop has a small selection but if you want some graphic tees with cute tall sayings, it's your place to go!
Talltique
Exclusively tall and features inseams in 36" and 39"!
Tall and Plus Size Stores for Women
If you're a plus-size tall gal these are the best places I can recommend you look:
Torrid
I absolutely love Torrid, it's one of my favorite places to shop. If you're tall and plus size, I would recommend you try it out.
They have sizes 10 – 30, so if you are on the larger side it's one of the better options out there.
They have pants/jeans with long AND extra-long inseams, plus carry lots of cute and trendy tunics and long tanks! Pricing is a bit high but the quality is great.
Lane Bryant
Offers long pants in sizes 14-26!
Find tall jeans from Lane Bryant here
Lands End
If you're looking for plus size TALL swimsuits, Lands End is the place to go – features tall swimwear up to size 26W!
Find plus size tall swimsuits from Lands End here
Maurices
I really like Maurices too! Something I've discovered recently is they offer plus size jeans WITH long inseams from sizes 14W – 24W in tall!
They also offer sizes 0 -16 jeans/pants in tall sizes as well.
Maurices has really cute clothes and is a great option if you're looking for something more affordable.
Find affordable tall jeans from Maurices
Where to find shoes if you wear women's size 11+
Long Tall Sally
Carries shoes up to women's size 15!
Find large shoes at Long Tall Sally
Zappos
Offers many options for women's sizes, 11, 12 and 13. A few options for size 14! Easy, free returns.
JCPenny
Carries up to size women's 12!
Famous Footwear
Huge selection of shoes up to women's size 13! Extended widths narrow – xwide
Torrid
If you're looking for WIDE width shoes, Torrid has a great selection up to size 13! They carry up to size 13 IN store as well!
See Torrid's current selection here
Pretty good selection for sizes 11,12 and 13, even with narrow and wide widths. A few options for size 14+
Nordstrom Rack
It's been rumored you can find up to size 13 from Nordstrom IN the store! You can also view the selection on their website.
Show Show Mega
A reader recommended this to me after I was mourning the closing of Payless and I can't get over it. They have a huge variety of shoes ALL the way up to a SIZE 14 WIDE!!! They're also extremely affordable – like you can pick up shoes between $10-$40 and they have sales! You can get everything from boots, sandals, dress shoes, athletic shoes – everything.
Check them out!
Reader recommended mentions:
Amallitalli – small family-owned, created by two tall sisters!
American Eagle (sizes 00-24 Xlong, another great option for juniors/young girls)
JCrew – offers tall sizes on their website in shirts, tanks, pants and more!
---
Is there anywhere else YOU like to shop for tall girls clothing or places to find larger size shoes? Let me know if you think there's something I should add to my list! I want to make this a comprehensive resource.