The Best Capri Pants for Women
This post may contain affiliate links. This means I may receive a small commission if products are purchased through them. All opinions are honest and remain my own.
Are capri pants out of style?
Capri pants, crops, or pedal pushers (as my mother always said)  are clearly not liked by all. They seem to be one of those things you either love or hate. There's always someone who wants to express their negativity about such a style.
I'm just going to go ahead and say I LIKE capris, I don't care if others might hate them. I believe they are a great alternative to shorts in the warmer months.
Another alternative to the shorter styles of shorts are Bermudas, but I find the spot they hit on my legs is really unflattering–capris that hit just below my knee look much better on my body. That's just me, though, if you have slim legs I'm sure they'd look great on you!
There are most certainly  lot of unflattering capri pants out there, but there are also just as many cute ones.  If you think they look good on your body, why not wear them?
Long legged women are great candidates for pulling off capris!
The thing about carpis, and part of the reason they get such a bad rep, is they do tend to shorten the legs. However tall women, or girls who have longer legs, don't need to worry about looking stumpy!
What's with the ankle crops?
There's a huge fashion trend right now for ankle crops. I just don't see how it's supposed to be more flattering than capris?  It kind of just looks like your pants are too short. (I will say that ankle tapered skinnies can look cute, on certain people. But other than that, they're pretty ugly in my opinion).
In addition to just looking bad, I also don't really see them as a practical alternative to capris because they are basically just regular pants, I don't think they'd keep you any cooler in warm weather.
Dark wash denim crops are the most universally flattering.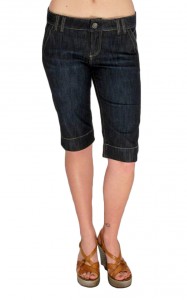 These Trouser Crops
 are a simple, dark denim that are a perfect alternative if you dislike the longer styles of crop pants, but don't like shorter styles of shorts. This is probably one of the most flattering lengths for capris.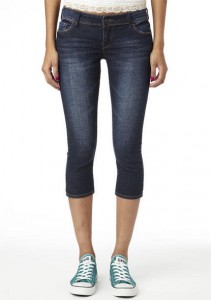 I like the darker wash of these Taylor Crop Jeans
, but they also come in a lighter color (pictured top of post).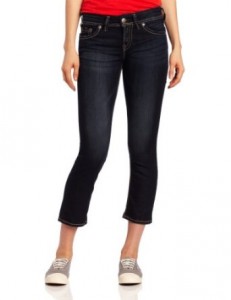 These Suki Capris
 by Silver Jeans are slightly stretchy with a curvy fit and higher rise. The dark wash will help slim your legs, and you can always roll them up if you want them shorter.
These Taylor Super-Skinny Crop Geranium
 might be a bit harder to pull off, but if you have slim legs they would work great. They are certainly fun for summer, and come in so many fun color options. Geranium (pictured left) is my favorite.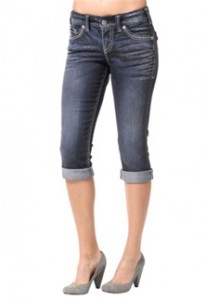 I would like to last mention these Silver Suki Flap Capris
. They hit slightly below the knee, which I really like for a capri length. I have thicker legs, so some styles cut to fall mid-calf aren't always the most flattering on my body. (And you can always roll the cuffs down to be longer if you want!)
Please follow and like us: