This post may contain affiliate links. This means I may receive a small commission if products are purchased through them. All opinions are honest and remain my own.
With the legging style dominating the market, it's getting much more difficult to find bootcut yoga pant styles anymore. I've found a few places that still carry the bootcut yoga pants in TALL inseams (34+)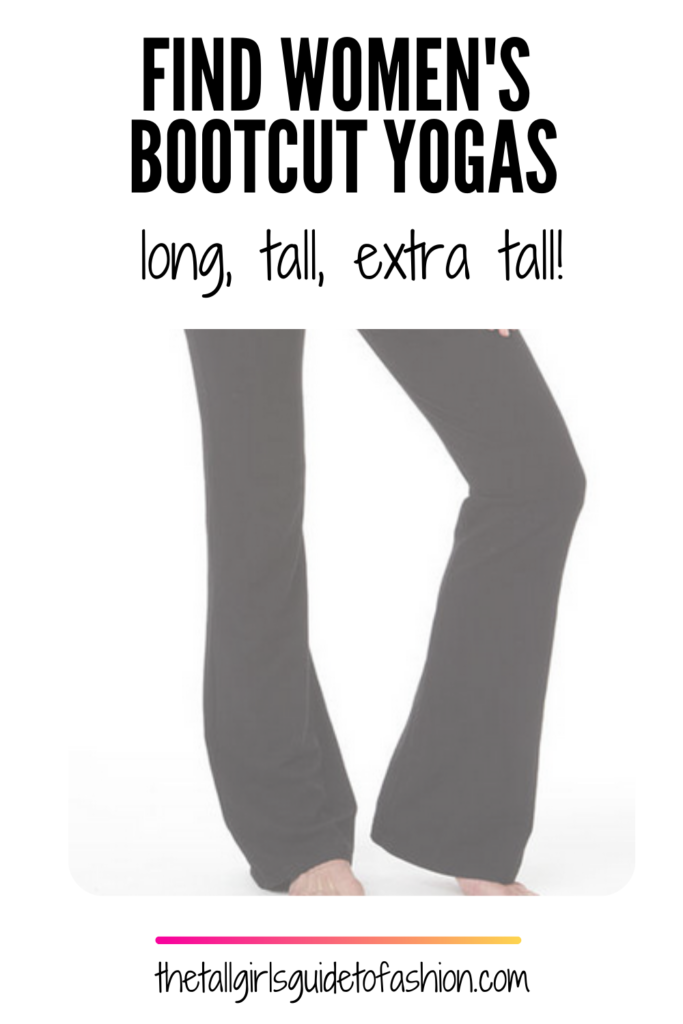 It's sad because I always liked the bootcut style, but as with jeans, it seems like the skinny/legging style is trending. It's just unfortunate because not EVERY woman wants to wear legging-style pants all the time (or ever).
I find the material that they make the yoga type pants out of is NOT comfortable when it's super tight like the legging style… but maybe that's just me.
I wrote a piece on the best yoga pants for tall girls years ago, but I'm doing this as an update since those items are no longer being sold.
I have moved on to joggers and leggings and away from yoga pants, but you can still find the yogas if you know where to look.
---
Recommended: Tall Women's Joggers and Sweatpants – Tips and Where to Look!
---
Here are 6 shops I found that still actually sell this style for us ladies with longer legs!
---
Amazon – 33", 35", and 37" inseams
These days, if you're looking for yoga pants that are still cut in the bootcut style, Amazon is the place to go. Because joggers and leggings are dominating the style market, most clothing manufacturers just don't make them anymore.
I know that buying clothing on Amazon might be a little iffy but they actually have a TON of longer inseam yoga pants on the site from many sellers, and a lot of them actually let you pick the inseam option!
Sellers like Yogispace come in 33, 35, AND 37" inseam options, and other companies, like Safort, are available in up to a 34" (with lots of color options).
Just double-check the materials in a particular color you want, because I noticed some brands have different material blends for certain colors.
Both of these sellers have thousands of positive reviews. And averaging around $30 they're fairly inexpensive!
You can shop the full selection of longer inseam yoga pants (up to 37") and check current prices here on Amazon.
---
Another option I wanted to throw out there is JCPenny. They have a special tall section on their website, and they sell the bootcut style in tall with a 35" inseam!
They have great reviews, and come in multiple colors. They're also fairly inexpensive, especially if you catch them on sale (which they usually seem to have a sale going on!)
You can find them at JCPenny here.
---
Gap – 34" inseam
Gap actually still sells slim bootcut yoga pants, currently called "GapFit Blackout Flare Pants" although they are just like yoga pants. These are sold in "tall" sizes which according to their sizing are 34" inseam.
The only thing to keep in mind is these are a polyester-spandex blend, which means they're more workout material than just comfy lounging.
They have pretty good reviews on their website (4.3/5 stars, with nearly 100 reviews) and the most common complaint about sizing is that they are TOO LONG.
As a tall girl that is exactly what I want to hear! Find them here
---
If you need a longer inseam, Old Navy offers their tall bootcut yoga cut pants with a 36" inseam, which is 2 inches longer than Gap's.
Best of all these are the most inexpensive option on the list, you can buy them for around $20.
Check out Old Navy's tall yoga pants here
UPDATE: They no longer sell these in TALL and I can't find another similar style on their website currently!
---
Aerie (by American Eagle) – 34" inseam
Aerie is a part of American Eagle and they brought their bootcut yoga pants back by popular demand. These are available in long lengths, which I believe to be between 34" – 35" inseam.
They make a couple of different types of styles in the bootcut variety – the "chill" and the "play" version.
The "chill" bootcut yoga pants are more casual/relaxing type pants – they are 56% cotton, 37% polyester, and 7% spandex.
The "play" version are made of 90% polyester and 10% elastane (spandex). This is designed to be more moisture-wicking, which might be ideal if you're headed to the gym or for a hike, but less comfortable for just lounging.
These are also quite affordable yoga pants at around $20 a pair. You can shop from Aerie here
---
This is a small run business out of Elk Grove, California. They have a range of options for bootcut style yoga pants in 34" inseams! Plus super unique and fun tie-dye designs.
These are made entirely in the USA and hand dyed, so you're getting a good quality product. If you like to support small business, check them out!
Check out their shop here at Etsy
---
Keep the material in mind when picking out your yoga pants too!
The more cotton, the softer and more comfortable the pants.
The higher polyester/spandex kind are much more prone to pilling and aren't quite as soft as ones with cotton, but they are good at wicking moisture and therefore good for hard workouts.
I personally prefer the material that has cotton in the blend rather than pure polyester/spandex, but that is also a personal preference!
---
Do you prefer bootcut style or legging yoga pants? If you know any other places to find yoga pants in longer inseams, let me know below!
Please follow and like us: