This post may contain affiliate links. This means I may receive a small commission if products are purchased through them. All opinions are honest and remain my own.
Yoga pants are incredibly hard to find in longer lengths!
I've always had such a hard time finding yoga pants. While some stores carry long inseam options for pants and jeans, it's nearly impossible to find yoga pants in longer lengths. The only store I've found (at least around where I live) that actually sells long yoga pants is Target – but I can't always find them and they don't have very many options.
But I still love yoga pants. They are incredibly versatile, comfortable and sexy. Whether they are worn to yoga class, working out, running errands or just for those lazy days, they are perfect for many occasions!
Trust me, I've looked a long time for yoga pants to fit my taller frame, and I FINALLY found some that are long enough for me, and are pretty decent as well!
2019 UPDATE: These recommendations are NO LONGER SOLD!!! I've updated a list of the 5 places you can still find LONG inseam yoga pants!
My first recommendation for long length yoga pants:
 Essential Yoga Foldover Pant from Alloy – My Personal Review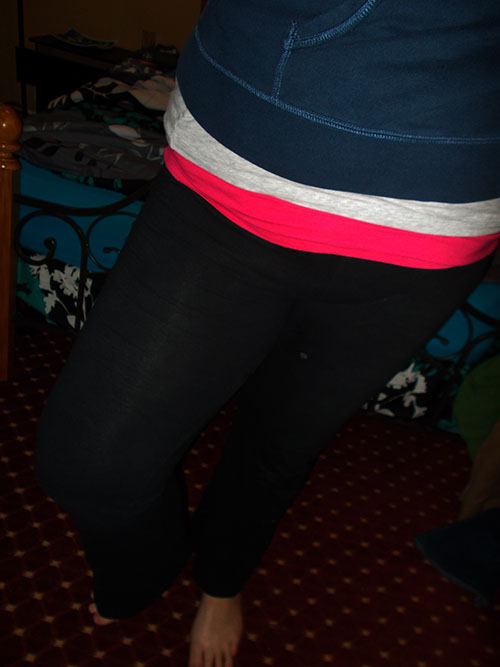 NO LONGER AVAILALBE!!! – Check my list of where to find tall yoga pants here
I bought these awhile ago on a whim because a lot of my yoga pants got to the point of being completely worn out (I wear them A LOT)! I finally decided I needed new ones, and after searching at Target with no luck, I decided to get these foldover yogas from Alloy. 
I grabbed them on a 2 for $50 deal, (which I'm pretty sure they always have going on) so I took a chance because I figured I wouldn't find them anywhere else. At $25 a piece I figured it wasn't too pricey, I knew they'd definitely get a lot of use.
I decided to buy the 37" inseam because all the reviews on Alloy's website say they shrink "a lot" and the 35" were too short after washing…
Now, since my legs are quite long I decided to err on the side of caution and get the longer option.
However, personally I found the 37" to be WAY too long for me (keep in mind, I am 5'11)
I figured they would shrink in the wash like everyone said, but they really didn't! (I wash with cold water though – perhaps they'd shrink in warm water?)
So if you like incredibly long yoga pants (or you are very tall – over 6′) the 37" is great – but otherwise I would advise anyone just looking for a regular tall length to go for the 35" – it's much more appropriate.. I don't like when my pants are so long they drag on the ground because it just causes the bottoms to get all torn up!
I really love the foldover waistband and the fact they had so many different colors available! I really had a hard time deciding, but I chose to be boring and got the gray and black ones.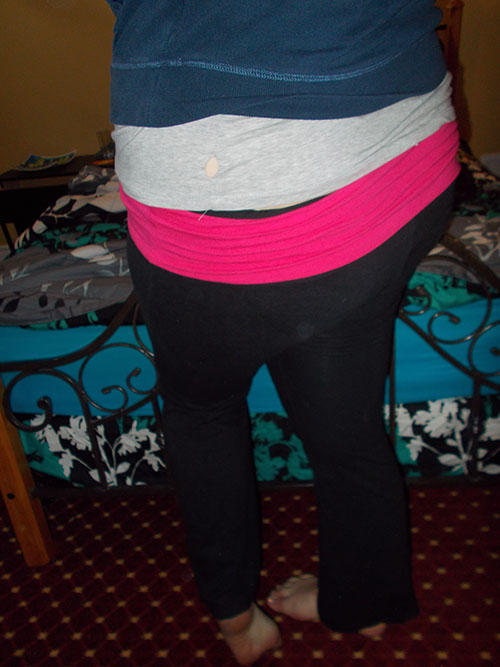 The PROS:
They come in really long lengths, up to 37" – this may be TOO LONG for the majority of tall girls, but for those that are really tall or who have very long legs it's an awesome find!
They come with a foldover waistband that has tons of color options
They're cotton/spandex material, which I personally prefer for everyday (if I'm no working out in them)
They're affordable
The CONS:
The material is quite thin and could potentially tear easily if you aren't careful
They tend to "roll up" on the bottom, especially after wearing them to bed
The regular "black" waistband is kind of weird, personally would recommend the color choices.
Overall opinion:
They're not perfect, but for around $25 bucks a pair and the fact it's hard to find longer yoga pants like these -I would definitely recommend them.
Check them out here on Alloy.com.
My 2nd recommendation for tall yoga pants –
Rio Flared Leg Foldover Pant from Fit Couture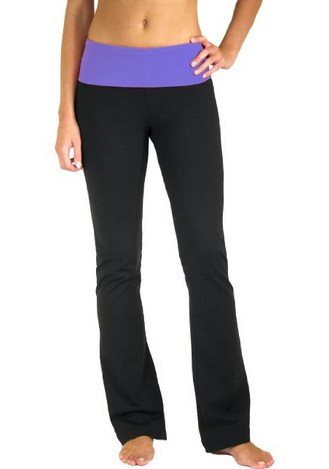 I was searching on Amazon for yoga pants awhile back and found these Rio Flared Leg Yoga Pants – I bought them because they came in long inseams and the reviews weren't half bad.
I will say, I am glad I bought them – the 35" inseam option was perfect for me, plus the material was thicker and nice for working out.
I had never heard of Fit Couture before I bought them, but they sell a lot of workout clothes, and come to find out sell quite the variety of yoga pants too – many of which come in the 33" and 35" inseams!
This particular style (the Rio Flared Leg) have a cute foldover waistband in a lot of great color choices (periwinkle is shown).
Fit Couture sells yoga pants in many different fits and styles, AND several length options whether you're short or really tall.
Their yoga pants are made out of 88% nylon and 12% Lycra. (Lycra is just a brand name for spandex.) The material is soft, yet thicker and durable. All the types of yoga pants I've owned in the past were made of a cotton/spandex blend, so this was a little different experience.
These pants are very soft, comfortable AND flattering.
The nylon/spandex blend of these pants makes them stretchy and form fitting,  giving the hips, butt and upper thigh region a smoothed out appearance. The fabric is also meant to wick away moisture and keep you dry when you sweat.
I prefer these when I need actual "work out" pants
… as opposed to just wearing around the house, running errands, or as pajamas.
The PROS:
They're good for working out
Thicker, more durable
The brand carries a lot of different yoga pants in addition to the rio flared leg style – so there are lots of choices for cut (bootcut, flare, straight leg)
Offers 33" and 35" inseams (and short and regular inseams, too)
Made in the USA – which is really hard to find these days!
The CONS:
Not the best for wearing in non-workout situations
Form fitting quality which some may not like
More expensive
I realize the flared leg and bright foldover waistband options probably aren't everyone's style.
The good thing about the brand though is they sell such a variety of styles there is an option for nearly everybody. If you want something a bit more conservative, I'd recommend their Everyday Yoga Pants.
I'd say these are what you'd call "mom friendly" workout pants. They're really great for everyone, especially those mature ladies who don't want to wear anything to risque! Available in up to 35" inseam, and in brown or black. (They're plain and simple!)
Also don't forget to check out my UPDATED list of where to buy longer inseam yoga pants (from 34 – 37"!)
Hopefully this helps some of you looking for tall yoga pants! Do you know any other great yoga pants for tall girls? Let me know in the comments!
Please follow and like us: