This post may contain affiliate links. This means I may receive a small commission if products are purchased through them. All opinions are honest and remain my own.
If you're like me and prefer the freedom and ease of wearing a two piece, but don't feel comfortable in a bikini, then tankinis are the prefect compromise.
But part of the challenge of being tall (and having a long torso) means it's difficult to find any long torso tankinis that actually cover your stomach area.
Nowadays as I'm getting older, I want to hide my stomach more than ever. Many of the retailers that sell longer torso one piece swimsuits do not make long torso tankini styles, so finding them is even more of a challenge.
I have a LONG torso – over 35 inches from shoulder to crotch – so this has always been difficult. I have long legs as well, but finding swimsuits that fit is even more of a challenging task than finding pants for sure.
If you don't care about your stomach area being covered so much, maybe it isn't a big deal. But for those of us that are looking for the coverage of a one piece in a two piece style, it can definitely be a struggle!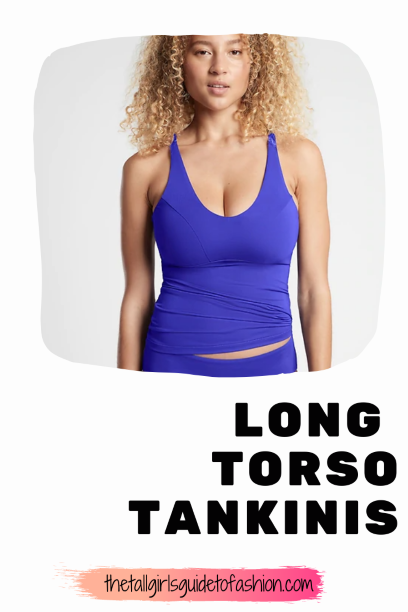 Long torso vs. tall
Tall and long torso aren't exactly synonymous. Many taller women have long torsos, but not always.
Sometimes people are just tall with very long legs and their torso area is average. Others are average height with very long torsos. Everyone's body is different!
However typically when a swimsuit says it's "tall" size, that indicates that the torso length is long. You'll need to take this measurement if you aren't familiar with it to get the best swimsuit fit. (This is explained further below)
Where to find Tankini tops for long torsos (and plus size long torso)
---
Amazon (Yonique brand tankinis)
The problem with Amazon is there are so many unknowns. There are so many different sellers and pretty much none of them list the torso length. However I really lucked out this year.
After much frustration of not being able to find a swimsuit, I decided to try this tankini top from Amazon. I was taking a risk and pretty much had it in my head I'd probably have to return it. It's from a brand called Yonique which I hadn't heard of before, but I was attracted to the style.
The style is called a blouson tankini. It has a tighter band around the bottom and looser style in the middle, which was perfect for disguising my tummy area. It's also not super low cut, and I was trying to find something that covered up my chest a little bit more as well.
It also came in a range of sizes, from XS – XXL, and additional plus sizes up to 22W.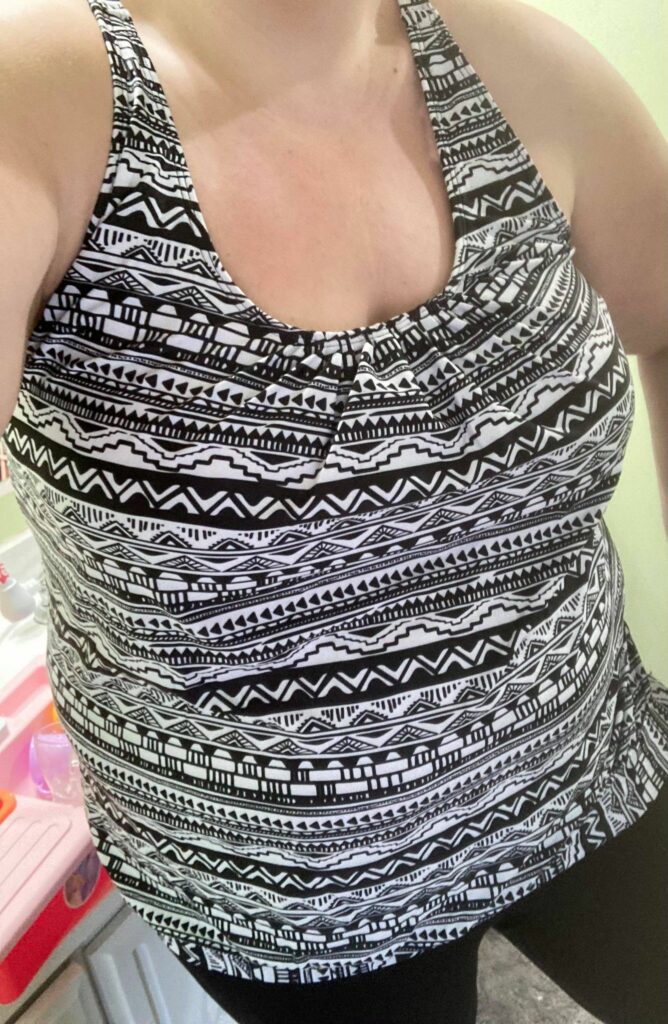 The most troubling part to me was that I was unsure about the length, as I couldn't find the information anywhere within the product description or sizing charts. Having a longer torso, I didn't know if it'd really fit me correctly.
But hey, they have completely free returns and I have Amazon Prime, so why the heck not?
I was super excited that it not only fit me well, but it was LONG ENOUGH! I can actually put it down all the way to my hips. Usually tankini style tops hit me somewhere below the belly button. So the fact that this was actually long and worked great for my tall frame was a godsend.
Another thing that I like about this tankini is it doesn't have an underwire, which I HATE with swimsuits. It's also not super frumpy or and I just love the pattern.
As a bonus, it also came with bottoms which I guess I didn't realize when I bought it. But they also fit me well!
You can find all of the Yonique brand swimwear here. They have quite a few different tankini tops with longer styles and so many different patterns. Many of them also come in plus sizes!
Lands End
If you want more selection, Lands End is a go-to spot to check for tall swimwear. They have a decent variety of long length tankini tops. The cool thing about them is their swimsuits come in regular, tall, petite, and plus – so there's something for everyone.
They also are well known for having great quality swimwear. I've owned several swimsuits from Lands End and they've always been top notch.
Lands End Long Torso Length in Swimwear (by size):
0 Long – 59 inches
2 Long – 60.24 inches
4 Long – 61.5 inches
6 Long – 62.75 inches
8 Long – 64 inches
10 Long – 65.25 inches
12 Long – 66.5 inches
14 Long – 67.75 inches
16 Long – 69 inches
18 Long – 70.25 inches
(If you're unsure, check down below for more information on how to properly measure you torso.)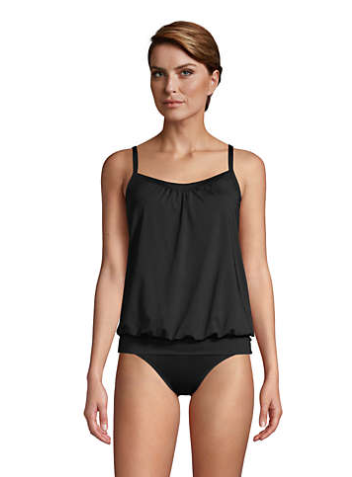 View of of Lands End's tall tankini selection
Plus size long tankinis from Lands End
If you want a tankini that is both plus size AND long (tall) length, check Lands End.
Lands End Long Torso Length for plus size swimwear:
16W – 68.5 inches
18W – 70 inches
20W – 71.5 inches
22W – 73 inches
24W – 74.5 inches
26W – 76 inches
I love the style of this high neck tankini top. It's classic black and is great for anyone who doesn't want to expose their chest area.
If you like lower cut styles, this one is super adorable.
Check out the full selection of Lands End plus size tall tankinis
---
Athleta
I have not personally tried Athleta's tall swimwear, but some tall women swear by it. They carry a selection of tall sized tankini tops, that are about 1 inch longer than the standard length.
Athleta does not carry plus sizes – they carry regular women's sizes S – XL.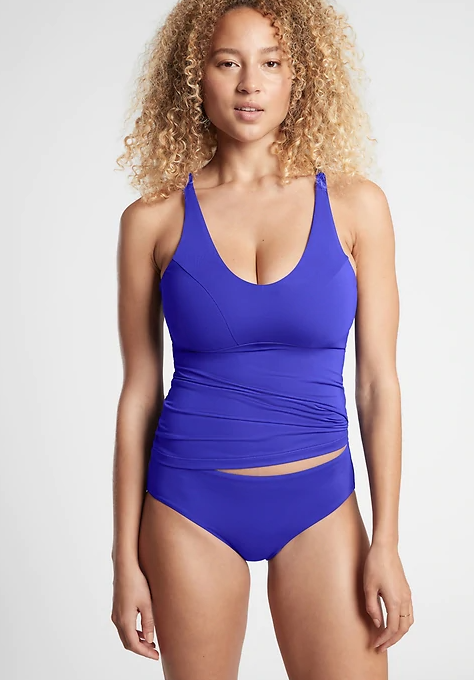 A medium tankini top is 26" in their tall length, so that measurement would go up or down depending on the size.
According to their website, the body length measurement is from the top of your shoulder down to where the top of your bikini bottom would be. This is a bit different from the measurement used by Lands End.
Check out Athleta's full selection of tall tankinis here
Long Tall Sally
The last place you may want to check out during your search for a long torso tankini top is Long Tall Sally. They do not have a huge selection of these, but they cater to the extra tall ladies so it's worth a check.
My favorite pick from this years selection is this periwinkle tankini: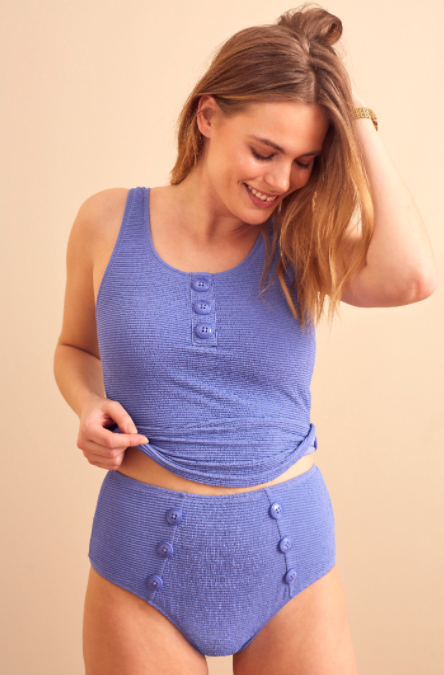 Long Tall Sally Body (Torso) Length for Swimwear
| | | | | | | | | |
| --- | --- | --- | --- | --- | --- | --- | --- | --- |
| XS (4) | XS (6) | S (8) | M (10) | M (12) | L (14) | L (16) | XL (18) | XL (20) |
| 30 ½" | 31 ½" | 32″ | 33″ | 34″ | 34 ½" | 35 ½" | 36 ½" | 37 ½" |
Long Tall Sally uses the body length on their size charts. According to their website, this measurement is from the top of your shoulder to the top of your inside leg.
This is different from Athleta's body measurement, which only measures down to the top of your bikini bottoms. And even more different than Lands End, which uses the full loop torso measurement! (See how torso measurements can be so confusing?!)
The differences between these measurements are explained more in-depth below.
How to measure your torso length for a swimsuit and tankini
This measurement can be a little confusing because sometimes, depending on the clothing manufacturer, a different measurement is used to get this number.
Often times a full torso measurement for a swimsuit is done by measuring from the top of your shoulder (the point where your strap would sit) down through your legs, and back up to the starting point again.
You can reference this video to get the full picture:
But another way retailers measure this for a tankini or one piece is by taking the measurement from the top of the shoulder, down to the top of the legs. Sometimes this is referred to as body length.
In other cases, specific for tankinis, the body length is just from the point at the shoulder to the top of your bikini bottom area.
When you check size charts, they'll explain which measurement they're using.
Considering a standard measuring tape is only 60 inches in length, if you need your full loop torso measurement, just take the length from the top of your shoulder to the bottom of your crotch, and then double it.
Tips for finding tankinis with a long torso (when "long torso" or "tall" size aren't indicated)
There aren't very many shops that sell specific tankini style tops that are for long torsos or tall women. I've listed the places I have found the best selections and that offer actual "LONG" lengths, but it's still maybe not an ideal selection for everyone.
Many of the retailers that sell one piece swimwear either don't offer tankini tops, or they'll offer one or two styles to pick from. This can make shopping for something that you actually like super frustrating.
Get high waisted bottoms
In my opinion, this may be one of the most practical and helpful solutions. Higher waisted bikini bottoms are totally a thing that you can find almost anywhere. These are designed to sit above your belly button.
If you don't mind the style, this can solve a lot of problems you have when it comes to finding long tankini tops! At least with these, your belly area will be covered even if the tankini top runs a bit short on you.
Size up
Torso length increases with size, so if you can get away with it, order a size (or two) larger than normal. This can help give you some extra wiggle room. But depending on how the swimsuit is cut and your body type, this may or may not work.

Look for adjustable straps
Adjustable straps can make a big difference in how a swimsuit fits you as you can customize it more to your body.
---
The Bottom Line – Shop early!
Shopping early in the season will give you the best possible selection. I always wait until the weather gets really hot or a week before I leave for a trip before I even think about it. Usually by then it's way too late and so much is already sold out.
I don't usually say this, but when it comes to swimsuits, if you find something you might like I wouldn't hesitant to purchase it. This is especially true if they offer free returns. (Just make sure you check the return policy first!) With swimwear, it can sell out so quickly that you might miss the opportunity if you don't jump on it.
Good luck shopping! If you have any questions, drop me a comment down below!
Please follow and like us: