This post may contain affiliate links. This means I may receive a small commission if products are purchased through them. All opinions are honest and remain my own.
If you're looking for cute long torso swimsuits this summer, let this serve as your ultimate shopping guide for 2021.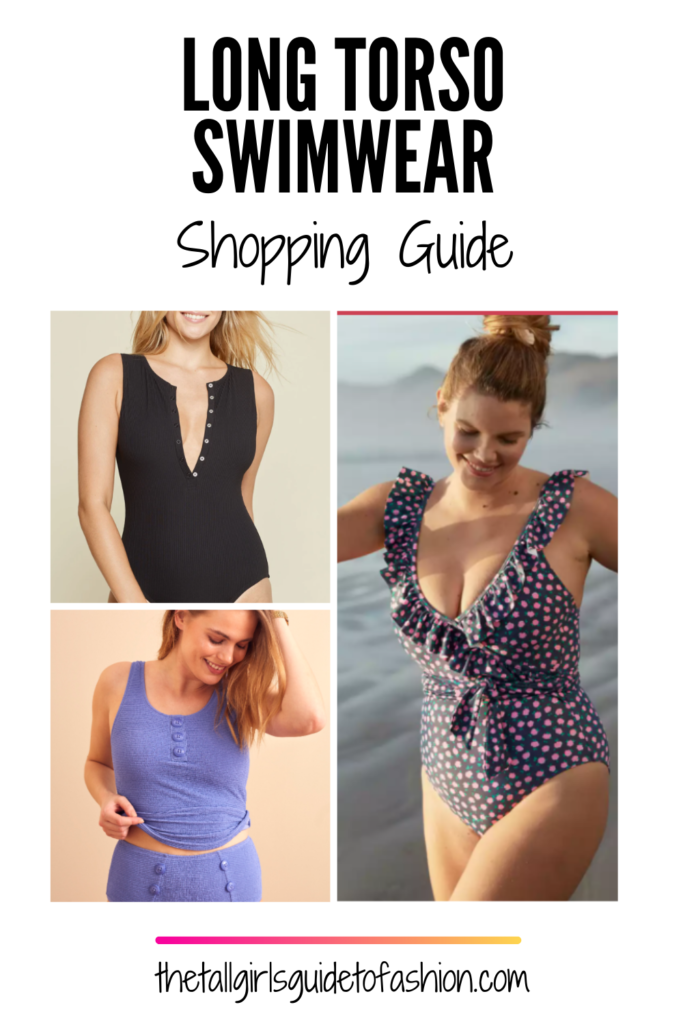 I'm not going to lie, swimsuits sized for taller than average women can be tricky to find. This is a huge reason why I usually just opt for tankinis because I don't want to deal with my swimsuit constantly riding up my behind!
However, in recent years more and more companies are coming out with swimwear that is meant for taller ladies, or just anyone who has a longer than average torso area.
One piece swimsuits are sometimes preferred and necessary, and they're also making a fasion comeback!
For tall girls or those with longer-than-average torsos, tankinis may be the default go-to style if you're looking for something a bit more modest than a bikini.
I realize, however, they're not always appropriate or preferred. If you do actual swimming for sport or exercise, one-piece suits are definitely needed.
Plus, they're really making a comeback fashion-wise in recent years.
So whether you're looking for a longer-than-average tankini or one-piece suit, the good news is they do exist in tons of variety!
Do all tall girls have long torsos?
You don't necessarily have to be tall to have a long torso, and on the other hand, you can be tall without having a long torso at all. That's the funny thing about bodies, they are all proportioned differently.
If you're on the taller side with an averaged length torso, you may do just fine with regularly sized swimwear. But if yours is longer than normal, you may want to look into specialty swimwear designed for ladies with longer torsos. This will help you avoid that perpetual swimsuit wedgie…
What about plus-sized long torso swimwear?
The great news is several of the brands that make longer swimwear also make them in plus sizes, so whether you're a size 6 or 26, you can find something to fit. Lands End, Andie's Swimwear, and Longitude are great places to check.
Torrid also carries longer than average swimwear, but it's not specifically marketed for tall women. If you're looking for more options for larger sizes, they carry all the way up to a 30.
Always check size charts!
Ordering swimwear online can be a challenge since you can't try it on. Make sure to check the size chart on each website to make sure your size and torso length are a good fit.
Some companies run larger and some smaller, so it can be helpful to know which type of fit would work best. For example, Aerie is part of American Eagle, which makes clothing more for juniors/young women. So their sizing is a bit slimmer than other companies made for women, such as Lands End.
How to properly measure your torso, bust, and waist for swimwear
The torso measurement in particular can be a little confusing because sometimes, depending on the clothing manufacturer, a different measurement is used to get this number.
Often times a full torso measurement for a swimsuit is done by measuring from the top of your shoulder (the point where your strap would sit) down through your legs, and back up to the starting point again.
You can reference this video to get the full picture:
But another way retailers measure this for a tankini or one piece is by taking the measurement from the top of the shoulder, down to the top of the legs. Sometimes this is referred to as body length.
In other cases, specific for tankinis, the body length is just from the point at the shoulder to the top of your bikini bottom area.
When you check size charts, they'll explain which measurement they're using.
Considering a standard measuring tape is only 60 inches in length, if you need your full loop torso measurement, just take the length from the top of your shoulder to the bottom of your crotch, and then double it.
---
Shop as early as possible in the year
While you can purchase swimsuits all year long, the longer you wait, the less variety you'll find. Shopping as early as the end of winter, or the very beginning of the spring season is when you'll find the largest selection, sizes, and styles in stock.
Shopping at the end of summer is when you may be able to score some great clearance pieces, but that can be really hit or miss.
6 brands that make extended length torso swimwear for women
---
#1. Lands End (women's size 6 – 24W)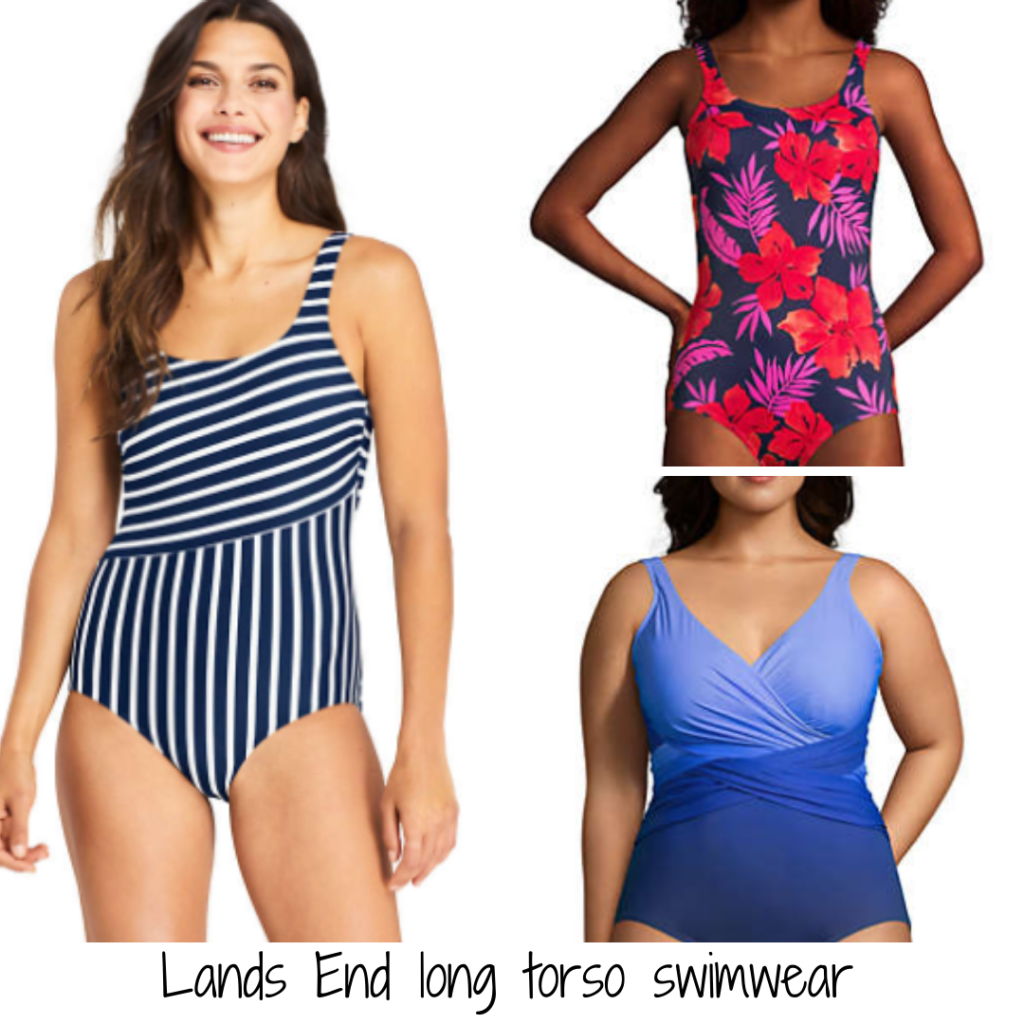 One of the best place to seek swimwear if you're a tall woman is Lands End. Not only do they make EXCELLENT quality swimsuits that'll last for years, but they have one of the largest selections of tall-sized swimsuits that I've ever seen.
Their swim selection has sporty one-piece suits in addition to more casual styles and a great selection of longer tankini tops. They carry women's sizes 6 – 18. Check out their current selection!
---
#2. Long Tall Sally (women's sizes 4 – 20)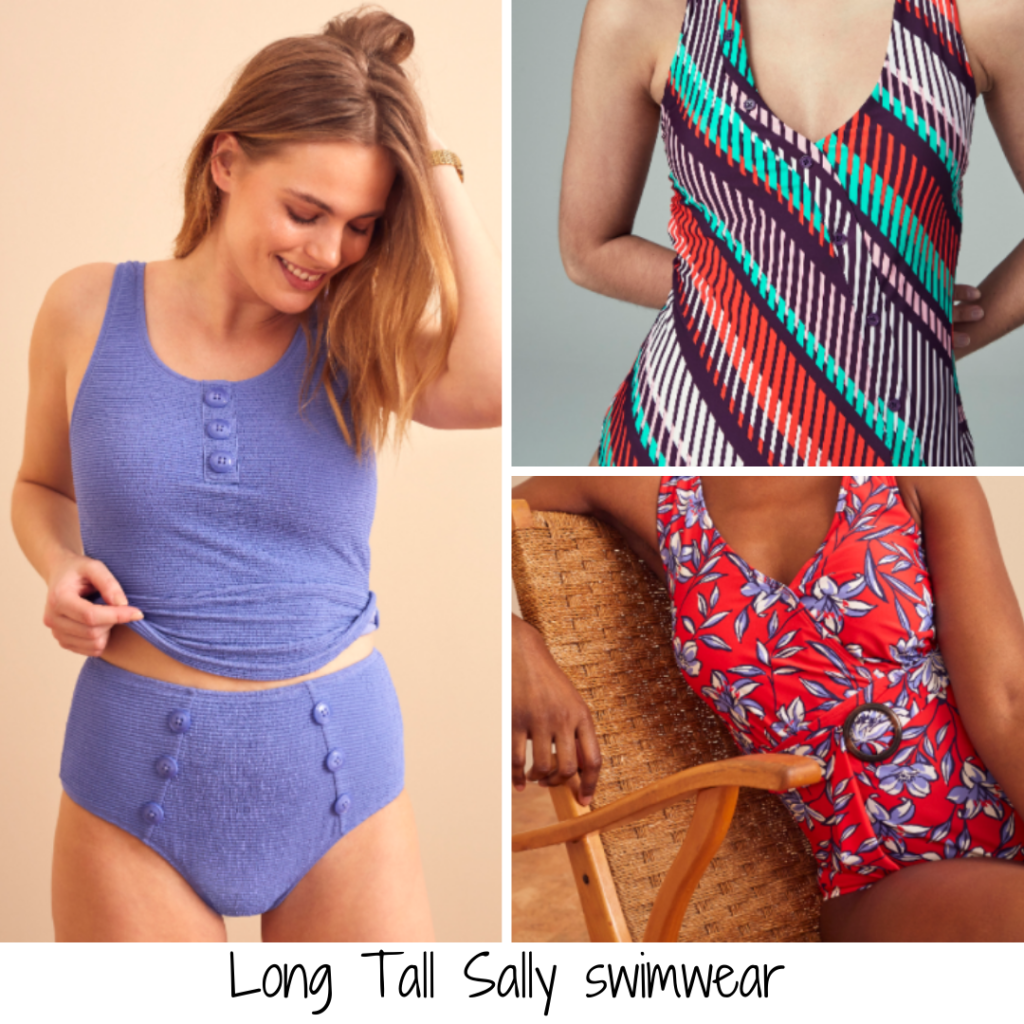 Long Tall Sally does sell longer one-piece suits. They actually have a pretty good variety this year compared to previous years. The major beef I have with them is they always sell out of everything SO QUICK!!! (Proof enough tall girls shops do not exist)!
But, I think it's still at least worth a shot to check out their selection. Check out their current selection here.
---
#3. Aerie (sizes xxs – xxl)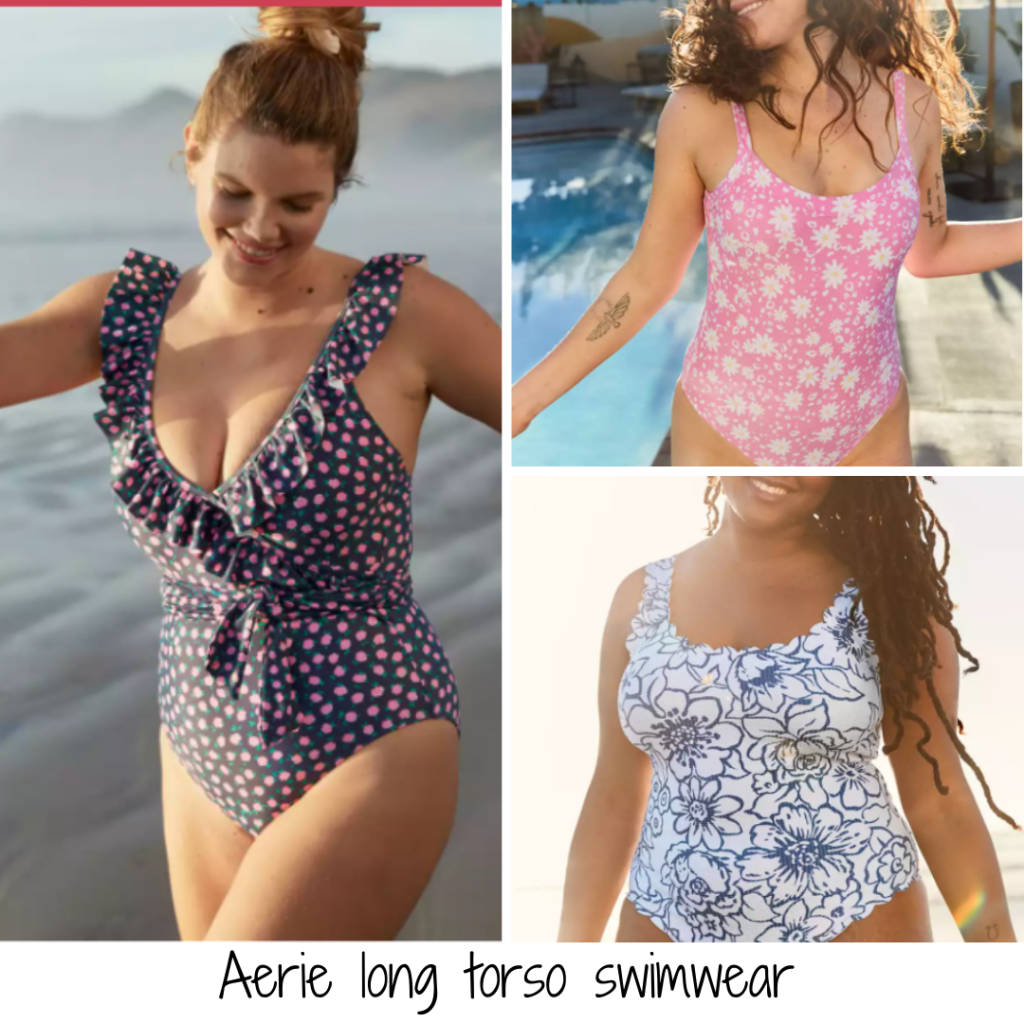 This offshoot of American Eagle has a super cute selection of swimwear and now carries long torso sizes, from XXS – XXL. Their sizing runs a bit slimmer than others in the waist and hips because they're sized more for juniors.
Shop their full selection here
---
#4. Andie's Swim (women's sizes 2 – 26)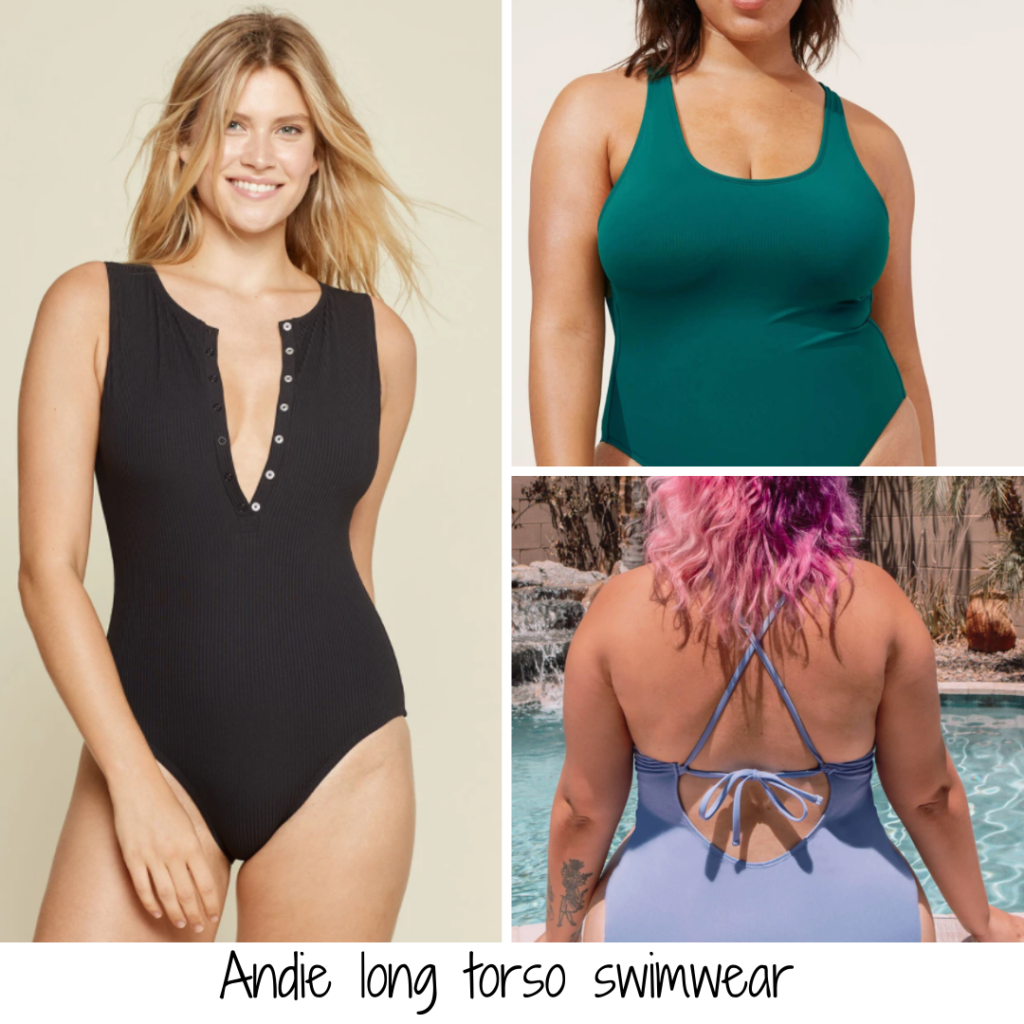 This small company has a great selection of swimwear for tall ladies and those with longer torsos. The style is sleek and simple, you won't find any bright flashy patterns here. But if you prefer a simple and stylish look, this is the place to go.
I like that they have options with a variety of different fits and body types, and carry a very wide range of sizes. It's difficult to find larger plus-sized swimwear that's actually long torso, so this is definitely a great place to check out.
You can view their current selection of longer torso swimsuits here.
---
#5. Longitude Swim (long torso sizes available in women's 8 – 24W)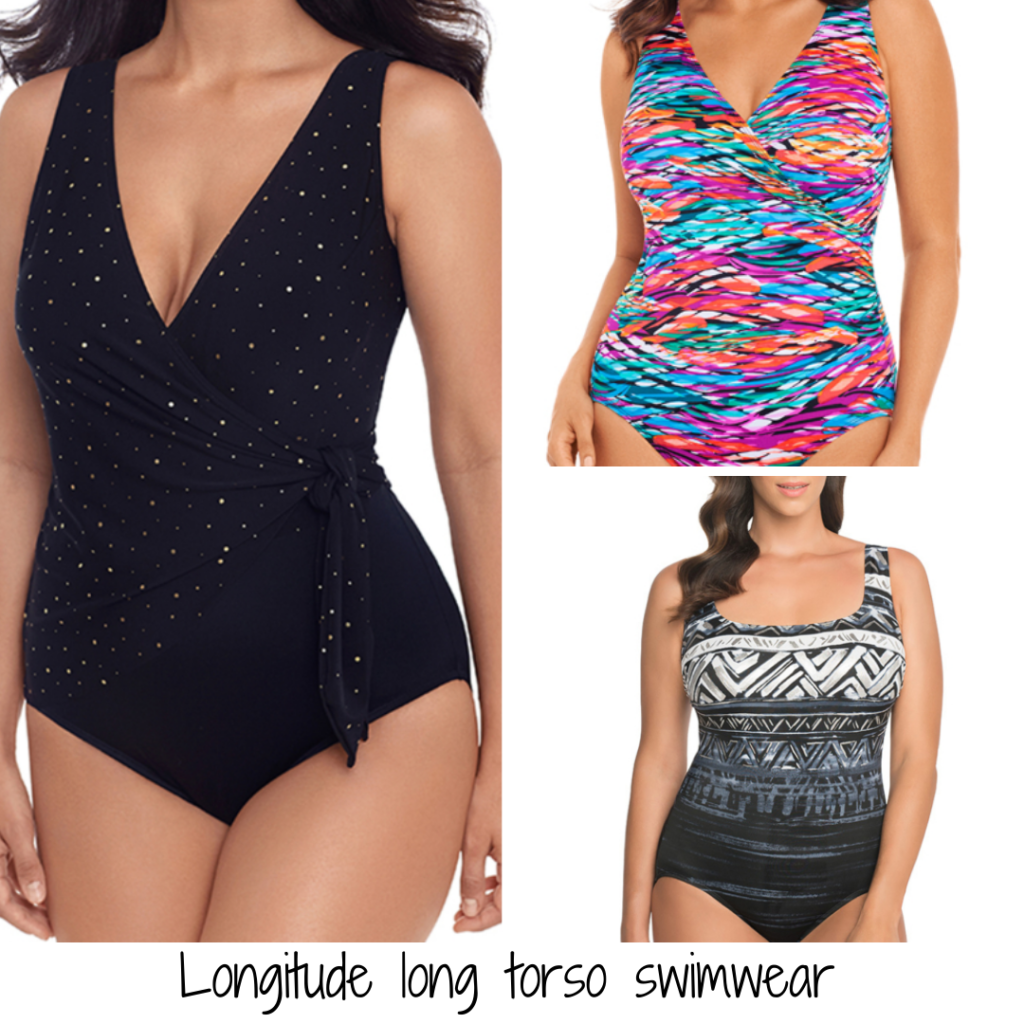 Longitude features an expansive selection of swimwear for longer torsos and even carries up to a women's size 24. They carry swimwear for many different body shapes though, so make sure to order the actual long torso sizes! (If the swimsuit doesn't say "long torso" in the title on the product description, it isn't!)
Their size chart even features the torso measurement that coordinates with each size, so make sure to check that out as well to know if it'll be long enough for you.
Shop their current selection here
---
#6. Torrid (women's sizes 10 – 30)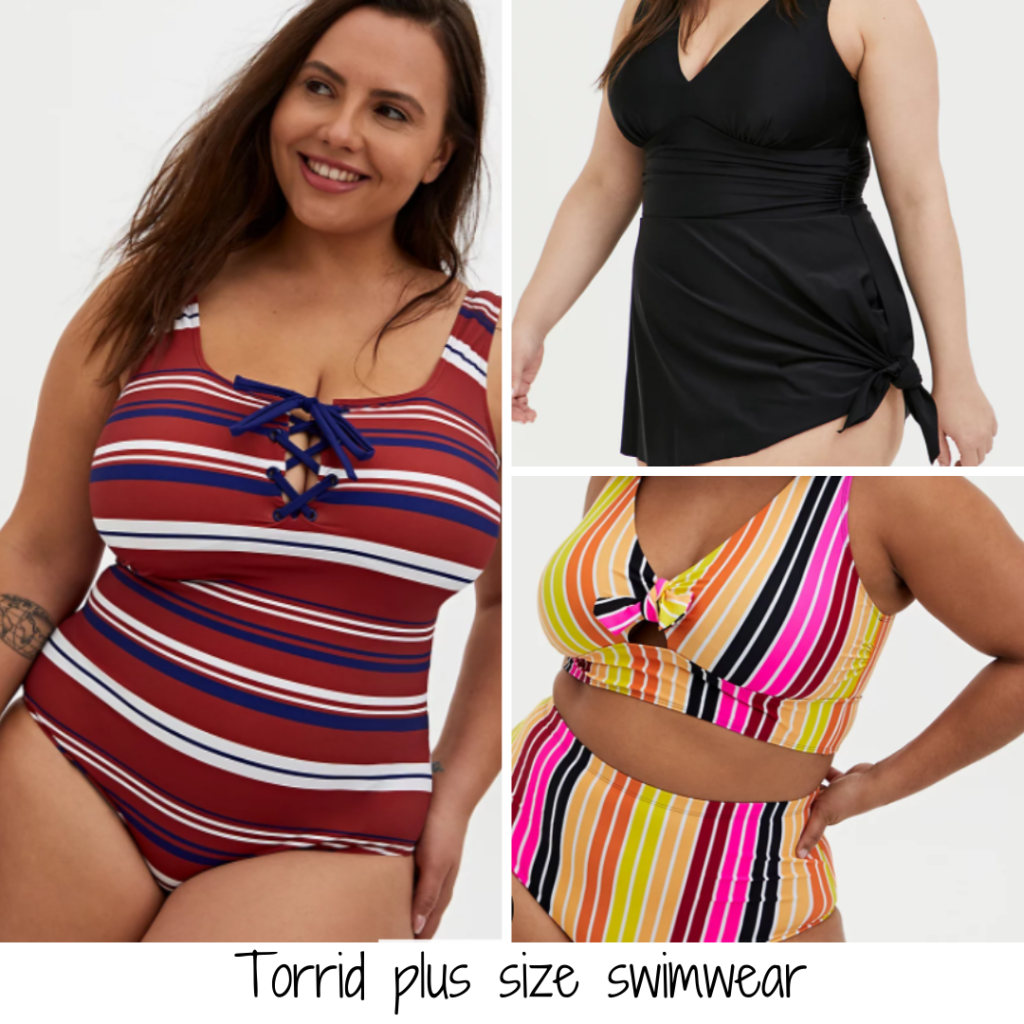 While Torrid doesn't specifically carry long-torso suits, they have great swimwear for plus-size girls sizes 10 – 30. I have purchased a few swim pieces from them and if I size up, they work well and I'm nearly 6′ tall. Their torso measurements are longer than average.
It's really difficult to find cute swimsuits in the larger plus size range, so it's definitely a go-to place to check. The only downside is they can run out of stock SUPER quick.
Check current selection at Torrid
---
Does Amazon sell long torso swimwear?
You need to be careful with Amazon, they do carry a few options but most of the ones that pop up from searching are not actually long torso! Make sure it actually is a "long" size or it specifies somewhere within the description or size chart.
One I found on Amazon was these long Speedo swimsuits. W
hile plain and boring, have relatively decent reviews, and are great for athletic swimming.
Update: I also found this blouson tankini from Amazon that fits me amazingly (I have a 35" torso measurement, top shoulder to crotch) It's not labeled as "tall" or "long" but several of the brand's styles are longer!
---
The swimwear industry has definitely stepped up its game in recent years. There are so many super cute, adorable, sexy, AND functional options of swimwear for extended torsos.
Happy Shopping!
Questions or comments? Please leave a comment down below!
Please follow and like us: