This post may contain affiliate links. This means I may receive a small commission if products are purchased through them. All opinions are honest and remain my own.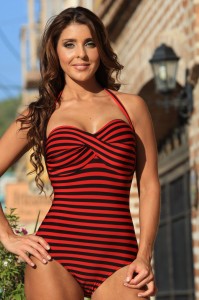 I'm not going to lie, long torso swimsuits are rather difficult to find. Which is a huge reason why I usually just opt for two piece suits. I realize, however, they're not always appropriate or preferred. If you like to do actual swimming (as opposed to you know, hanging out at the beach, or splashing around a pool) one piece suits are definitely needed. Or maybe you just prefer the look, or don't feel comfortable with a two piece. Whatever your reasoning for wanting to find one, the good news is they do exist.
You don't necessarily have to be tall to have a long torso, and on the other hand, you can be tall without having a long torso at all. That's the funny thing about bodies, they are all proportioned differently.
Have you looked and looked, and never been able to find long torso suits?
They do sell one piece suits with extended torso lengths! I had to do a lot of poking around, but I discovered a few places that do carry them.
Where to Find:
Long Tall Sally does sell longer one piece suits. They actually have a pretty good variety this year compared to previous years. The major beef I have with them is they always sell out of everything SO QUICK!!! (Proof enough tall girls shops do not exist)!
But, I think it's still at least worth a shot to check out their selection.
Lands End offers a decent variety of long torso one piece suits. (They are a bit on the pricey side, though.) However they are great quality and they have probably have one of the biggest selections I've seen.
Lane Bryant while plus size, has a great selection of swimwear. If you do wear a size 14+, I'd definitely check out their site. Their suits are made longer than average and are better accommodating to taller women, or women with longer torsos.
Surprisingly enough, they even sell them on Amazon! These long Speedo swimsuits
, while plain and boring, have relatively decent reviews, and are great for athletic swimming.
2014 UPDATE – Alloy and Delia's used to have a cute selection, but they don't seem to carry them anymore? What the heck!
These are the swimsuits I found with the best reviews, and I did a lot of looking around! (UPDATED for Summer 2014)
Keep in mind some of these come in additional styles and colors too!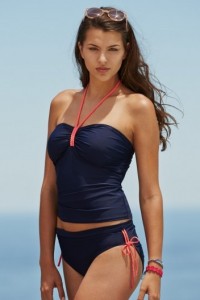 Blue long torso tankini, Long Tall Sally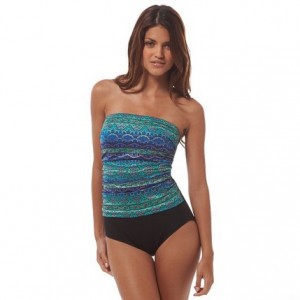 Green/Blue long torso, Amazon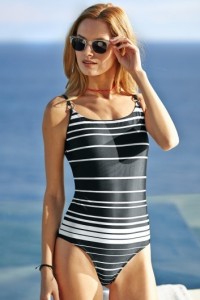 Black and white stripes long torso (one piece) suit, Long Tall Sally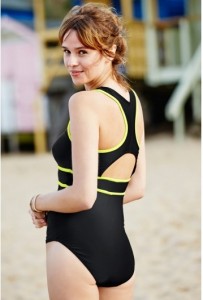 Black and neon one piece long torso, Long Tall Sally
After writing this, I realize the retail industry needs to step up their game with one piece swimwear for extended torsos. It is there, but seriously, there needs to be more of a selection!
Questions or comments? Please leave a comment down below!