This post may contain affiliate links. This means I may receive a small commission if products are purchased through them. All opinions are honest and remain my own.
Trying to find shoes that fit is incredibly difficult, especially when you have big feet! But having to take width into consideration can complicate the matter even further.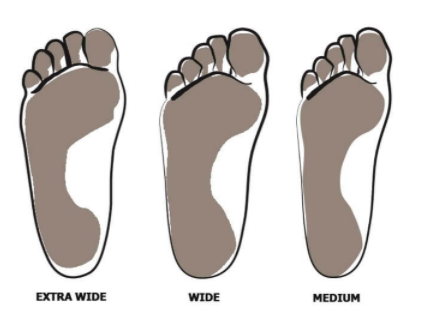 You may have noticed letter designations like AAA, AA, A, M, W, C, B, E, EE, EEE, etc. But I mean, what the heck? Why are all the width options for women (and men) written in some super secret code?
Trust me, I understand it's super confusing, which is why I created this guide to women's shoe widths. Hopefully it can help you understand which option to pick!
---
What is a wide shoe width? Extra wide? Narrow? Regular?
There's no universal definition of a "wide" "extra wide" "regular" or "narrow" foot. With shoe width, there are multiple factors to consider.
First, as shoe size goes up, so does the width. For example, a size 9 women's wide is narrower than a women's 10 wide.
Also, men's feet are (generally) wider than women's, so men's shoes are made a full size wider across the board. A standard men's width (usually labeled D) is a women's wide width (generally, also labeled D).
Read also: Ultimate Shopping Guide for Women's Extended Shoes 12, 13, 14+
Shoe width charts for women (and men)
Here's a chart showing how you'll generally see shoe width labeled for women's and men's shoes. Different companies may use slightly different letter designations for each width, these are the most common.
Women's Shoe Widths
| | |
| --- | --- |
| 3A, AAA, S | x-narrow or slim |
| 2A, AA, N | narrow |
| A, B, M | regular |
| C, D, W | wide |
| 2E, EE, 2XW | x-wide |
| 4E, EEEE, 4XW | xx-wide |
Women's AA, AAA, AAAA widths
In women's shoes, multiple A's is often used to designate a narrow or slim width. The more A's you see, the slimmer the shoe. So an AA is extra narrow and AAA extra extra narrow, etc.
Sometimes you'll see it written as 2A, 3A, 4A instead. Other times, companies will label these with an S for slim, or SS for super slim instead of using the A designation.
Women's A, B, M widths
You'll see letters like A, B, and M are used to designate a standard width shoe in women's sizes. Sometimes, you'll alos just see companies label them as "average" or "standard".
Women's D, C, EE, EEE widths
Women's wide shoes are commonly labeled as D, but sometimes you'll see just a W for wide. I've also seen the letter C used to label women's wide width shoes as well.
Extended wide sizes are sometimes labeled with multiple E's. The more E's you see, the wider the shoe.
---
Men's Shoe Widths
| | |
| --- | --- |
| 2A, AA | x-narrow |
| B, C | narrow |
| D, M | regular |
| 2E, EE, W | wide |
| 4E, EEEE, XW | x-wide |
| 6E, EEEEEE, XXW | xx-wide |
Men's shoes are a full width size wider than women's across the board
Examining the charts, you may have noticed that men's shoes are a width wider than women's. For example, a regular men's width is a women's wide, and a men's wide is a women's extra wide.
When choosing shoes in unisex or men's sizes you'll need to take that into consideration.
Men's AA, AAA widths
Just like with women's shoes, the AA is used to designate narrow shoes. Only in the case of men's shoes, a AA size is a extra narrow (while it's a narrow women's).
Narrow (A) sizing is less common with men's shoes, so it's rarer to see the AA, AAA sizing. However, certain companies do make it.
Men's B or C widths
The letters B or C can be used to indicate a men's narrow width shoe. This varies from company to company, and sometimes you'll also just see it called "average" or "regular".
Men's D, M widths
The letters D or M are usually used to indicate a regular width men's shoe.
Men's EE, EEE, EEEE widths
Multiple E's are used to indicate increasing widths in men's shoes, just like with women's. The more E's you see, the wider the shoe.
However men's shoes generally have wider options than women's, so it's much more common to see the x-wide and xx-wide sizes and even beyond.
Shoe manufacturers don't use universal measurements for width size
As much as it may be helpful to have exact measurements to match up to for your size, after looking at many shoe width charts it can really be all over the place.
Some brands run narrow, and others wider.
The best way to know for sure is to try on the shoes or reference the brand specific width chart. Although, the most frustrating part is most shoe brands do not provide one!
How to properly measure you shoe size (and width)
It's possible you're wearing the wrong size shoes and don't even know it. Making sure you get it right can help prevent any issues caused by improperly fitting footwear.
For this you'll need:
Paper or cardboard larger than your foot, big enough for both feet (or 2 separate pieces)
Pen or pencil
Ruler or measuring tape
A friend (or tape)
The most accurate way to measure you feet is have someone help you trace the outline of both of them on paper, as close as possible. Make sure you're wearing socks to get a more accurate fit.
If you don't have anyone to help, tape the paper to the floor with one end against a wall so it doesn't slip.
You'll then take a ruler or tape measurer and note the measurement from the heel to the tip of your big toe. For the width, you'll need to measure across the widest part of your foot, right underneath the toes.
The video only demonstrates with the measurements of one foot, but it's recommended to take the measurements of both feet as it's common for them to be different sizes and even widths. You'll want to then use the larger measurement when figuring out what shoe size to get.
Also, experts recommend you do this later in the day as feet can expand and grow up to 1/2 size by the evening.
When buying shoes online, pick a company that offers free returns or exchanges
Since many companies don't offer a specific width chart to reference, and also since all shoes can fit a little differently, it's important to easily be able to return or exchange shoes if they don't work out.
If purchasing from an in-store location, they'll be able to tell you the return policy at checkout. If buying online, it's even more important you're able to return or exchange easily since you obviously can't try the choose on before you buy them.
Online retailers like Zappos offer 100% free returns and exchanges up to a year from the date of purchase. It's the best return policy I've found from an online shoe retailer.
Other companies such as DSW or Famous Footwear offer free returns to stores, and free exchanges online. If you live close by one of those stores and buy from their website, you'll be able to easily exchange or return if it doesn't work out.
Please follow and like us: