This post may contain affiliate links. This means I may receive a small commission if products are purchased through them. All opinions are honest and remain my own.
I've mentioned Long Tall Sally's clothing a few times within previous posts, but I've never done a detailed review of anything in particular. They actually do have a pretty good selection of items, but the downside is that they're mostly based in the UK and only have a few stores in the US! One being at the Mall of America in Minneapolis, and the second in Detroit, Michigan.
Most likely you'll have to order from LTS online. But man, there clothes sell out fast! I've never seen clothing sell out of sizes so quickly! (This is proof there's high demand for tall sizing and not enough shops that specialize in it!)
Well, last month I picked out a few new items online and was very impressed with not only their fit but the overall quality as well, so I wanted to take the time to write a review!
Find Long Tall Sally's current clothing here!
---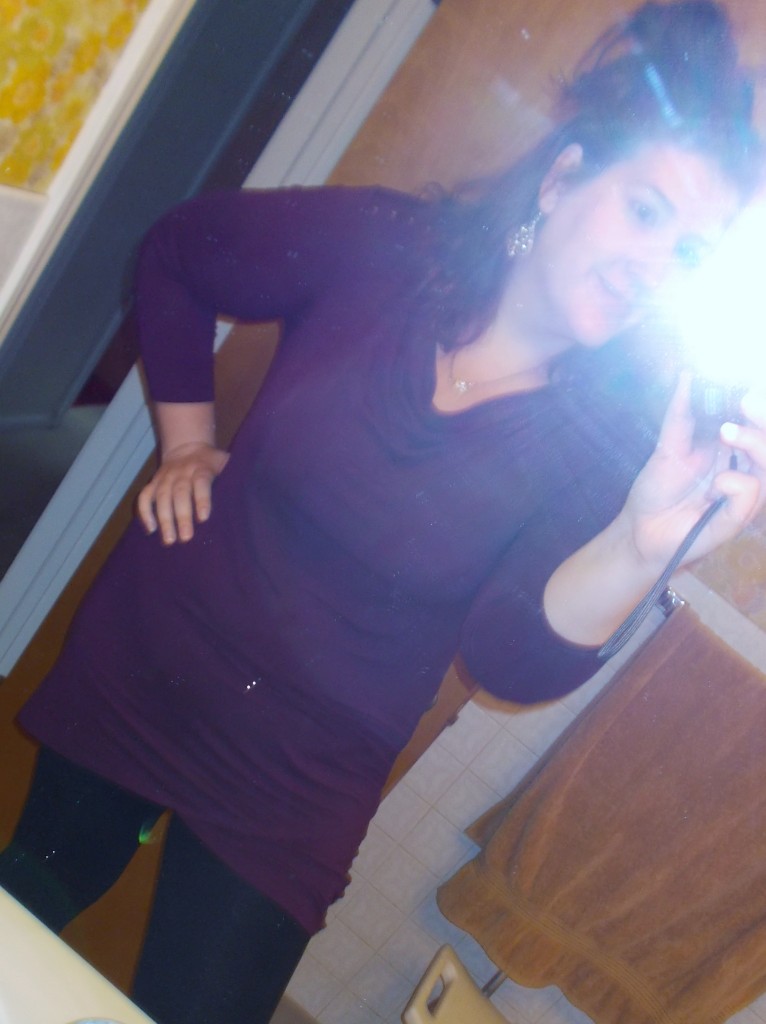 Item: Cowl Jersey Tunic w/ Studs
Rating: 4.5/5
The first item I got was a tunic. I thought it'd be nice since I really don't have many tunics and they're a really great piece to have. Also, many times regular tunics aren't really long enough or they don't fit me right!  I have to say though, this tunic from LTS is amazing!
I instantly fell in love.
Appearance
The color is called "black currant" but I'd describe it as a gorgeous deep burgundy shade. It has ruching around the neckline and studded detailing along the shoulders. Overall it's very pretty and feminine.
Fit
It may have been the appearance that caught my eye with this, but I am more than impressed with the fit. The length is perfect. I absolutely love the way it hits all the way below my butt and on my upper thighs. It allows me to comfortably wear it with leggings without having to constantly be tugging down my shirt all day long! I also really like the way it fits loosely around the thighs.
The neckline isn't low enough to show off cleavage, but still shows off just enough neck and chest to be very flattering. I have enough shirts that show some cleavage so it's nice to be able to wear something that is more appropriate while still being sexy.
When I originally tried this on, I did not realize it was supposed to be a  3/4 sleeve fit. I just thought they did a poor job designing the sleeves to fit taller girls! But after I looked at the specifications on their website, it made a lot more sense. I just wish they had made this a full sleeve shirt because I am not a huge fan of 3/4 sleeves.
Overall I'm really pleased with the way this fits. This is supposed to fit big, but I still think it runs a tad large so for those at the smaller end of their size range or in between sizes, I'd definitely size down.
Edit to add in 2019 – This tunic is still going strong 6 years later!
Quality
What I like most about this tunic is that the material isn't some cheap cotton that shrinks up, rips or loses its shape when you put it in the dryer. I hate those crappy shirts you buy that only last a few washes before they start completely falling apart! This is made of viscose (rayon) and a bit spandex, so it has a bit of stretch to it and fits nicely every time, even after throwing it through the washer and dryer MANY times! (It also hasn't shrunk AT ALL!)
Cons
I wasn't impressed with the 3/4 sleeve length, I was really hoping this would be a long sleeved shirt. I should have read the description better beforehand, but oh well. I still do like it a lot despite this.
Oh, and it also came with those little hanger straps, which in general I absolutely loathe… they just do nothing but get in the way and always seem to untuck themselves while I'm wearing it! I ended up cutting them off.
Overall Opinion
I think this is an excellent, very wearable piece that could be dressed up or down. It would be great for spring and fall, but even on cooler summer days it'd be more than appropriate.
I just wish this came in more colors!
---
Rating: 4/5
The second item I got was a dress. I don't really have or wear dresses a whole lot, but I try to keep a few in my closet so I have options when the need arises.
Appearance
The reason this dress caught my eye was because I had a similiar dress I bought years ago from American Eagle that I liked a lot, but it was much shorter and strapless. I hated that about the dress because I generally find strapless pieces annoying since I have large boobs and HATE wearing strapless bras. This particular dress, however, has nice large thick straps so I can wear it with practically any bra, plus it doesn't show a whole lot of cleavage.
It has a very casual, almost nautical feel and appearance. It would definitely be great on the beach!
Fit
I do find this dress to be flattering, but the fit is a little bit big, especially in the bust area. I wish I had ordered it a size smaller! If you're debating between two sizes I'd suggest you size down. 
Other than that, it fits rather nice. The length is great, not too short and not too long. The shoulder straps are nice and wide so there's no need to worry what bra to wear with it.  It also flows out in the middle, underneath the waistband and the stripes switch from vertical to horizontal, which definitely helps camaflouge the tummy area!
Quality
Again, excellent quality! It's made of the same material as the previous piece (rayon and spandex) and is pretty sturdy. It's flowy and stretchy, but solid at the same time and hasn't managed to rip, shrink or lose its shape on me yet! Judging from the way it feels I don't think that will happen anytime soon.
Cons
What I didn't like about the dress was that it's cut generous and probably a size too big, so I really wish I had sized down when ordering. The extra material tends to make it look baggy rather than cute and flattering, but this could be fixed by just sizing down.
Overall Opinion
I'm pretty impressed and this,yet again, great item from Long Tall Sally. This is definitely a versitile piece that is casual enough to wear to the pool or beach, yet still nice enough for a more formal occassion. It's flattering without being too revealing, and is great for those that are insecure about their stomach area.
They actually have a ton of cute dresses right now and I wish I could try them all!
The only thing I wish was that there was a LTS store closer to me, and that they didn't run out of sizes so darn fast!!!
You can check out Long Tall Sally's current selection right here.
2019 UPDATE – I want to throw it out there that I've had these pieces for the past 7 years and they are still in excellent shape. Long Tall Sally's clothing really does hold up and is great quality, compared to a lot of other cheaply made clothing I'm used to buying.
All in all, I say it's worth the price tag. Shop their new stuff!
Check out the ultimate, updated list for 2019 on where to shop for tall women's clothing! (Plus finding shoes for size 11+)
I'd love to hear about your experience with Long Tall Sally. Drop a comment down below!
-Wendy
Please follow and like us: