This post may contain affiliate links. This means I may receive a small commission if products are purchased through them. All opinions are honest and remain my own.
Finding plus size tall jeans is not an easy task, especially if you're going for a trendy and flattering look
Every girl wants to find that perfect pair of jeans, no matter what her size. And believe it or not, one of the biggest factors in finding a great pair of jeans is going to be one that has the right back pockets! It's not the only factor — fit, wash, cut and detailing all play a role, too. The back pockets, however, can make all the difference between a nice butt and a bad butt!
Since I am plus sized (and tall), I thought it would be appropriate to demonstrate by taking pictures of my own behind in jeans!  It's surprising how something as simple as back pockets can make all the difference!
Here's an example of GOOD back pockets –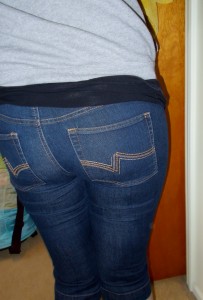 These demonstrate a few key elements to flattering a larger butt:
Dark wash (always more flattering, especially if you're larger)
Proportionately sized and not too far apart
Pockets start midway down the butt and end at the top of the thigh (when back pockets cut off before the start of the thigh they can make the butt look larger)
Light stitch detailing – not over the top and no flappy pockets (doesn't draw too much attention)
What is it?
Merona brand capri cut jeans, fit 4 from Target – particular style no longer available but keep the concepts in mind to look for similar styles!
These ones are similar, but the pockets are placed a bit too far apart
 
The good – dark wash, nice light detailing on the back pockets
The flaw – rear pockets are slightly too far apart

TIP: These would be more flattering on girls with a flat butt.
What is it?
American Eagle kick boot, 34"(long) Also available in 36" (x-long) in up to a size 18.
Here's another example of good pocket placement:
The good: Pockets start midway down butt and end at tops of thighs, fit the curvature of the butt, and are a darker wash
The flaw: These jeans might be a little "blah" in the butt region.
However, they aren't unflattering. If you don't like stitching on the back pockets these are certainly a good option.
What is it?
Old Navy Diva Bootcut jeans – 34" inseam (also come in 36" on their website)
Well placed pockets, fitting the curvature of the butt:
These jeans fit well around the butt region, pocket placement is good as they end at the tops of the thighs and they are in proportion.
What is it?
Target's Mossimo Bootcut Jeans, Fit 3 in long (34")
AVOID if you're concerned about drawing too much attention to your backside -Over-fading around the back region and pockets with flaps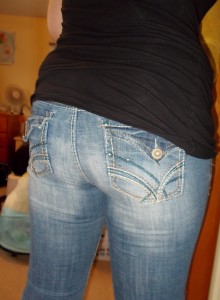 While these aren't exactly horrible, they would be a lot better if they didn't have the intense fading around the butt or flap style pockets.
TIP: If you have a FLAT butt and want to draw attention then this would be good for you.
ALWAYS avoid – rear flaps with NO pockets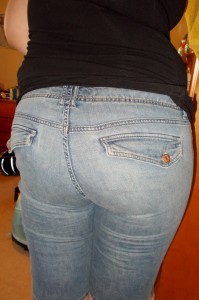 …yuck! The lack of back pockets does nothing to help flatter the back region, it just makes it look like a giant sausage casing! The fact that they're light wash makes it even worse.
TIP: I would really try to avoid this no matter what size you are, it isn't flattering on anybody.
Remember you want the pockets to be in proportion with you – don't go for super small pockets (or NO pockets) if you have a large behind – it will only make it look bigger! On the contrary, don't go for large pockets when you have a smaller butt, it will not flatter you!
Isn't it amazing the effect simple back pockets can have?
PS – All the examples above are bootcut – it's what looks best on me!
If all else fails, you can always kick back and rock the yoga pants. (ha ha ha)
Please follow and like us: