This post may contain affiliate links. This means I may receive a small commission if products are purchased through them. All opinions are honest and remain my own.
When it comes to maternity clothing for tall women, we all know there is a quite limited selection. The intersection of "tall" and "maternity" don't seem to meet so much, unfortunately.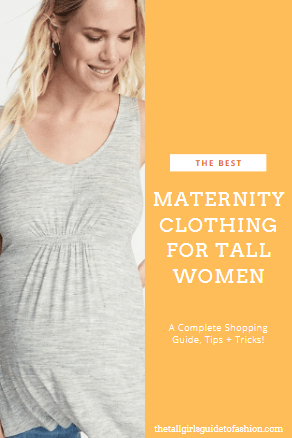 It takes a bit of forethought, but if you shop around – even beyond just the tall departments – for clothing to wear during your pregnancy, it may open up a whole new plethora of options you might not have considered for yourself.
Let me talk about the types of clothing I found best to wear for myself during my pregnancy (and what was the worst!), where to find items plus what to look for when you're trying to shop for your tall pregnant bod!
Recommended: Where to find shoes for size 11+!
Where can you find maternity jeans with tall/long inseams?
You may be desperately seeking these but let me just warn you that tall maternity jeans were the WORST item I tried by far.
So while you CAN find these from stores like:
I wouldn't recommend maternity jeans UNLESS you can try them on or if you buy online, the store offers easy return shipping.
Back when I was pregnant, I bought a few pairs from Old Navy and it was a major mistake. Now don't get me wrong – I do like Old Navy's jeans! Which is why I didn't think twice about buying a few pairs from the maternity section.
However, these were the most uncomfortable pants I've ever worn! The heavy denim fabric made them slide down and I just basically spent all day pulling up my pants.
I tried another brand from Target, and while it was a little better than the jeans from Old Navy, I still found myself hiking up my pants all day long.
Now as far as I can tell Target doesn't sell maternity pants with long inseams but I was desperate for new jeans so I found some in-store that was cut longer than average. (They ended up being too short after I washed them…)
That was just my experience with the brands I bought, maybe there are other brands that are more comfortable. I'm not sure. It does seem like since jeans are just a heavier material it is in the nature of them to fall down when you add the belly band.
But if you find some that work, great! (Also let me know!)
Maternity shirts and sweaters
Now, while you can find jeans and pants with long inseams for maternity, finding tops that are actually supposed to be "tall" AND "maternity" sized is extremely difficult.
But I've found longer length maternity shirts and sweaters at places like:
If you want maternity shirts sized specifically for tall women, The Elevated Closet has the most options I've seen.
However sometimes you'll need to do a little digging into the regular tall departments because you can find similar cut clothing that isn't labeled as such!
Old Navy and Gap don't have a "maternity tall" section on their website but you can shop the two departments separately to find appropriate items.
For me, I picked up some regular maternity tops and tanks from Gap and Old Navy. They weren't an ideal longer length for me, especially when I started getting REALLY big at the end, but they did the job (I'm 5'11).
During my pregnancy, I discovered that Gap actually has a selection of tops, sweaters, and cardigans in long lengths within their maternity section online. They aren't labelled under "tall" but they are very long. You can find Gap's maternity section here.
This kind of takes some reading through descriptions and reviews to get a good idea of the length. Usually, it'll say "hits below hip" which is a good indicator it could possibly work for you if you're tall.
Another thing is, when you see a lot of reviews complaining about the length being TOO long – then you know it's a win for you!
For example, this is a sweatshirt I bought from Gap when I was pregnant. The one I had was purple, but they don't sell it in that color anymore.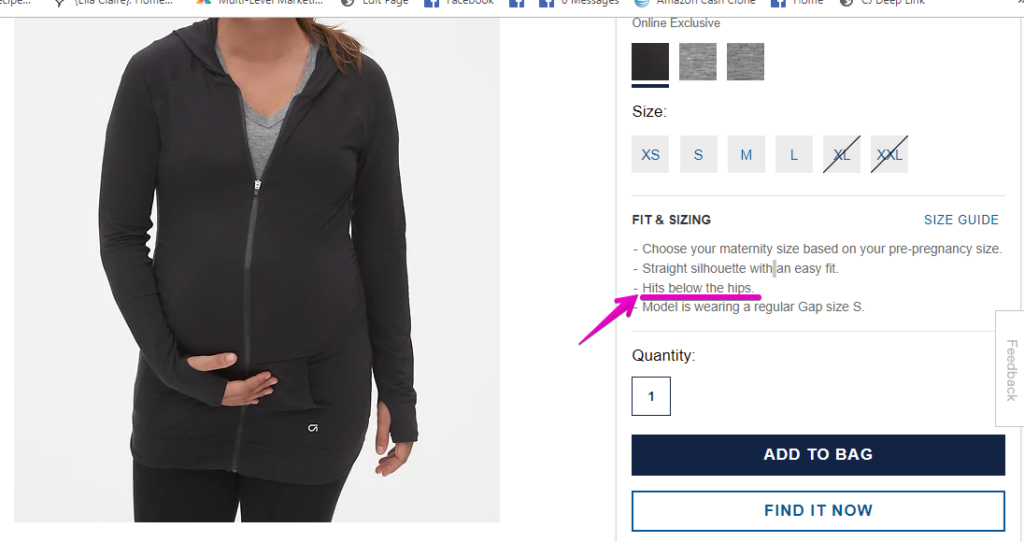 Even though that was a couple of years ago now, they still sell it online. (UPDATE: They don't!) This sweatshirt is CRAZY long – if I pulled it down all the way it would hit me mid-thigh on my 5'11 frame. The sleeves were also super long too!
I can see why people average height people would complain this is TOO long because it was definitely very long on my tall self! It also has super thin fabric, which I actually found to be positive because I was always really hot during my pregnancy.
Browse their current selection of maternity tops here
They don't have a TON of really long length items but they do have some if you look through the selection.
Long length maternity tanks and camis
Camis and tanks were definitely must-have items for me during pregnancy. I wore these underneath sweaters and cardigans all the time, or just on their own if I was knockin' around the house.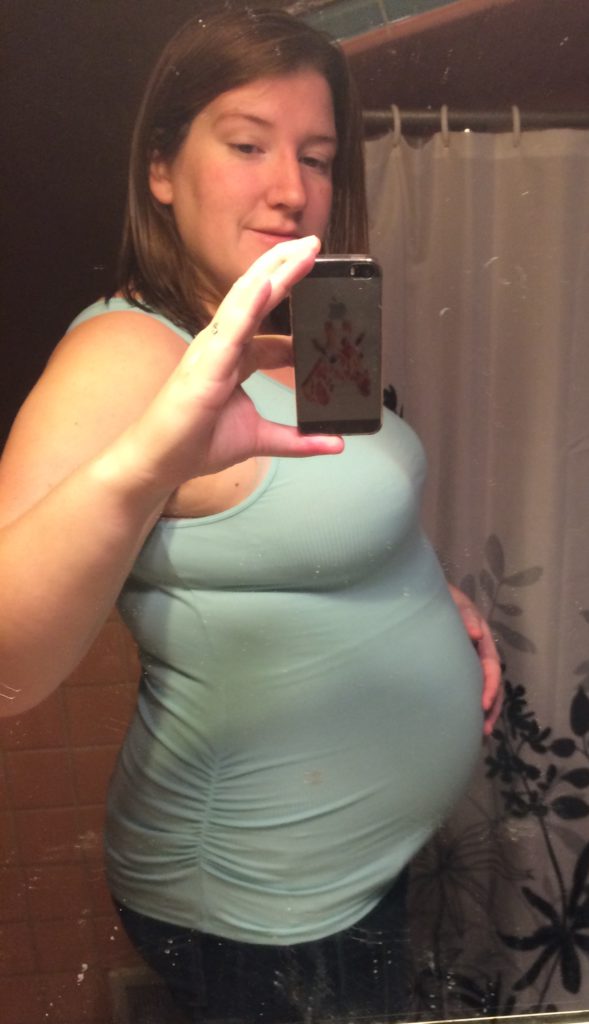 The one pictured above I actually found in the maternity department from Old Navy. It's not specifically "tall" but it is a bit longer in length. This would work if you are around my height (5'11) or shorter.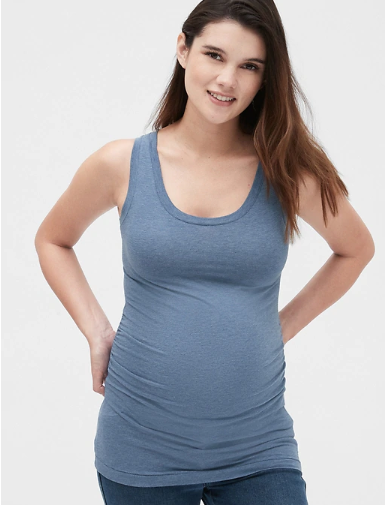 Gap makes these long maternity body tanks. I didn't try these personally but one reviewer says she's 5'9 and they hit below the butt!
Look for tunic-length tops that "hit below hip" within maternity sections
If you look for the tunic length tops within maternity departments you can find some really cute items that would probably be long enough! Especially when you're dealing with sleeveless tops you don't have to worry about the arm length!
You can find more like these within Old Navy's maternity section!
Finding tanks beyond the maternity department
You may be able to find appropriate tanks that would work for you beyond just the maternity departments if you look for the tunic length camis with stretch and give – look for spandex, lycra or elastane within the material description. Avoid 100% polyester or rayon!
Long inseam maternity leggings
Leggings (paired with long tops) were my basic pant staple for pregnancy. They were just really comfortable and I didn't find myself pulling them all day like with my maternity jeans!
Here's the thing, though – a couple of years ago when I was pregnant, I bought maternity leggings with longer inseams and even a pair of yoga pants in long lengths from Old Navy (or Gap?) I can't remember which honestly but I promise they existed. They currently don't have ANY long inseam maternity leggings/yoga pants on Gap or Old Navy's website.
However I did find some from ASOS tall here, and Long Tall Sally has one pair that has gotten absolutely positive reviews. They're apparently thicker, NOT you're typical cheap see-through kind and great quality. So they'd be great for dressing up with a nice (long) top, cardigan or even a dress for work. You can find them here.
An alternative would be to look for cropped leggings, or just wear regular length leggings with higher boots so no one can tell they're too short! (I do this sometimes…)
And one more thing, a lot of girls say they just wore their regular leggings or stretch type pants and pulled them down past their belly when they got too big. But for me, while my regular stretchy stuff did last through my second trimester, once I got REALLY big at the end that didn't work for me anymore! So this really will depend on what works for your body.
If you get yourself a nicer pair of leggings, all you have to do is pair them with a dress, tunic or long cardigan and it instantly becomes a work-appropriate outfit! Just make sure the leggings aren't see-through!
Maternity dresses
Another thing I found comfortable to wear when I was pregnant is dresses and cardigans. I would have worn this combination much more often if I was really pregnant over the summer, but I was in my second and third trimester November – March and where I live, it's COLD!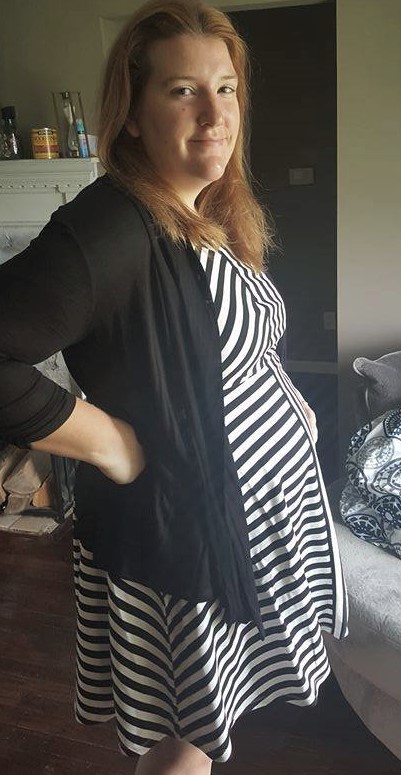 Actually, this particular dress isn't a maternity dress (or a specific "tall" size) – it's from Torrid. But the length is longer, it's sleeveless, and the material is thick and stretchy, so it was perfect to fit my growing belly. Torrid doesn't sell this particular dress anymore, they're always selling out of items and getting new things in, but you can see what's currently available here.
If you wear a size 10 or larger, Torrid can be a great place to find stuff even when you're pregnant. Just look for stretchy materials with "spandex" in the description and AVOID things 100% polyester or rayon. Also, consider sizing up to allow room for growth as well.
Gap actually is another shop that has a ton of cute maternity dresses, and if you just look for ones that are a longer length (knee or below), t-shirt style or 3/4 sleeve, you won't have to worry about sleeves being awkwardly short, or that it'll be way too inappropriately short in the legs!
Cardigans (open-front)
One last item that is last, but definitely not least, is cardigans! These are actually perfect for pregnancy because, with the open front style, you don't have to worry about them fitting around your stomach so you don't have to try and buy special "maternity" ones!
Long Tall Sally has a pretty big selection of these in actual tall sizes.
If I'm buying these outside the tall department, I will look for 3/4 sleeves to avoid the awkward sleeve length. I also like to look for the really long styles for pairing with leggings.
Takeaway tips for shopping outside the maternity/tall departments
We can't always shop or find everything needed within these speciality departments. Here are a few tips that might help broaden your options a little bit:
Look for "tunic" length items that hit below hips
Look for stretch in the material description – spandex, lycra, elastane
If buying online and description info is limited, try and look through the reviews to see if anyone comments on the length
Cropped pants and leggings can be your best friend
Sleeveless and 3/4 sleeves are good options to avoid the awkward sleeve length
---
Leggings, cardigans, long tanks, and dresses were my go-to items to get me through my pregnancy as a taller than average girl. Jeans and regular pants just did NOT work for me!
What items did you find that worked for you? Do you have any suggestions for additional places to shop? Drop a comment down below – let's get a thread started!
Please follow and like us: