This post may contain affiliate links. This means I may receive a small commission if products are purchased through them. All opinions are honest and remain my own.
So long, sweet summer…hello jackets, jeans and pretty leaves!
Actually, I'm more curious as to what happened to summer this year–it never seemed to truly come to Michigan! I barely got to go to the beach or pool because most days were cold, dreary and rainy! Now it's already September and I'm still pale as a ghost, but already have to think about gathering up my clothes for fall.
So I found my jeans, some hoodies…but then I remembered I definitely needed a fall jacket.
I looked at my usual go-to places–Old Navy, Gap and JCPenny–they're all the places I know that usually have decent tall women coats. I ended up finding my jacket at Old Navy. You can refer to my previous review as to how I feel about their tall clothing in general, but as far as their jackets and coats go, I think they're great.
I ended up with this Women's Twill Peacoat in the color rolled oats (which they are currently sold out of, btw). I was debating between that and this trenchcoat from Gap, as I have been lusting after a long trench coat just like that for quite some time, but I opted for the peacoat since I was on a limited budget this time around. (I'll keep that trench coat on my wish list though…)
OR…

I bought a size up, mostly because my normal size was sold out. Normally I wouldn't size up if my size wasn't available, but, with coats I don't mind them being roomy since that way I can easily wear something bulky underneath. I was also a bit unsure whether I'd really like it based on the picture, especially in the yellow and navy colors, but I'm glad I went with the oatmeal, it is definitely exactly what I was looking for.
So far though, I am quite satisfied!
Here is what I'm really liking…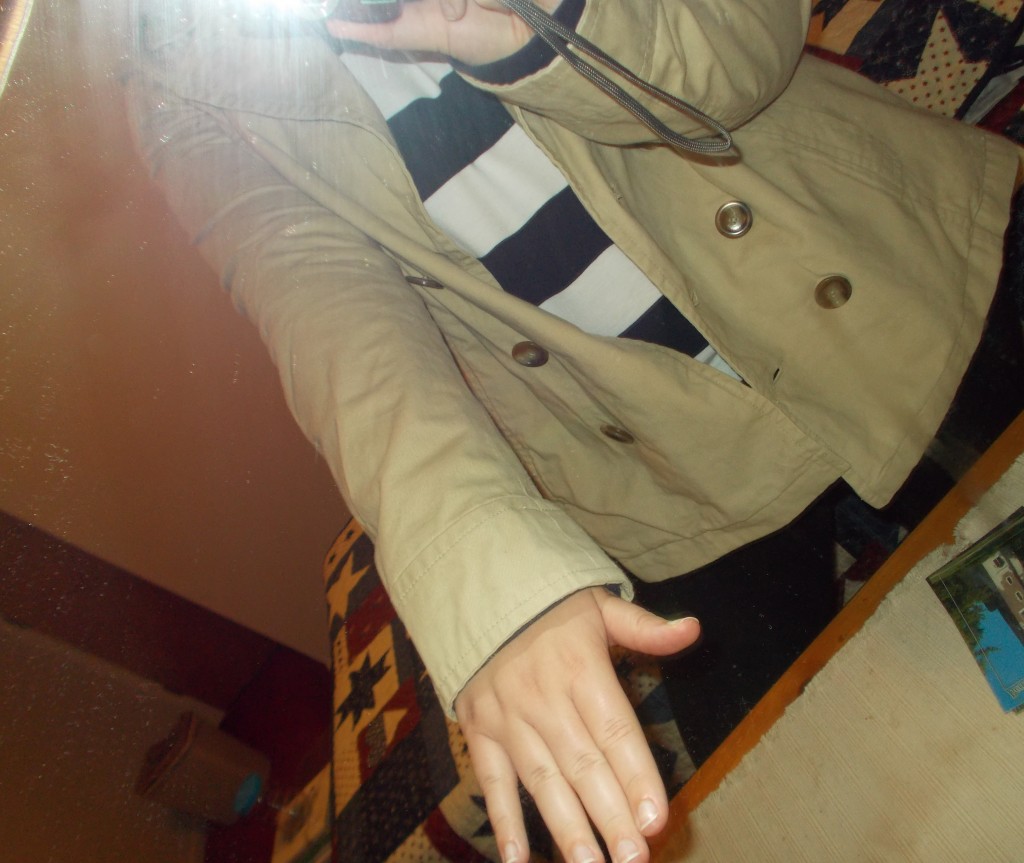 The arms are nice and long, they even cover a portion of my hands (which I love and it's hard to find with most coats since my arms are so dang long)
It's comfortable and roomy enough to wear a sweater or hoodie underneath
It's neutral and will go with most everything
It's machine washable (I am not longer buying coats that are dry clean only)
I am no longer buying coats that are dry clean only. I have come to realize that I am one of those people that does not dry clean anything, even if I own it– I just would rather never wash it than take it to the dry cleaners. I've made the mistake of buying dry clean only jackets in the past, I ended up getting them dirty and never bothering to dry clean them. Instead, I just stopped wearing them. I just don't like spending so much money on cleaning my clothes when I could just buy new clothes instead, or buy an alternative that is machine wash.
That's just my preference though, so to each their own.
So far it's perfect.
I will say I have owned other Old Navy coats in the past (I currently own 2) and they are all fantastic. Although Old Navy may skimp in the quality department when it comes to certain clothing items, they do have really nice quality coats. You can check out their current selection here.
Please follow and like us: