This post may contain affiliate links. This means I may receive a small commission if products are purchased through them. All opinions are honest and remain my own.
When it comes to plus size long torso swimwear, it can be a challenge to find. One piece swimsuits are almost always too snug and have straps that are way too tight on your shoulders or constantly dig into your bottom! Two pieces can definitely be more comfortable, but it's also hard to find stuff that fits right.
The good news is there are a few places to check out when you're taller (or just have a longer torso) and wear above a women's size 14 or 16. These places are suggested either based on my personal experience or experiences of other tall gals.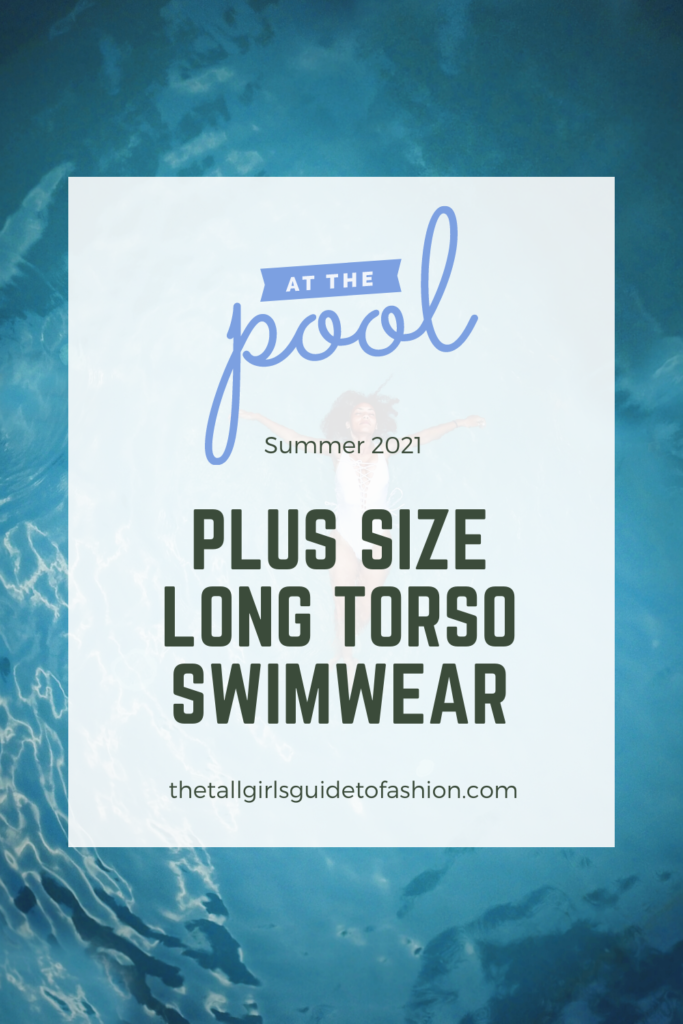 Once piece swimsuits vs. two piece for long torsos
So if you're looking specifically for a one piece longer torso swimsuit that is also plus sized, there are really only a handful of options. I've only come across 3 specific companies that make one piece suits in TALL and PLUS SIZE.
You'll also see Torrid and Amazon listed below, but I don't recommend you get a one-piece suit from either company. They don't specialize in tall one piece swimsuits and I've had to return the ones I've tried.
However, if you're searching for a two piece your options are way more open. This is because two piece swimwear gives you the freedom to mix and match different styles so you can make it work for your body type and torso length.
Styles like tankinis or high waisted bikini bottoms give you more coverage while allowing you the freedom to not be squeezed into a one piece with straps tight at the shoulders or the bottom constantly riding up!
Where to find tall (long torso) swimwear in plus sizes
---
Lands End (up to size 26)
Best for: athletic one-piece suits, tankinis, relatively budget-friendly with sales
First on the list – Lands End. This classic company makes great quality swimsuits. They also include a decent selection of tall swimwear on their website, in both one piece and two piece options. Plus sizes range from 16W – 26W.
Whether you're on the hunt for a swimsuit for laps at the pool or just something for lounging at the beach, you may find it here. Their website search feature makes it super easy to find exactly what you're looking for.
Even though their regular pricing is somewhat high, they often have really great sales which makes them affordable.
You can check out their current selection of tall swimsuits here.
Amazon
Best for: budget-friendly two piece swimsuits, high waisted swim bottoms
When you need super fast delivery and something on the cheaper end of the spectrum, Amazon can be a go-to. However there are a few issues that always seem to come up when trying to find clothing here.
First of all, I find their search feature is difficult to use and not entirely accurate when it comes to trying to find swimwear.
For example, when you narrow down the search by "long torso" or "plus size" you'll get thrown results that aren't exactly relevant. You'll get shown a whole lot of regular sized pieces or one piece suits that are definitely not made for long torsos!
SHOPPING TIP: If you're trying to find one piece suits to fit a long torso figure, I would avoid Amazon. They don't seem to really sell them. I have found the Longitude brand sold there (which is further down on the list) but with extremely minimal selection.
Tankini tops from Amazon
---
Yonique (up to size 22 plus)
Personally, this Yonique Blouson Tankini Set was a total win for me. It was more than long enough for my torso (covered my entire tummy area and then some) and was very comfortable.
For reference, I am almost 6′ tall with a long torso and one piece suits almost always never work for me.
I took a gamble because they don't have a size chart that lists torso measurement, nor are they marketed as long torso swimwear. I just thought it was cute and hoped it'd work!
I am so glad I did because I just absolutely love it , especially the style. It's tighter at the bottom and loose throughout the mid-section, which helps disguise your tummy area. It's also not super low cut which I can appreciate as well.
You can find Yonique's full plus size swimwear selection on Amazon here
B2prity (up to size 24 plus)
B2prity has a great selection of these layered ruffled tankini tops (known as flounce style) in up to a women's size 24. They do a good job covering up any mid-section flaws for those who are looking for more coverage. I like that this set also includes boy short bottoms.
This style is also not marketed as long torso, but the longer cut of the ruffled tankini top paired with the higher waisted boy shorts make it a good option if you're looking for a two piece swimsuit that'll actually keep you covered up.
High-waisted bottoms
Another thing you can look for that Amazon sells tons of is high waisted swim bottoms, or swim sets that include the high waist bikini bottoms. These will transform any two piece swimwear to long torso friendly, all while helping to keep your mid section covered up.
This Hilor high waisted bikini set is absolutely adorable and comes in many styles, up to a size 24.
Andie's Swimwear (up to size 24/26)
Best for: young and sexy one-piece swimsuits
When you're looking for a younger, stylish one piece swimsuit with longer length in the mid-section, Andie's Swimwear is a great company to check out.
The style is simple yet sexy and classy. Most of their swimwear is plain without prints or designs, but they come in an array of color options and styles, sized up to a women's 24/26. You can also choose the fabric for each suit which makes it more customized and unique.
What I like about shopping on their website is all of their swimsuits have tons of reviews and include pictures underneath of customer images. It's nice being able to see what the swimsuits look like on real people with many different body types.
This company breaks away from the somewhat matronly look that many one piece swimsuits tend to have. My only complaint is the pricing is on the higher end and I haven't seen any sales. Although I hear many great things about their swimsuits and that they're amazing quality.
You can find all of Andie's current long torso swimwear here
Longitude (up to size 24W)
Best for: athletic style one piece suits
For a longer torso swimsuit that's great for swimming laps in the pool, Longitude is a place to check. They make basic one piece swimwear in up to a women's size 24 (and a few two piece options as well).
What I like about this company is they include the actual torso measurement on their sizing chart for each swimsuit. This way you can measure your own torso length to get a better idea if it should fit.
My biggest complaint would be they need more solid color options in their basic athletic style one piece suits. Almost all of their swimwear that's designed for actual swimming is vibrantly patterned! Honestly, it's just not what everyone is looking for. It would be nice if they could just include plain black, blue, red, etc!
You can find their full selection here.
Torrid (up to size 30)
Best for: two-piece swim separates, high waisted swim bottoms
To be clear, I don't recommend getting a one piece swimsuit from Torrid if you're tall or have a really long torso. As a tall women myself, I have literally had to return all the one piece suits I've purchased from them over the years.
However, the reason they're on this list is because they are a good option for swim separates. Plus, they're basically one of the only places that makes swimsuits past a size 24/26.
When it comes to plus size higher waisted swim bottoms, they're a go-to place to check. I have these high waisted ruched swim bottoms and they're really nice. They also have a larger variety with different patterns and colors, as well as swim shorts and skirts.
In addition, they have some pretty cute tankini tops. They're long enough to cover my torso, and when paired with higher bottoms you can still get the full coverage feel.
---
Where's your favorite place to shop for swimwear? Any suggestions not on this list?
Also check out: Great Long Torso Tankinis
Please follow and like us: