This post may contain affiliate links. This means I may receive a small commission if products are purchased through them. All opinions are honest and remain my own.
Gap vs. Old Navy – Who Makes the Better Jeans for the Tall Ladies?
This is going to be part 1 of a 3 part series on tall women jeans. This time it's Gap vs. Old Navy. As you may already know, Gap actually owns Old Navy, so perhaps it's logical to assume their clothing items would be pretty similar.  Old Navy is sort of like the "discount Gap" – their clothing is a lot less expensive, especially when it comes to their jeans.
But which ones are better? It really comes down to personal preference and your body type, but I can share my experiences with length, quality, fit and price to help give a better idea of what might be appropriate for you.
If at all possible, I'd strongly suggest going into Gap and Old Navy to at least try on some different styles and sizes to see how they fit, even if you have to come back and order online to get the proper length (they don't always have the long length available in stores, and the talls are online only).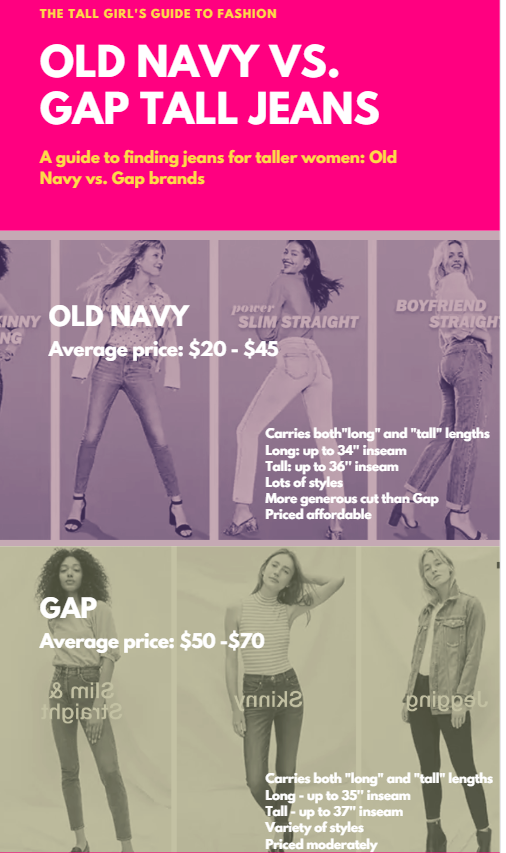 Length
It's important to note the difference between the "long" and "tall" lengths in their jeans. As a whole, Gaps jeans are quite a bit longer than Old Navy's, and many taller women will find their tall inseam to actually be too tall.
 Gap's Inseam Chart – (taken from their website)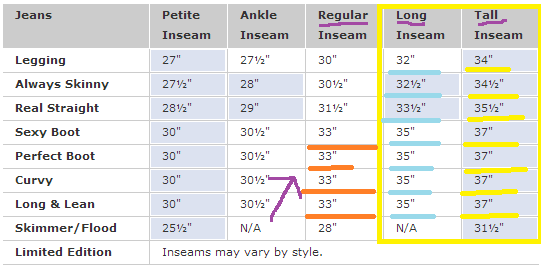 Old Navy's Inseam Chart (from their website)

Gap is quite specific about the inseams for each individual style, while Old Navy tends to be more generalized – but nonetheless, Gap's are a full inch longer across the board. Gap's tall 37" inseam' is right up there matching the length offered by specialty tall shops like Long Tall Sally, and their regular long at 35" is one of the longer inseams you'll find offered outside the internet in an actual store. Even Gap's regular length is quite long at 33", and may be satisfactory for some taller women, or women with extra length in their legs.
So if finding a longer inseam is your biggest battle, Gap is the better option in that department. Keep in mind while you can find the long inseam sizes in-store, the talls are only available online.
Quality
Both Gap and Old Navy carry similar styles of jeans, but some say Gap has superior quality. I honestly haven't really found that to be true, although some may find jeans from the Gap fit them better, just depending on their particular body type. As far as holding up, ripping tearing, etc – I haven't found one particular brand to be better than the other.
Gap is rumored to have once made very nice quality jeans, but it has definitely gone down-hill in recent years. The feel and fit of their jeans is very similar to their discount cousin, Old Navy. If someone says Gap jeans are better, they are probably referring to the fit, not the quality.
Fit
Old Navy's jeans, overall, tend to be more generously cut than jeans from the Gap so you may need to try on a few different sizes to see what fits you the best. However, I've had jeans from both Gap and Old Navy do the annoying butt/crotch sag after just a couple hours of wear, so you may want to make sure you buy them a little tight so when they stretch they'll fit you perfectly. If you want to avoid the stretching and saggy butt, I've found their jeans made of cotton/polyester/spandex to be the best at holding their shape.
Not all jeans from Gap and Old Navy are made from that particular fabric blend, however, so keep an eye on the tag or the online description to see what material it is. I would suggest the spandex (aka Lyrca) be between 1-2%, otherwise it may not look or feel flattering. Keep in mind some of you may not like jeans with a cotton/poly blend because the material is thinner than regular jeans and they are not quite so stretchy.
If you're looking for a bit more "normal" jean material, look for something like 98% cotton and 2% spandex – that will give the jeans enough stretch to form to your body and will feel more like jeans than a polyester blend. Both Gap and Old Navy carry jeans that are either cotton/poly/spandex, or just cotton/spandex – so you can pick what you like.
Another thing I like about both Gap and Old Navy is that they carry plenty of jeans with mid-rise cuts, which is quite flattering to the majority of women and really helps to keep your butt from spilling out of the back of your pants!
Appearance
I'd say Gap has a bit more of a mature, sophisticated look than Old Navy. If you're looking for a more classic style jean, then Gap is probably the better option. Old Navy tends to carry a lot more trendy, younger styles.
Price
Here's the big difference between Gap and Old Navy jeans – the price. Gap jeans are usually around $70 a pair, and while Old Navy's are generally around the $30 mark, they have frequent sales on their jeans in which you'd be able to snag a pair between $15 – $20.
In my opinion, Gap's jeans are not worth 3 times as much as Old Navy's. When you're on a budget, the price difference is huge and this is where Old Navy definitely wins out.

Gap vs. Old Navy Jeans – At a Glance
Old Navy –
More generous cut (good for larger/curvy ladies)
Trendier jeans
Very affordable prices
…but inseams are shorter than the Gap.

Gap-
Offers longer inseam options than Old Navy
Carries more classic style jeans
More mature, sophisticated feel
…but is a lot more expensive than Old Navy.

Which one wins out?
I don't think there really is a clear winner here as it just depends on too many factors such as your body type, personal preference and budget. I personally prefer Old Navy, as their jeans tend to fit me better and you can't beat the price. However, I know others who prefer Gap – so like I said, run to your nearest Gap and Old Navy and try them on to see what works for you!
If the inseam length from Old Navy or Gap just won't cut it, you might need to check out a few different options from the the ultimate list of places to shop if you're tall!
What's been your experience with Old Navy vs Gap jeans?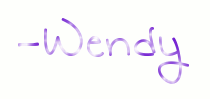 Please follow and like us: