This post may contain affiliate links. This means I may receive a small commission if products are purchased through them. All opinions are honest and remain my own.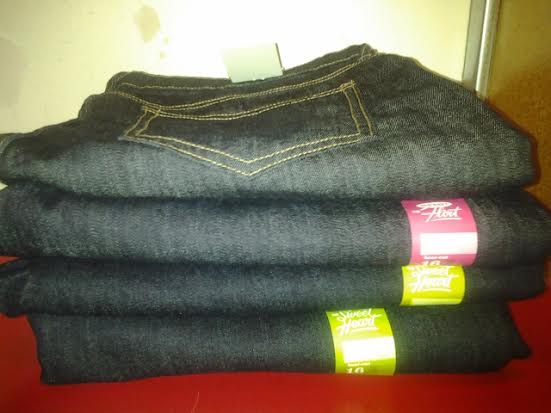 Torrid vs. Old Navy vs. Maurices – Which one carries the better jeans for plus size tall women?
---
This time on the battle of the tall women jeans (part 2), I'll be comparing Torrid, Maurices, and Old Navy.
Read Battle of the Tall Women Jeans Part 1: Gap vs. Old Navy
These shops carry some of the cutest plus size jeans for tall women I've encountered. But which shop is the best pick?
While Torrid is an exclusive plus size shop, carrying clothing in sizes 12 – 30, Old Navy offers sizes 0-20 in their shop, while offering a plus-size line on their website in sizes 16-30. Like Old Navy, Maurices offers both regular and plus sizes (0-26).
I suppose it comes down to several different factors, depending on what you're looking for to your price range – but I'll share my personal experiences with all three to give you a better idea. Let's compare!
---
Length – Tall vs Long inseams
Maurices Inseam Chart
Regular – 33"  (available in junior's sizes 0 – 17/18, plus sizes 14-26)
Long – 35" (available in junior's sizes 0 – 17/18, plus sizes 14 – 26)

Extra Long

– 37" (available in junior's sizes 0 – 17/18 plus sizes 14 – 26)
Torrid Inseam Chart
Regular – 32" (available in sizes 12- 28)
Tall – 34" (available in sizes 12 – 28)
Extra Tall – 36.5" (also available in sizes 12 – 28)
Old Navy Inseam Chart
Regular – 32" (available in women's 0-2o, women's plus 16 – 30)
Long – 34" (available in women's 0-20, women's plus 16 – 30)
Tall – 36" (only available in women's sizes 0 – 20)
Maurices offers the longest length options, and I find their long 35" to be just perfect on me (at 5'11).
But the 34" inseams from Old Navy and Torrid also work for me, too.
Unfortunately, Old Navy only carries the extra-long inseam (36")  in up to size 20. However, you can still find the long (34") length up to a size 30 offered in their plus line.
Don't forget to check the specific inseam by style
Inseam will vary slightly by the style of jeans. Info here refers mostly to bootcut, straight, and some skinny pants. Please refer to the guide for shopping jeans by inseam here for more accurate inseam info.
---
Quality – How do these brands differ?
In my experience, Torrid and Maurices jeans are a little better quality than Old Navy. While Old Navy is fine for discount jeans, they're not the best and I've found both Maurices and Torrid to be better in terms of longevity. I have jeans from both Maurices and Torrid that are several years old now and still holding up fine – no rips, tears or broken zippers. Old Navy's tend to wear out on me after a couple of years, and their plus-size line is noticeably more expensive than their normal sizing.
Quality Meter (from my experiences and opinion)
Torrid > Maurices > Old Navy
---
How Does the Fit Compare?
Fit meter – Torrid > Old Navy > Maurices
Torrid has the most generous sizing out of all three brands, while Maurices (specifically aimed more for juniors) is cut slimmest.
Maurices Size Chart – (taken from their website)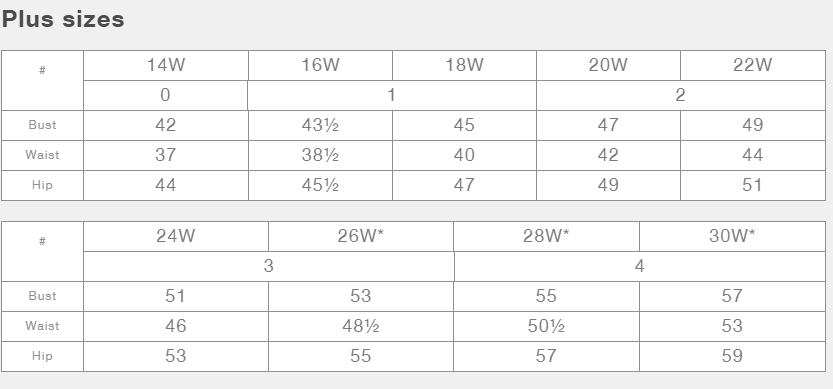 Since Maurices plus sizes are more directed for junior's, they're sized quite a bit smaller than both Torrid and Old Navy. Their 16 plus is a full size smaller than Torrid's and two sizes smaller than Old Navy Plus.
Aside from smaller sizing, their jeans are a really nice fit – they hug curves nicely and are really quite flattering. Maurices is one of my favorite places to buy jeans, but my only complaint would be they have too much faded on the thighs/butt – they need to offer just plain washes with no fading as it isn't always the most flattering!
They carry up to a size 17/18 in juniors, and their plus-size line starts at a size 16. If you're debating which way to go, I can tell you their 15/16 juniors is equivalent to their 16 plus, and their 17/18 juniors are equivalent to the 18 plus, at least in terms of jean fit. A lot of companies size their plus clothes bigger, (for example, Old Navy's 16 regular is NOT equivalent to their 16 plus) but this is not the case with Maurices.
The material is nice – it's a cotton/poly/spandex blend and is great for stretching yet still holding onto its shape.
Torrid Size Chart – (taken from their website)
Torrid's jeans seem to have the best fit out of all three of these places (at least for me). I know jeans are highly individualized and no two women are exactly alike, but as a whole Torrid's jeans fit a plus-size body very well. The material is nice, they fit well around curves and keep their shape without looking lumpy or weird. It's also great they carry simple, darker washes – without all the fading/whiskers/ripping – which can end up just adding bulk to your leg. If you're self-conscious about your thighs or butt looking too big, you might want to stick to a plain dark wash jeans as it will be the most slimming.
Old Navy Size Chart – (taken from their website)
Unfortunately, at least for me, the fit of their jeans isn't as good as Maurices or Torrid. It doesn't quite hold up well and some styles tend to fit strangely on my body. I would say the fit of their jeans is just okay. I like some styles better than others – luckily there are a lot to choose from.
Keep in mind also that their 16, 18 and 20 plus are not equivalent to their regular 16, 18 and 20. They're sized bigger, and also they do not carry the exact same selection between their plus size and regular lines.
---
Appearance/Selection
Maurices – Most of their jeans are on the young side and would be the best fit for teenagers/young women. Nearly all their jeans have fading on the thighs and whiskers on the upper thighs/hips, which isn't always flattering when you're plus-sized. Some fading can be okay, but some of their styles are a lot more intense than others with the fading/whiskering/ripping – I would stick to something simple.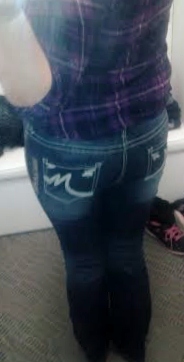 These ones are the simplest jeans even though they still have a certain level of fading. I love the back pockets on Maurices jeans – they're cute yet not over the top.
Note: They also carry a variety of other brands at their store, such as Silver, which is known for being very high-quality denim – but they don't have a huge selection available in plus size/long, so stick to their regular Maurices brand if you're looking for the longer lengths.
UPDATE – Silver Jeans actually has a huge selection of plus size tall jeans on their website! If you're looking for Silver brand, check them out here.
Torrid – I really like their jeans because not only are they better quality, but they have a large selection of different washes and styles that could be appropriate for plus-size women of all ages.
You can find very nice looking jeans without any fading, whiskers, rips or extra embellishments which is a positive in my book. They carry lots simple, darker wash styles without all the fading in the thighs and butt regions, which is generally more flattering.
I would classify Torrid's denim as stylish and trendy, but much of it still appropriate for older women as well.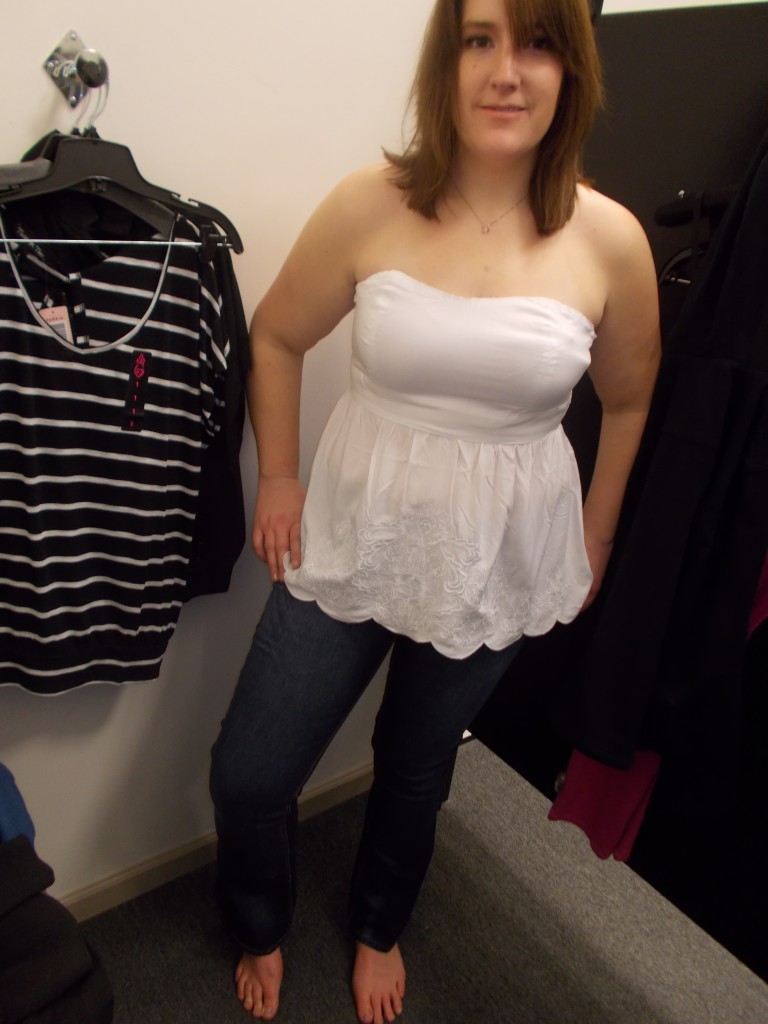 Pictured: Slim boot jeans in medium – click here for details and additional reviews.
Old Navy – They carry anywhere from super trendy to an everyday, classic style – so the selection is broad enough to fit the wants of any age group. Whether you're looking for super skinny print jeans, regular skinny, or simple bootcut – you can find it there. I like that they carry lots of simple styles in a range of different washes, and don't really have all the intense trendy fading/whiskers/holes, so they make for great everyday jeans.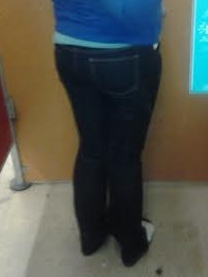 ---
Price
Torrid – Most expensive, normally priced around $58. However, you can find them on sale for less and they're worth the extra money.
Check current styles and prices from Torrid
Old Navy – Their regular sizing is pretty cheap, you can buy them for $15 – $20 a pair on sale (regularly around $30), however, their actual plus-size line is a bit more expensive – those jeans average about $45 a pair. (You can still find plus-size jeans on sale for $15 though!)
Check current styles and prices from Old Navy
Maurices – Regular Maurices brand jeans are $34, they have buy one get one 50% off sales frequently.
Check current styles and prices from Maurices
---
Old Navy vs. Maurices vs. Torrid – At A Glance
Great jeans for plus size tall girls shopping on a budget
…but the fit and quality aren't as good as Torrid or Maurices, and they only offer the extra-long inseam (36") in up to a size 20.
Maurices
Has very cute, trendy jeans for teenagers/young women
Offers the longest inseam options – 35" long and 37" extra long
Least expensive option
…but their style and options are rather limited, and sizing runs smaller.
Carries great jeans for tall plus size women of any age
Jeans are very flattering and well-fitting for plus size girls
Has simple darker washes without a lot of frills
…but are a little more expensive!
---
So who wins out?
In this case, I'm going to give Torrid the win since they're all-around great jeans. The quality is great, the fit is perfect, and they offer both 34" and 36" inseams for tall girls. The only negative is they're more expensive than the other two options, but definitely worth it in my book!
How's your experience been with any of these brands? What's your favorite brand for plus size tall jeans?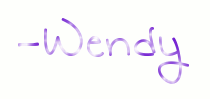 Please follow and like us: