Dress Shoes for Tall Women
This post may contain affiliate links. This means I may receive a small commission if products are purchased through them. All opinions are honest and remain my own.
 The taller you are, the more likely it is that you have big feet.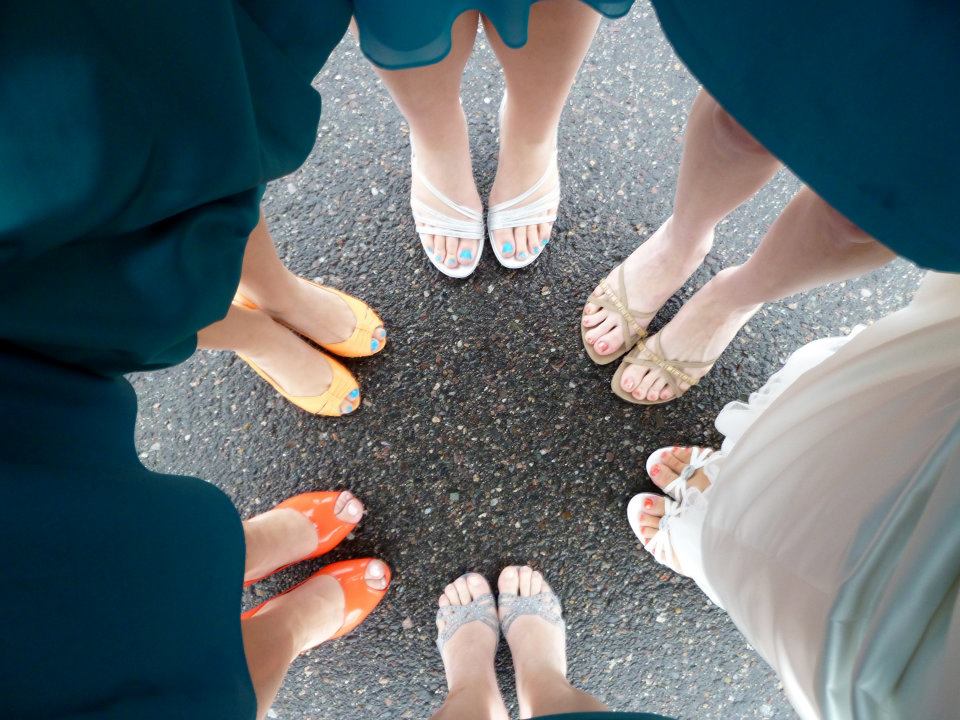 Now that spring is here and summer is fast approaching, I find myself putting away the boots and bringing out the cooler, open toed shoes for the nice weather. I have a list of upcoming events on my plate that require nice shoes–but unfortunately, even though I'm aware of great places to get shoes for big feet, trying to find dress shoes can still be quite frustrating for me.
I seem to have the most difficulty with the dressy, strappy sandal types in particular. I have exceptionally wide feet (which are just naturally very broad!) and these types of shoes usually seem to be made quite narrow. I seriously can rarely fit my feet into them. If they're a size 12, they have to be wide width, otherwise I need a 13. But have you ever tried to find a a size 12 wide or 13 at a shoe store? (It's almost impossible).
It can be really annoying. As a tall girl, I'm continually faced with disadvantages when it comes to trying to find clothes. There always seems to be something–the pants aren't quite long enough, the sleeves are too short, the shirt isn't hitting you at the right spot–so why can't shoes just be easy to find? As a general rule, the taller you are, the more likely you are to have big feet. But hey, everything in proportion, right? I need these large feet to hold up my body!
I just love dressy sandals for the summer time though. They're so cute and appropriate for everything from weddings, parties, to just a fun night out. I'd have a whole closet full of them if I could! However the problem is finding them in my size!
If you have large feet, you probably know Payless carries up to a women's size 13
Payless
is the only store I've discovered in the real world that offers a decent selection of women's shoes in sizes 12 and 13. The problem with Payless, though, is they are pretty much hit or miss. I can't find what I'm looking for there 100% of the time. In addition, their selection of shoes goes downhill once you go above a 11. Yes, they do still have quite a few shoes in the bigger sizes, but many of the shoes they carry don't exist in sizes 12 and 13.
So when I don't find what I'm looking for at Payless, I don't just have the option of running to another store…
I was left with the only option of turning to the Internet, but that's where I discovered great online shops that carry amazingly cute dressy shoes (as well as all types of shoes) in bigger sizes–in women's 12, 13, 14 AND 15!
I found really cool shops like Barefoot Tess
and Shoes.com that carry larger shoes for women. They even carry wide widths, too, if you have wider feet like myself!
So what kind of dress shoes are appropriate for tall women?
There's all kinds of dress shoes out there–wedges, high heels, short heels, flats, strappy shoes–etc. If you can find it in your size, it fits, and looks cute I don't think you shouldn't wear it. I don't subscribe to the philosophy that tall women can't get away with wearing shoes with higher heels. As long as you're confident and comfortable, you can get away with it. Remember, confidence is the key to pulling this off.
If you're not comfortable, opt for shorter heels or flats.
Just remember, if you do wear wedges or high heeled type shoes with pants, make sure they are long enough to get away with it. If they aren't, your extra height is going to make your pants look like highwaters.
It's always going to be more difficult to find shoes when you have large feet, however when you know where to look, you can still find many cute shoes. Remember there are always stores like Payless which carry up to a size 13–but you may not always find what you're looking for there. The internet is really the best resource for finding bigger shoe sizes for women, so take a look around!
Please follow and like us: