This post may contain affiliate links. This means I may receive a small commission if products are purchased through them. All opinions are honest and remain my own.
If you're a tall junior, it can be pretty hard to find a dress. Especially when the style is cut so short, it looks like an oversized t-shirt or like you're ready to go out and work the street corner!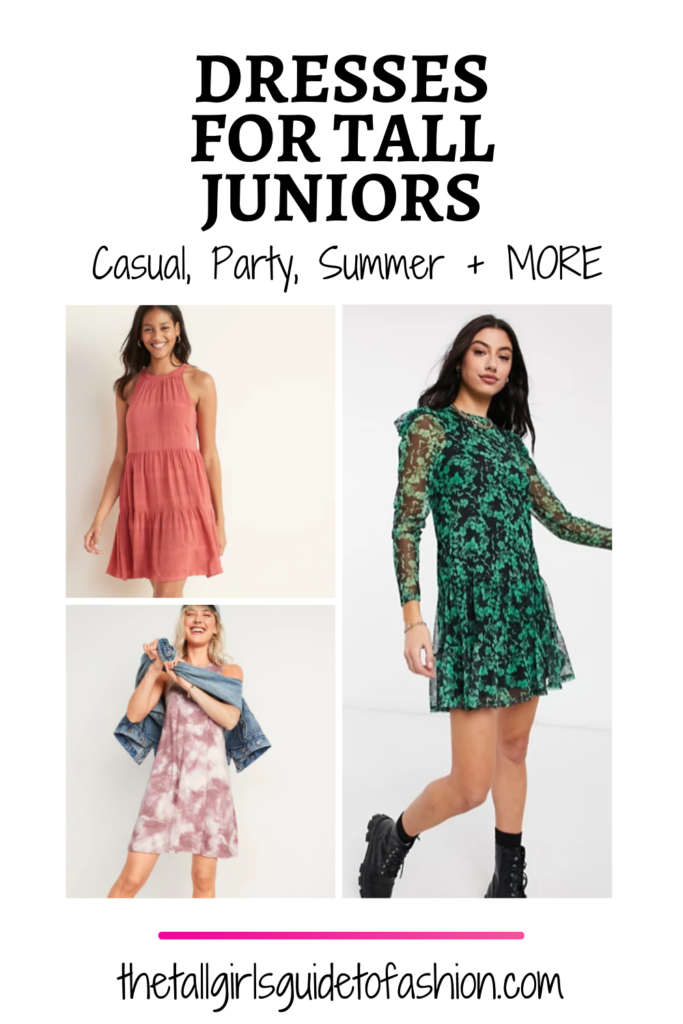 Well, it isn't hopeless because they do make dresses to accommodate taller frames, but the downside is you're mostly only going to be able to find them online.
So where can you actually find dresses for tall juniors?
I did some looking around and found some super cute dresses that were actually meant for tall girls to wear so check these places out. Whether you're on the hunt for maxi dresses, casual summer dresses, party dresses, or even prom attire… you can find appropriate ones at these shops.
---
Here's the places with the largest selections
These shops have dresses that are specifically designed for the tall body type, so they are proportioned to fit you. They won't be too short!
Just pay attention to the sizing charts on each website, because it can be vastly different between companies. Some of these may run larger than typical "juniors" clothing as they're sized for women as well. You may need to size down at places like Old Navy and Long Tall Sally in particular.
---
NOTE: All of the dresses shown below are meant to give a general idea of the types of styles you may find at each retailer, but they may not be currently available. Styles are constantly selling out and changing!
---
Old Navy – tall sizes S – XXL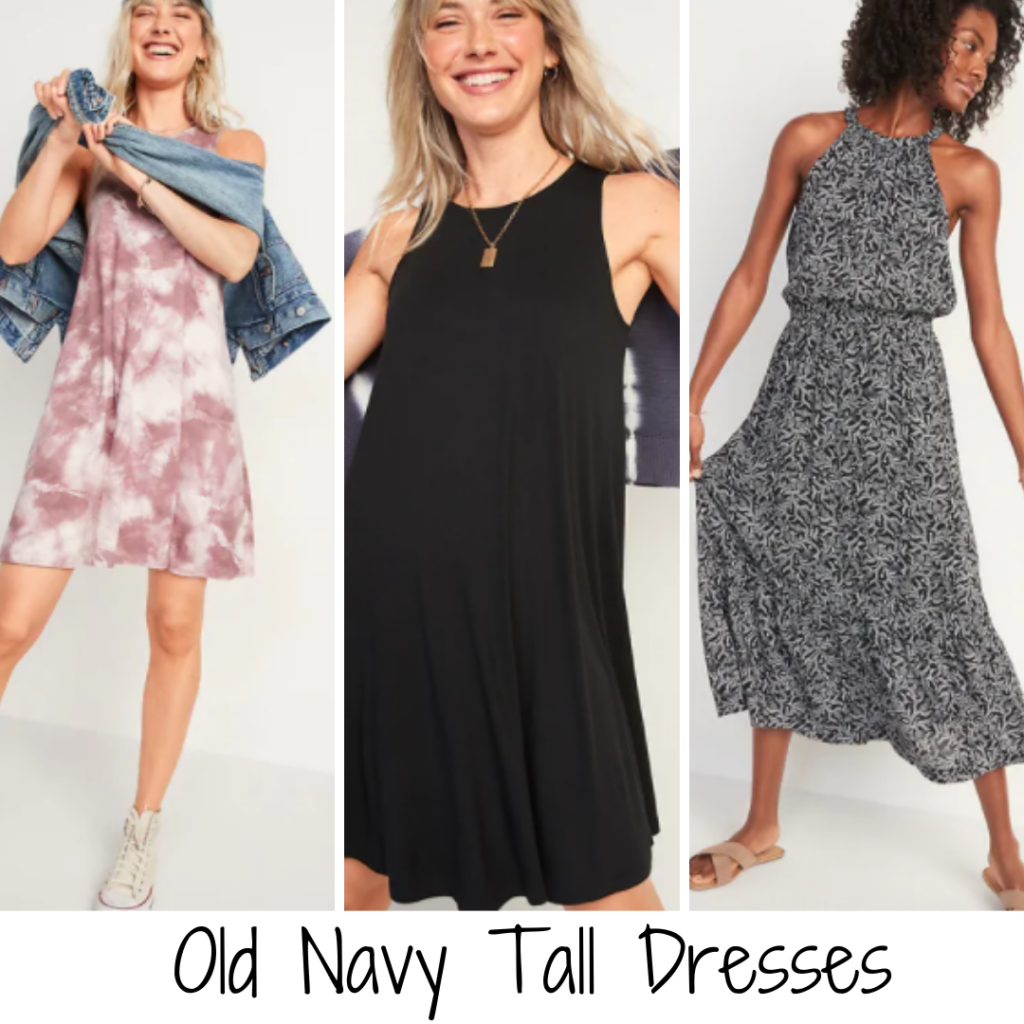 Old Navy is a pretty decent place to find dresses for younger ladies because they have a really extensive variety including a lot of younger styles within their tall department. They're also totally affordable!
Their dress style is mostly casual – summer, beach, party, work. Nothing too elegant or expensive.
I actually love that their dresses are totally multi-functional. Certain styles I can dress them up and wear to a wedding, or just quickly throw it over my swimsuit and head to the beach! If a dress isn't multi-functional, I will almost never wear it.
They run really great sales often, so check them out!
Check out Old Navy's tall dresses!
---
Gap – tall sizes XS – XXL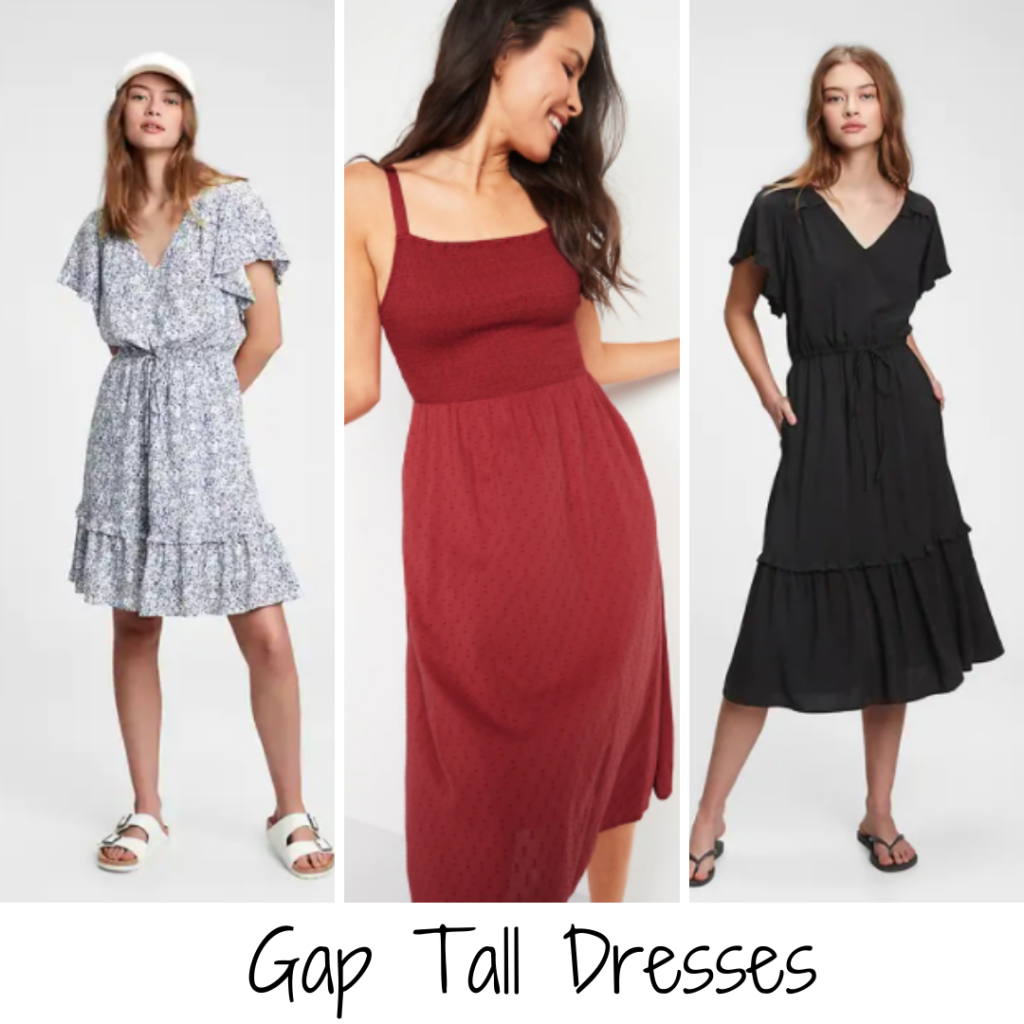 Gap also has a large tall section online, including a great selection of dresses. Price point is slightly higher than Old Navy, but they frequently have sales and are a little better quality.
They also carry more casual style dresses, including a variety of maxis.
Check out Gap's current selection of tall dresses
---
Alloy – tall sizes S – XXL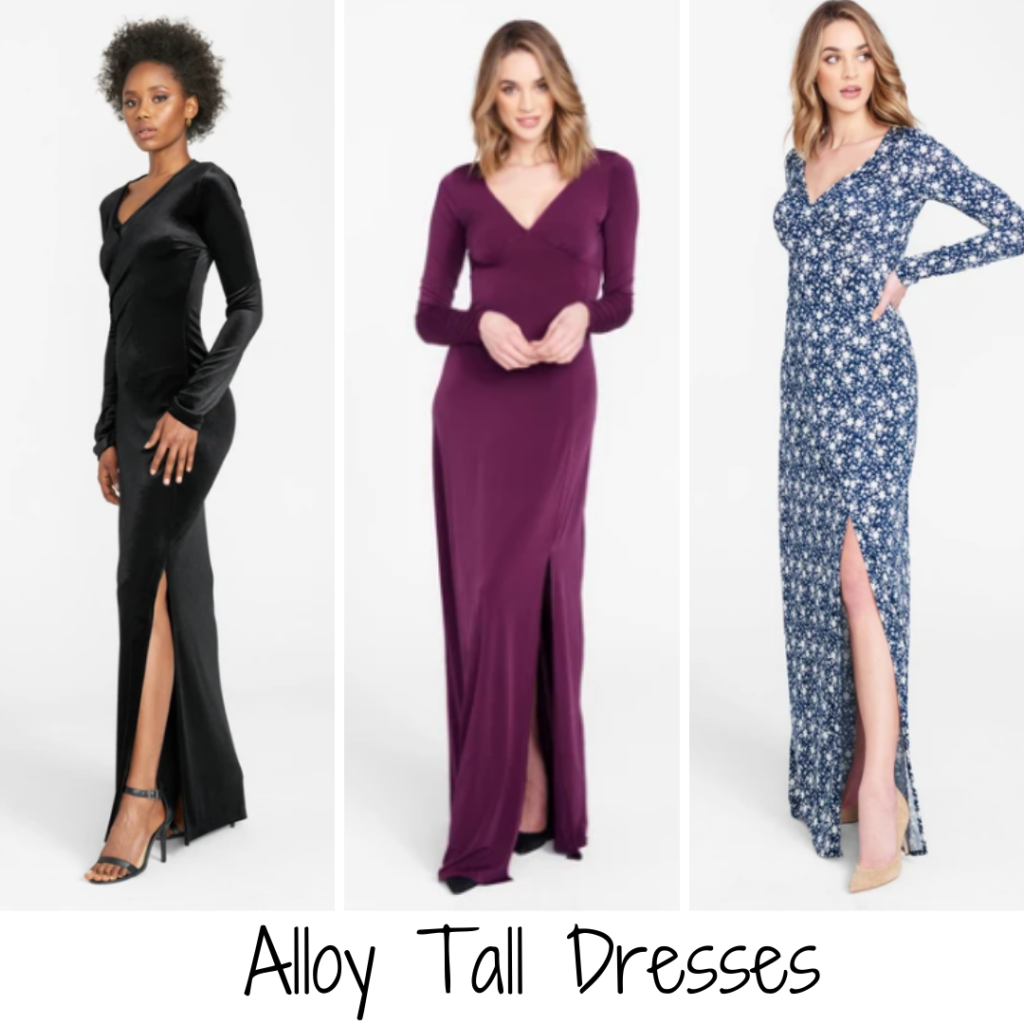 If you haven't yet checked Alloy, they offer some super cute and elegant looking maxi and long dresses specifically designed for tall girls. They're an exclusive online tall shop!
Some of their selection is a bit more formal than Old Navy or Gap, if you are looking for a fancier style make sure to check with Alloy.
Check out Alloy's current variety of dresses
---
Asos Tall – tall sizes 0 – 14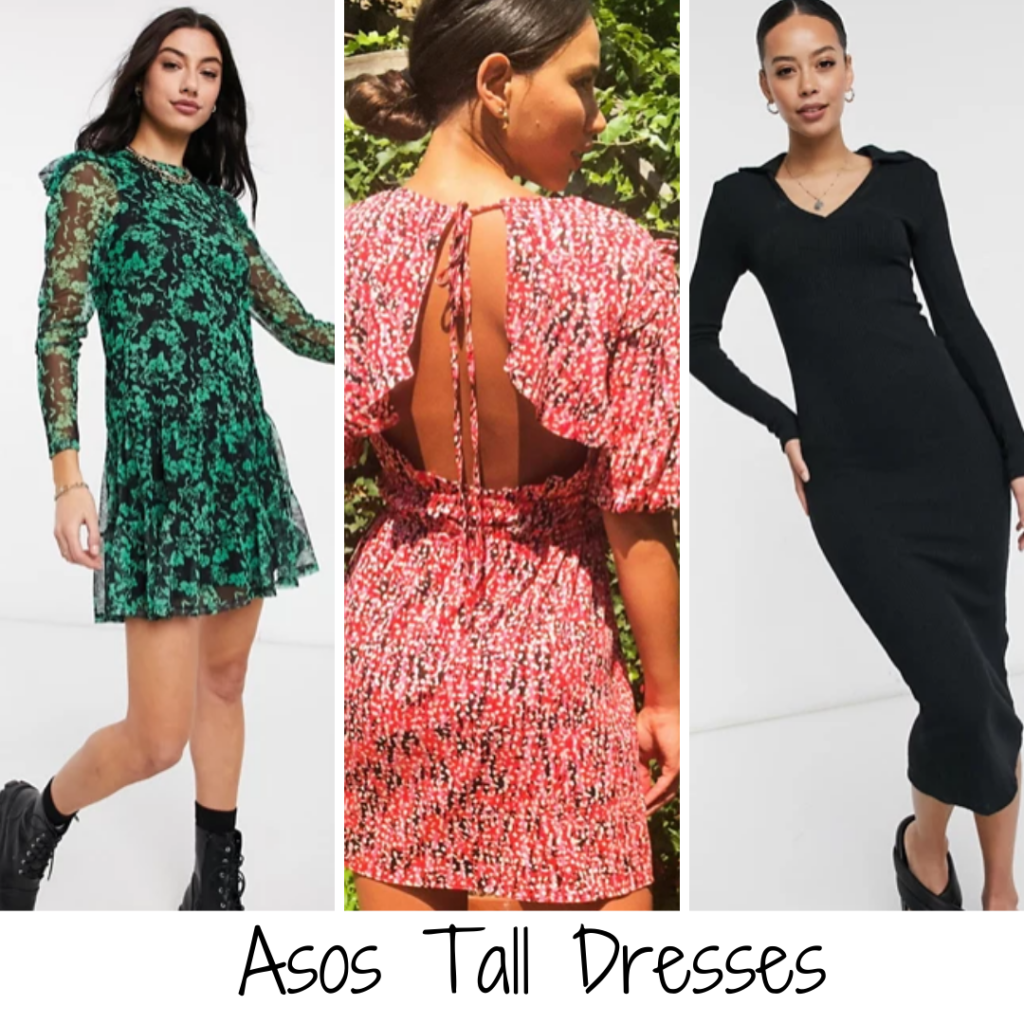 Another place to check for tall junior dresses is Asos Tall! They don't have an incredibly huge selection, but you can find some super awesome pieces and deals.
Check out their variety of dresses here
---
Long Tall Sally – tall size 4 – 20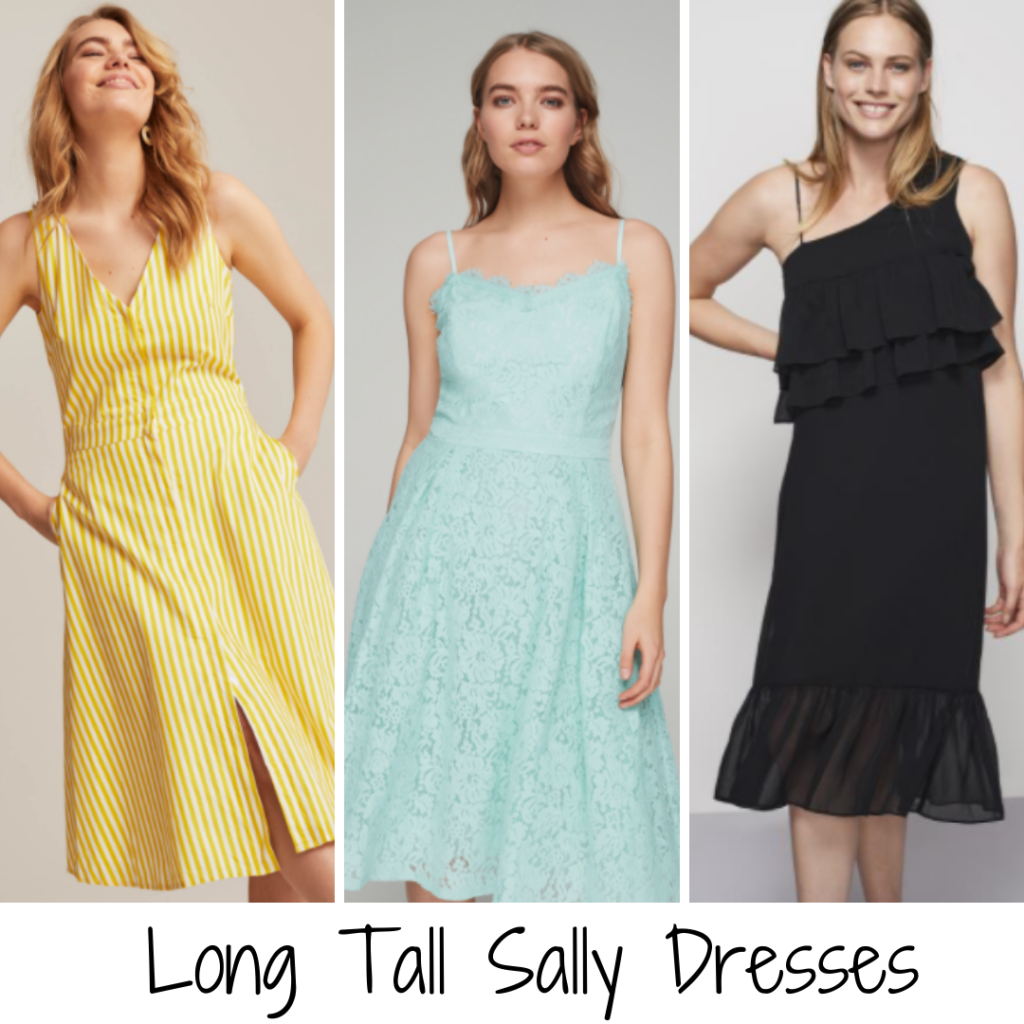 Long Tall Sally is a specialty tall shop that has a very large selection of dresses. You definitely should give their selection a look through if you're on the search for a dress.
Their style of dresses is more formal than some of the other tall shops on this list, so if you're looking for a dress for prom, a wedding, or any formal occasion – Long Tall Sally is definitely one to check.
Also, you may notice that they're slightly geared more toward women than younger girls, but they do have a decent selection of pieces that would work well for younger ladies as well.
Check out Long Tall Sally here
---
Recommended: See the full list of where to shop for tall ladies in 2021
---
What kinds of dresses look good on tall girls?
Maxi dresses, casual dresses, sundresses, formal dresses– what are you looking for? Your body type is a little more important than your height when determining what dress style suites you.
It might take some trying on of different dress types to see what is flattering to your body. Certain styles and fabrics can really help play up your body type, or in some cases they can draw attention to the wrong areas.
---
However here are some general tips for tall girls when it comes to picking dresses
Dresses with two different patterns or colors— like patterned on top, plain on the bottom, or vice-versa, or color blocked dresses will help to break up your body and de-emphasis height (IF you want to de-emphasis it, of course!) There's nothing wrong with playing up your height either!
Dresses with a belted, or cinched waist will look great on you.
Try to avoid baggy, "potato sack" dresses with no shape, it will only make you look bigger or "boxy." While the dress doesn't have to be completely form fitting, styles that hug the body at some point (like tighter around the bust, or cinched in at the waist) help to define shape.
Dresses that are super tight and clingy will emphasize every curve and your hips – if you want to avoid that, look for styles that draw attention away.
Being tall, you can get away wearing dresses with bold patterns. The dress won't overpower you!
Don't be scared to wear shorter style dresses-– especially if you have long legs, why not show them off? Just make sure you get a tall size dress for shorter styles if you want to avoid it being too short!
---
Cute and dressy shoes for sizes 11+
If you also have larger feet to go along with your extended frame… I know it's also another frustrating thing to deal with finding shoes! Especially the cute dress shoes or sandals you'd want to wear with a dress!
All hope is not lost – there are plenty of online shoe shops that sell cute dress shoes in larger sizes 11, 12, 13+!
Any questions, concerns? Looking for something different? Leave a comment down below and I'll help you the best I can. :)
Please follow and like us: