This post may contain affiliate links. This means I may receive a small commission if products are purchased through them. All opinions are honest and remain my own.
If you're a tall junior, it can be pretty hard to find a dress. The styles these days are cut so short, whenever you go to try on a regular dress meant for your age group it either looks like an oversized t-shirt or like you're ready to go out and work the street corner! Well, it isn't hopeless because they do make dresses to accomodate taller frames, but the downside is mostly you're only going to find them online.
Well, I did some looking around and found some super cute dresses that were actually meant for tall girls to wear so check them out!
What kinds of dresses look good on tall girls?
Maxi dresses, casual dresses, sundresses, formal dresses– what are you looking for? Your body type is a little more important than your height when determining what dress style suites you. Try on different dress types to see what is flattering to your body. There are plenty of places you can find dresses for tall juniors!
However here are some general tips:
Dresses with two different patterns or colors— like patterned on top, plain on the bottom, or vice-versa, or color blocked dresses will help to break up your body and de-emphasis height.
Dresses with a belted, or cinched waist will look great on you.
Try to avoid baggy, "potato sack" dresses with no shape, it will only make you look bigger or "boxy." While the dress doesn't have to be completely form fitting, styles that hug the body at some point (like tighter around the bust, or cinched in at the waist) help to define shape.
Being tall, you can get away wearing dresses with bold patterns. The dress won't overpower you!
Don't be scared to wear shorter style dresses-– especially if you have long legs, why not show them off?
So where can you actually find dresses for tall juniors?
Here's the places with the largest selections
First, check out Alloy!
First, I'd recommend checking out Alloy for a great selection of dresses specifically designed for tall girls. (Their tall shop is an online exclusive). They have a very extensive tall line with all the essentials, including a wide variety of dresses!
Here's just a sampling from their current collection (fall 2014) but they have LOTS more…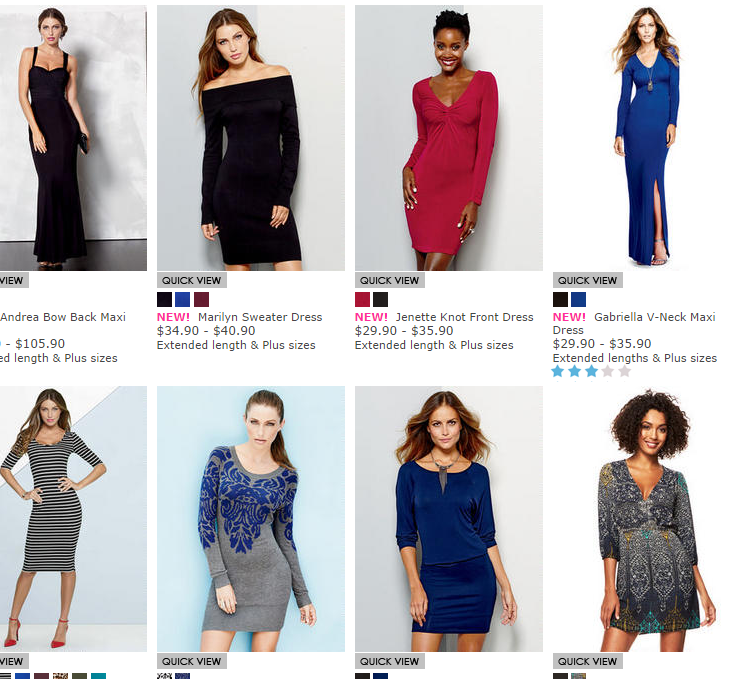 Recommended: See the full list of where to shop for tall girl's in 2019
These dresses are all designed for the tall body type, so they are proportioned to fit you. They won't be too short, and the bright bold patterns are fun and you can definitely pull them off.
Looking for Maxi Dresses?
Alloy has a really great selection of maxi dresses in extended length, too.
I like that they're comfortable and easy. You can literally just slip them on and off, and you can wear them casually or for a more formal event! Dress it up with a few nice accessories and you're good for a night on the town. Throw it on over your swimsuit and head to the beach! I love dresses with many functions, makes them practical! I hate owning things that sit in my closet forever, that I might wear ONCE in my lifetime…then it spends several years in my closet before I finally decide to give it way.
Make sure you check out where to shop and find shoes in 2019!
Any questions, concerns? Looking for something different? Leave a comment down below and I'll help you the best I can. :)