This post may contain affiliate links. This means I may receive a small commission if products are purchased through them. All opinions are honest and remain my own.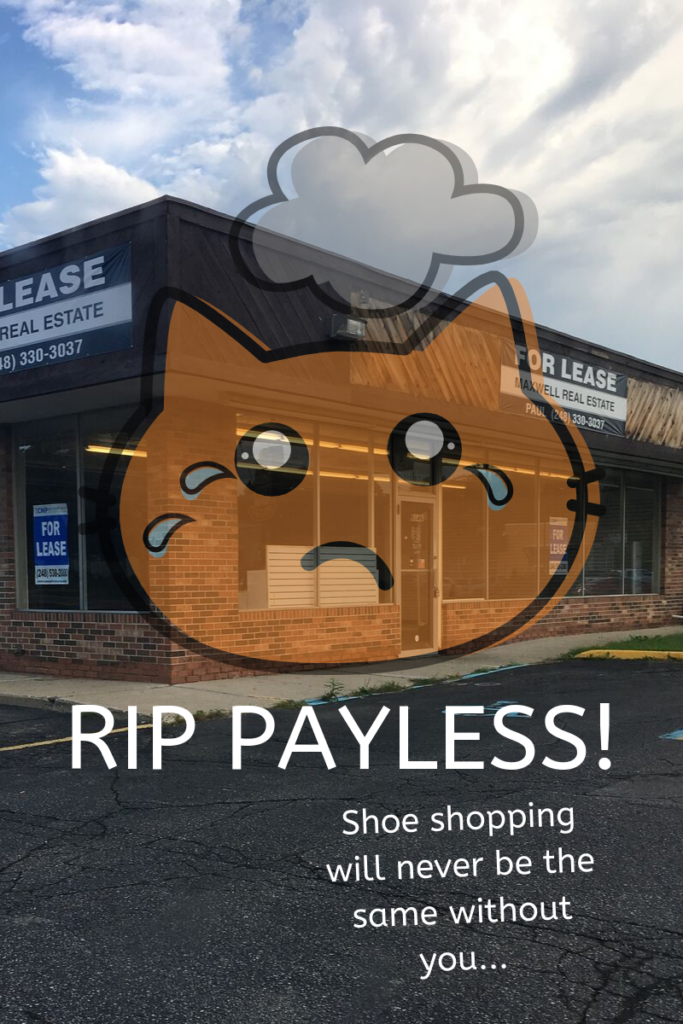 Seriously, no more Payless! When I heard they were going out of business earlier this year, I think I cried a little.
I know they didn't carry the best quality shoes, but when I was looking for an affordable pair of shoes for my women's size 12/13W feet, they were definitely always my go-to store. I mean, they were basically the only store in existence that carried the larger size 12 and 13 shoes (even wide widths) that were cheap AND available in-store!
They were just such a great option for so many scenarios. If I needed to find something dressier for a wedding or special event on the fly, I always could count on Payless.
If I wanted cute boots or sandals there was always Payless.
If I wanted some cheap walking shoes, Payless was there for me.
And I could actually go to the store and try them on! And they didn't cost $100!!! No longer will I ever have that option.
People will say, "Oh, just go look at DSW!" or "try Target"! I don't think they have any idea what it's like to wear a size 12 or 13 in women's shoes – they literally just really don't exist for cheap prices in-store, anywhere.
Truth: 99.9999% of stores stop at a women's size 11 in-store
Even when you shop online, the selection drastically reduces once you go above a size 11 for shoes. This is just one of those little known facts that all women who wear over a size 11 know.
Notice how for size 11, this store has over 2,000 options. When you jump to a size 12, it decreases to 972. For a size 13 there are only 12 options!!
This pretty much sums up my experience everywhere. Even at Payless, while there was more selection for size 13 than this depicts, it wasn't huge.
And I know anyone who is 5'10 or above probably wears a larger shoe. Actually I'm fairly certain that much everyone I know who is tall wears at least a size 11. So I'm sure many tall women can relate to this problem! (I realize it's not only tall girls that have big feet either)
I know a handful of select stores do carry up to a size 12 and 13 in their store, but they're a bit more on the expensive side than Payless. (Such as Torrid and Lane Bryant) It's also worth noting that since they're plus-size stores their shoes are made for wide width feet.
I also have heard rumors that Nordstrom Rack carries large sizes in-store up to size 12 but I haven't confirmed this (If you know this to be true, let me know!)
So while there are a handful of places you can find these larger shoes in a brick and mortar store – the selection is limited and the prices aren't always right.
Recommended: Get the full list of where to shop online for size 12+ here
These are the places I've (currently) discovered online as alternatives to Payless that carry affordable shoes for women in larger sizes…
So, a reader actually pointed this one out to me! I had no idea it existed and it is super exciting to me because this store actually is the most similar to Payless I have encountered. Actually, it might be BETTER. I'm serious.
They have a large variety of shoes even up to a 14W for women! The best part about it is, the prices are AFFORDABLE! You can find shoes for between $10 -$40!
I may not have a physical location (at least near me) I can go in to try on, but at least I can find a decent selection that's cheap.
Visit Shoe Show Mega's site and check them out!
I know it seems weird to buy shoes on Amazon (at least to me) but they actually have quite a selection of women's size 12 and 13 shoes, I've even seen some for size 14 in certain brands.
I've found athletic shoes, sandals, dress shoes and even boots in the larger sizes.
And the cool part was many of these are actually relatively inexpensive – between $20 – $50. It's really only slightly more expensive than Payless, and in some cases about the same price-range – I guess I can live with that (although it's still not the same…)
JCPenny does have quite an extensive selection for size 12 on their website, and while drastically limited, DO carry a selection of size 13. They have wide width options too.
The thing I like about them is they're on the affordable side if you find sales. You can find shoes on sale for between $20-$50!
They have everything from sandals to winter boots, and in between. If you wear a size 12 they're a good place to check.
View JCPenny's current sales here
So DSW online actually does carry up to a women's size 13, AND they have a decent selection of shoes under $50!
Shop the current selection at DSW
---
I wish I had a long list for you here, but honestly, these are the closest alternatives to Payless I have discovered that carry shoes in larger sizes that aren't close to $100!
While I know there are other places that carry larger shoes online and even some in-store, most of their shoes start between $60 – $100, which is way more expensive than Payless. Places like Torrid carry up to a women's size 13 at their stores, but not exactly cheap. (I think they're good quality, btw, but they aren't an option when I'm looking for something cheap!)
And there are also a few really great places to shop online for larger shoes such as Zappos and Famous Footwear, but when you're looking for something on the cheap, you probably would want to look elsewhere.
Get the complete list of where to shop shoes for size 11+ here
Did the closing of Payless effect you too? When I try to tell people how upset I was about it, it seems that nobody else quite understands the struggle.
If you know any additional stores that sell shoes past a size 11 for ladies that are more comparable to Payless pricing, PLEASE drop a comment down below! I'd love to hear about it and check it out for myself!
Please follow and like us: