This post may contain affiliate links. This means I may receive a small commission if products are purchased through them. All opinions are honest and remain my own.
Scarves are such a fun fashion accessory. I've only recently taken up an obsession with them, but I think I'm in love!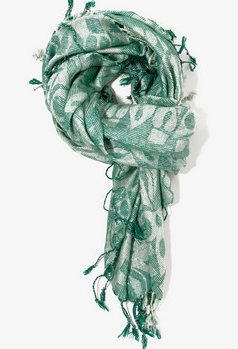 They're actually a great accessory for girls who are tall because they accentuate a longer neck and additional décolletage. They also help detract from wide shoulders by creating a vertical distraction. While this can also be done with lower cut tops and large necklaces, neither are nearly as fun as scarves!
Bulkier accessories work well with tall women because they have extra to accommodate for. They will help to balance out the body rather than overpower it.
Where can you buy them?
You can find them at essentially any clothing shop, some carry a better variety than others. I've put together a list of the shops I know that offer great selections of scarves.
I've seen them vary in price anywhere from around 8 to 30 dollars. If you're on a budget, you can definitely find them without having to break the bank.
Target
Price Range: Average
Seasons Pick: Pink Paisley Scarf
I love Target's selection of scarves! They always have so many choices and are constantly coming out with new ones. This paisley pink scarf is my favorite. It's lightweight so you can wear it comfortably in the summer, but not so delicate you need to worry about it ripping or falling apart.
You should check out their complete selection because I had a hard time narrowing it down to just one.
Modcloth
Price Range: Average to High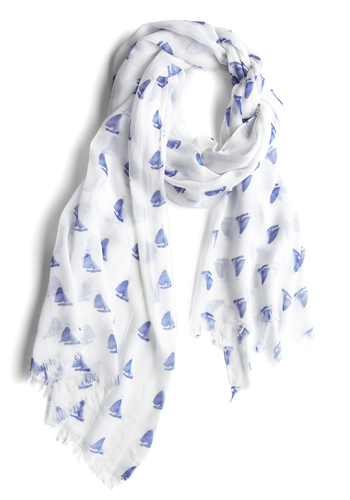 Seasons Pick: Give Her the Sloop Scarf
Featuring cute blue sailboats, it's a perfect fun summer scarf.
Modcloth has a huge selection of scarves that you wouldn't find anywhere else. If you are looking for something unique, this is the place to look. They range greatly in price–anywhere from average to somewhat expensive, but they are beautiful!
Definitely have to check these out! My second favorite is this Sunset the Mood Scarf
.
Express
Seasons Pick: Patterned Infinity Scarf
Price Range: Higher than average
They have the most gorgeous scarves I've ever seen. A bit pricier at around 30 dollars each, but they are definitely worth the tiny investment if you are looking for something that stands out.
Infinity scarves are great because they're easy. You don't have to fuss around with tying them or worry that they'll come undone.
Forever 21
Seasons Pick: Metallic Abstract Scarf
Price Range: Inexpensive
If you're looking for scarves on the cheap, check out Forever 21. They're all around 10 dollars, give or take. They have a huge selection with tons of cute options, so you can stock up for cheap!
Amazon
Price Range: Varies
Seasons Pick: Scarfand's Scarves
Another place worth mentioning is Amazon! You can buy nearly anything on that site, it's ridiculous. You can find super cheap ones too! There's a business that sells on Amazon called Scarfand, they sell an amazing variety of scarves anywhere from lightweight to winter-type scarves, and they are spectacular!
Remember, you can find them most places that carry clothing, but I've picked out where I think you'll find great selections. Whatever you're looking for–casual or dressy, simple or sassy, you can find it all!