What types of clothing looks best on taller girls?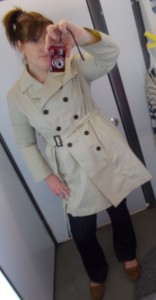 Perhaps you know where to find clothing when you're tall, but how about what to wear? It actually isn't that hard to pull together great outfits as there are so many fashionable clothes for tall women out there! Models are tall for a reason–taller girls look really good in clothing. And contrary to the modeling industry, you do not have to be a size 00 to pull off looking fabulous. The secret is in how you dress! 
However, there are certain pieces and styles you can definitely use to your advantage as a taller girl. I've compiled a list of the best clothing for tall girls. While appropriate styles will vary by body type, the same general tips can apply to most tall women.
Here's my list of 8 staple items that every tall girl should own, and rock!
Jeans
Jeans look amazing on long legs, every tall girl should own at least one pair of jeans that fit well and look great. Actually, this holds true for girls of any height. Look for skinny, slim or boot cut styles as they will best flatter your legs! Skinny jeans look especially great on slender long legs, boot cut styles are really good for girls with thicker legs.
Scoop neck, v-neck or button up style tops
Look for shirts with v-neck and scoop neck styles or button up tops–any kind of shirt that will take the attention off the shoulders and in towards the center of the body is good. Shirts that are tight around the collar will only emphasis broad shoulders. Wearing open neck styles will help balance you out.
Trench coats
Trench coats are very figure flattering on taller women. The cinched waist and long style of the coat balance out your height and make you appear shorter.
Pencil skirts
Pencil skirts are a most excellent piece to flatter your tall physique. They're timeless, simple and classic and show off your sexy long legs. You can wear them with a tucked in shirt to help emphasis your waist.
Long tanks and tunics
Perfect for long torsos. Use these styles to your advantage as you can find them in regular stores and they will actually be long enough for you!
Leggings
Great for pairing with tunics, sweater dresses or any longer style shirt. While they do look great when paired with the right top, they aren't pants. Make sure your butt is covered when choosing to wear them in your outfit!
Yoga Pants
Every girl needs great lounge wear, and yoga pants are comfy and look especially flattering on long legs. Just make sure you buy them long enough!
Flats
Flats work great for taller women because they don't need the added definition of heels. Plus they work great to downplay height.