This post may contain affiliate links. This means I may receive a small commission if products are purchased through them. All opinions are honest and remain my own.
If you're searching for women's tall plus size jeans, I know they can be hard to find. But the good news is there are actually a few clothing shops that carry them in long (and extra-long) inseams.
I am aware that many of the stores out there that carry speciality tall clothing, or pants with longer inseams usually have sizes that go up to a women's 20.
But what about for all the ladies that wear over a size 20? Do tall length pants exist for them?
Also, regularly sized jeans in sizes 14 -20 aren't cut the same as the plus sizes.
Personally, as a girl who teeters on the edge of the regular and plus departments, I know the clothing isn't cut the same. I can try on a 16 plus size pant and a 16 regular, and it's like a completely different size!
Many women might need or prefer the way plus sizes are cut for their curves.
What inseam do I need?
If you're confused on how to measure your inseam, check out this simple guide on how to measure it yourself.
Inseam varies by style!
Just remember that the inseam measurement starts at the groin and is measured to the point you want the bottom of your pants to hit, so this might be different depending on the style.
For example, leggings or skinny jeans are designed to hit above or at your ankle, so you are going to need a shorter inseam measurement than for say, a bootcut style which will hit much lower and have a longer inseam measurement.
This is why the tall and extra tall inseams will vary by style – typically for bootcut jeans, an extra-long is between 35" – 37", while skinny/jeggings are somewhere between 31"-34" for the longer sizes.
You also might want to add an extra half-inch or so to the number to allow for shrinkage. In my opinion, if you're unsure or between measurements, it's always better to buy pants too long rather than too short since it's easier to hem pants than try to make them longer.
Best clothing shops that carry tall AND plus size pants (up to women's size 30)
---
Torrid – carries up to size 30 in tall and EXTRA tall!!! (up to 36.5" inseam!)

Torrid may be one of the better known plus size shops out there, but did you know they also carry extra tall length pants with 36.5" inseams in up to a women's size 30!?
Now the inseam will vary by pant style, skinny and jegging pants have shorter inseams than bootcut style, just because of where they're designed to hit on your legs.
Torrid's bootcut styles are cut at a 34.5" for tall, and 36.5" for extra tall.
For skinny jeans, the tall size is typically 32", while the extra tall is 34".
For jeggings, the tall is 31", extra tall 33".
These are just what is typical for the styles but any particular style could be slightly different, so just make sure to double-check that information before buying. Torrid makes the inseam measurements pretty clear in the product description of all their pants!
I've owned a lot of pants from Torrid over the years and I am a big fan! They're pretty good quality.
I LOVE Torrid's jeans. They were my personal pick from "The Battle of the Tall Women's Jeans: Torrid vs. Maurices vs. Old Navy"
Find jeans in up to 36.5" inseam from Torrid
---
Here's Torrid's size chart, for reference:
---
Lane Bryant – carries up to size 32 with long and extra long (33" – 35" inseam)

This might be the store that everyone thinks about when they here "plus size clothing" but they totally do carry jeans (as well as other types of pants) in longer inseams.
They actually have a ton of selection on their website with all different types of fits, in up to a size 32.
Keep in mind that even though Lane Bryant technically carries larger sizes than Torrid, according to the size charts Torrid is much more generously sized.
According to the size charts, Lane Bryant's size 32 is roughly equivalent to Torrid's size 26/28!
The bootcut styles are carried in inseams up to 35", while skinny jeans are up to 33".
Find jeans from Lane Bryant with up to 35" here
---
Here's the size chart from Lane Bryant, for reference:
---
Silver Jeans – shop by inseam – up to 35"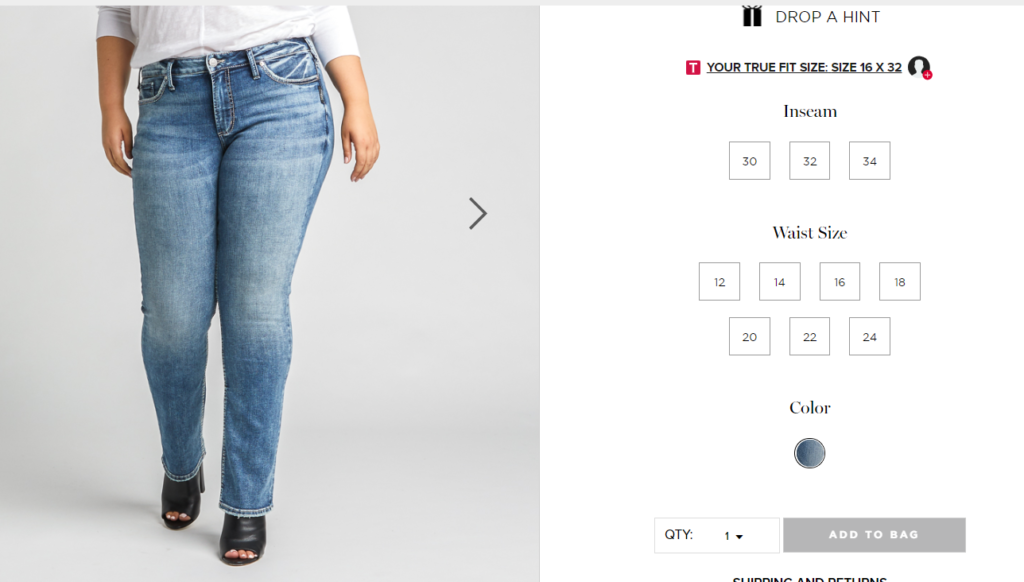 Silver Jeans is another company that carries plus size tall pants for women, these come in up to size 26 according to their size chart. However, most of the styles I saw they only make in up to a size 24.
What I like about their website is you can shop by size and inseam.
They come as long as a 35" inseam for certain styles like bootcut, and 34" 33" for others like straight, boyfriend and skinny leg.
---
Here is Silver Jeans plus-size specific size chart, for reference: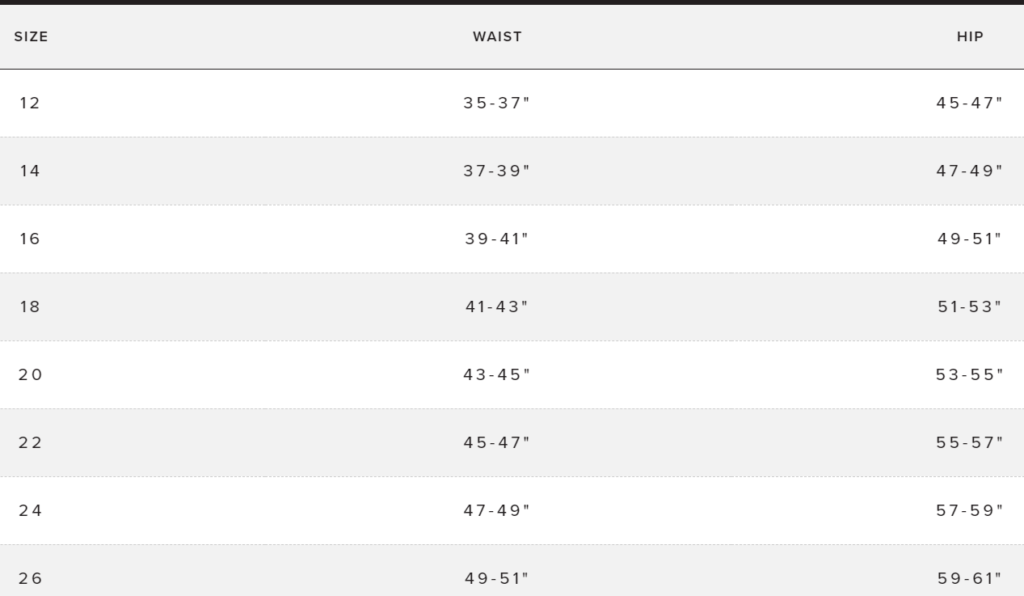 ---
Just looking at all these size charts affirms the fact that sizing is totally all over the place. Not one of these plus size clothing manufacturers has sizing that matches! It makes it so confusing and difficult to buy clothing and know what will fit without trying it on.
Nevertheless, you totally can find jeans and pants in tall sizes when you are plus-sized, thank you to stores like Torrid, Lane Bryant, and Silver Jeans!
Torrid makes them in the largest sizes (when you compare the sizing charts) and wins for the longest inseam (36.5"), so it seems to be one of the best options out there for ladies needing the extended sizes and long lengths!
Also check out: Where to find shoes for size 12+!
If you have any other recommendations for finding plus size jeans in longer lengths, let me know! :)
Please follow and like us: